Catena - A Completely Decentralized Trading Platform

Market Overview
Over the years, trade has contributed significantly to the growth and development of most economies worldwide. Since 2006, global goods exports have risen by more than 32%, surpassing the $ 16 trillion mark last year. Similarly, commercial services exports grew by a massive 64% to reach $ 4.8 trillion.
The huge increase in global merchandise trade was strongly influenced by finished goods and agricultural products. Catena believes that the introduction of new technologies will further this development.
What is Catena?
Catena is a distributed trading platform that leverages the groundbreaking ability of blockchain technology to transform the global trading economy. In the last three decades, world trade has increased significantly both in terms of volume and turnover. Although the living conditions of many people are alleviated, the sector still faces challenges that hinder the realization of its full potential. These are the problems that the Catena exchange wants to solve.
Catena's leadership team consists of experienced professionals with extensive experience in trading, manufacturing, technology, quality control and so on.
Vision
To be the largest trusted platform for global and domestic trades, and the first choice for all business transaction across the globe, with a mission of Empowering every business with a strong platform and powerful tools for growing their market reach and secure their business activities, while opening the door to limitless opportunities for small and medium enterprises, through transparency of market parameters and low entry barriers to compete, enabling a growing and prosperous trade economy.
Problems that Catena seeks to solve
The biggest challenge in this sector is the high prevalence of fraud. For now. Fraud causes an annual loss of $ 4 trillion, mainly due to the vulnerability of the existing infrastructure. As a result, affected institutions are often forced to declare bankruptcy or, in severe cases, shut down entirely. Usually, most scammers create open accounts, buy goods and services, but are spared of making payments.
In addition to fraud, the retail industry is also bothered by problems in the supply chain. These issues include unfavorable regulations, corruption, poor transport infrastructure, delayed deliveries and so on.
The Catena DEX & COMAI Order Matching AI Solution
First, the Catena trading platform will try to remove the barriers to entry and tackle world trade problems. After providing a platform for small and medium-sized businesses, Catena will focus on delivering powerful tools to facilitate the growth of the global trading market. While the architecture of the platform is mainly based on distributed ledger technology, it also includes aspects of artificial intelligence.
Of course, decentralized exchanges are difficult to identify due to their complexity. Nevertheless, the biggest advantage of such platforms is their independence, as they do not need a third party service to finance investors. Instead, transactions are mediated directly between users denouncing the Catena platform. This, coupled with the immutability of Blockchain, makes transactions transparent and immune to fraud.
Opportunities with the global trade growth challenges:
Catena tends to tackle this 16 trillion USD market, offering a robust solution to facilitate its growth and impact on global economy, the fact that Catena provides a smooth, fast, and reliable platform will enable small and medium traders to join such a big economy and be significant contributors to its growth.
The estimation for profitability of service providers to this economy, like banks is over 4 Trillion USD in 2017, and this is where Catena aims to find its share of a very lucrative market, that arguably hasn't been tackled in the right way from technology providers, and is still suffering from barriers and limitations that can be solved through the utilization of blockchain technology.
Technology





CATENA TOKEN
TRANSACTIONS
For any transaction to take place on Catena Platform, and in order to make this transaction processed, the owners of the transactions pays a fee to Catena which will be a percentage of the total value of the transaction/smart contract, this fee is paid to Catena only in CATENA tokens

TOKEN STRUCTURE
CATENA Token is an ERC20 compatible on the Ethereum blockchain, distributed by Catena during the stages of token sale. The CATENA token is a utility coin that will be essential for the system to function as it acts as the activation key for any smart contract to function, and will be used in all trading transactions empowered by Catena.
As, we want to facilitate the global and domestic trading, the scope and usage of CATENA token and its wallet puts forward its wide range of utility, so that people can use them on regular basis, everyday.
Token distribution
58% – ICO
2% – ICO partner
15% – Team
3% – early contributors and consultants
20% – resolution center
2% – bounty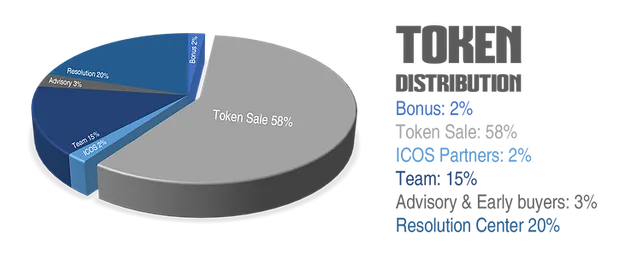 Distribution of funds
13.3% – system development
37.6% – exchange platform
24.7% – exchange ecosystem
13% – operating beds
6% – contingency and processing center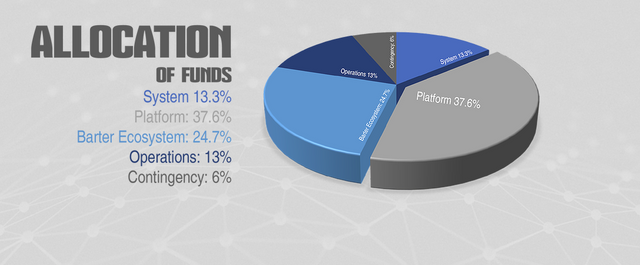 You can find out more about the Catena project using social networking sites below
Website: https://www.catenaex.com/
TokenSale: https://tokensale.catenaex.com
Whitepaper: https://s3-ap-southeast-1.amazonaws.com/whitepaper1/White+Paper.pdf
Telegram: https://t.me/CatenaChat
Twitter: https://twitter.com/CATENA_Exchange
Facebook: https://www.facebook.com/CatenaExchangePlatform/
Reddit: https://www.reddit.com/r/
Linkedin: https://www.linkedin.com/company/catena-decentralized-trading-platform/
Medium: https://medium.com/@communitycatena
Bounty0x username: binhan
"This article was created in exchange for a potential token reward through Bounty0x"