AZBIT ICO.💰Has a systematic features for your crypto assets in one platform.🏆
Good day, Steemers! Another day to be more productive! Just got an exciting and great project that came into my attention. I've been doing a research about it in the past few days.



It was AZBIT a type of project that primarily aims to provide traditional banking and financial services to users of crypto and blockchain projects. All financial instruments with all kinds of assets in one platform. Allowing easy-to-use access and secure trading and investment tools:
CopyTrade📈
One of a service offered by Azbit platform that allows copying trades of leading investors. How does it work? You see the pro's statistics, portfolios and strategies. You then select a trader whose strategy looks most successful and automatically instruct your account to copy any actions of the selected trader. The system will then do it all for you.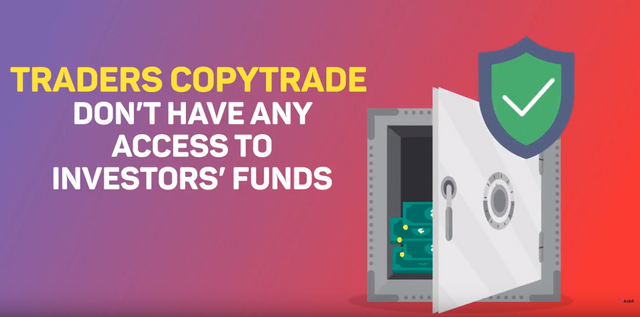 The main advantage of CopyTrade  is  security. By copying the pro's actions you still keep your finger on the pulse. Instead of channelling your assets into a trust, you retain full control over them. It means fraudsters or unreliable managers won't be able to take you for a ride in the crypto space. What's more, CopyTrade minimises the risk of investment losses due to theft or incorrect investment decisions made by asset managers.
CopyTrade videographics link on its name above...
ShareTrade🎁
Another service offered by Azbit platform, ShareTrade accounts use margin trading with or without using leverage. The maximum leverage ratios 1 to 5. Margin trading makes it possible to enter and exit trading positions quickly. This is especially convenient for intraday and short-term trading. Typically, this instrument is suitable for traders who base their trading strategy on technical analysis.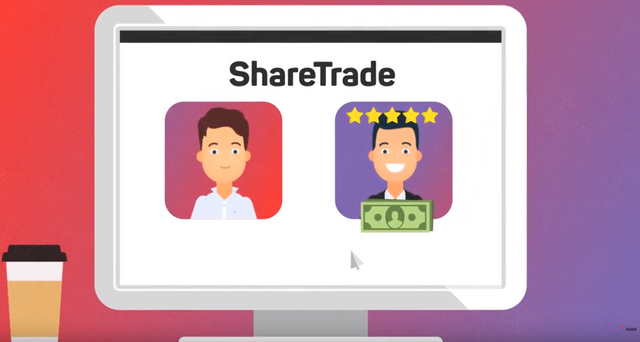 Withdrawals are possible only on demand from the investor, at intervals set in advance. This allows the trader to implement broader strategies, and to be confident of having sufficient
resources available. ShareTrade accounts with similar features have long been used in the forex market, and, while not popular with everyone, remain in demand as a trading tool. Until now, no crypto exchange has offered native (built-in) implementation of them. Trading with ShareTrade accounts is a unique feature of our platform.
Sharetrade videographics link on its name above...
and Portfolio management💼.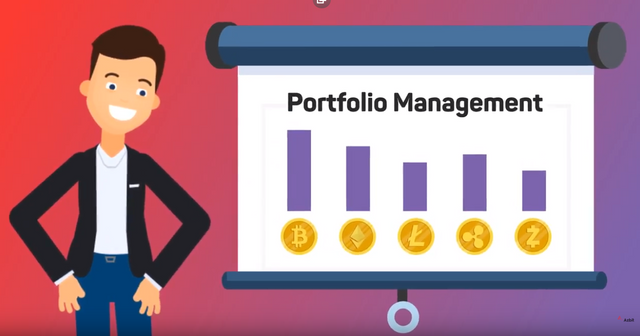 With this service offered by Azbit platform, investors entrust the management of their cryptocurrency portfolio to experienced traders. The term comes from the world of traditional finance: this mechanism for managing currency portfolios has been successfully used for many years by the world's leading traders. But Azbit is the first company to adapt portfolio management for the crypto world.
Roger Ver | x | Azbit, as its New Advisor😎
Also, another special reason to take part in the campaign, the most influential people in the world of crypto and blockchain, "Bitcoin Jesus" Roger Ver has already joined Azbit as Advisor! CEO of Bitcoin.com and the main supporter of Bitcoin Cash, co-owner of Ripple, Blockchain.info, Bitpay and Kraken.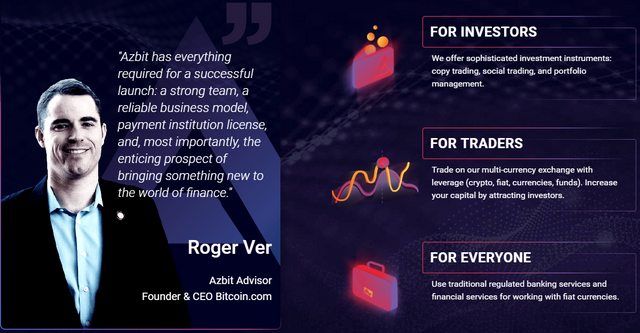 As he stated that ''Azbit has everything required for a successful launch: a strong team, a reliable business model, payment institution license, and, most importantly, the enticing prospect of bringing something new to the world of finance." Also, added that "t if the platform is built internally, it would provide them with a unique opportunity to build it at really affordable rates. It would also mean that they would get to build the kind of exchange that they were looking to get. The downside to this option is that they currently do not possess the capabilities of an exchange that has already been battle-tested."
Previously, Ver has worked as an advisor for at least four startups that were launching their initial coin offerings (ICO). All these offerings have gone on to increase their market capitalizations after recording successful ICO's. The Azbit project is, therefore, expected to become an influencer in the crypto world. The platform will make it possible for its users to participate in what is being referred to as social copy trading (as stated on this content).
That's it! If you find this interesting topic, you may visit the official website and hanging up with the community thru their telegram group:
• Official Website: AZBIT.COM
• Official telegram group: https://t.me/azbit_com
---
💡Thought for the day,
"Success isn't always about greatness. It's about consistency. Consistent hard work leads to success. Greatness will come."
-Dwayne Johnson
Hope this ICO update helps. Have a great day!
---
See more Crypto related links below;
Coins.ph wallet
Coinbase wallet
Binance Exchange
Feel free to smash subscribe/follow;
Youtube Channel: Crypto4chun
Facebook: Aldrin Rabino
Twitter: BitcoinDrin
Linkedin: Aldrin Rabino
Steemit: Crypto4chun