Gingr ICO ( Revolutionizing the Oldest Industry)
xxxxxxxx

xxxxxxx
In today's world, everyone has desires. It can be related to economic or personal affairs. But the sexual desires have been increasing considerably in the previous years but as the demand is increasing there is no proper way to give intermediate to it. No proper transaction of money is taking place and legal problems are being faced as all these things are being done on the dark web. To solve all these problems the GGC platform ( ICO) is being developed.
GGC is an ICO which is aiming to provide a hustle free platform that will be solving all these problems. This problem is huge and so the potential too. The current market is about 186 billion, so there is a large scope that the platform will be a great success.
REASONS TO INVEST ON GGCOIN:
i) Have a huge potential due to the huge market demand
ii) Token Price will increase with an increase in use of the platform
iii) They will be burning down 50% of the token with their profit.
ICO SALE DETAILS:
The token price is 0.12 EUR but now, the private sale is going on with a bonus of 75% so make sure to take advantage of it. After their private sale presale will be releasing out with a bonus of 50% and finally the mainsale with 3 tiers with bonuses 33%, 16.6% and 0% respectively.


The total supply of the coin is approximate 1 billion and the distribution are as follows: 50% is for sale, 30% community reserve, 10% for partnerships and finally the more 10% will be for early supporters and angel investors. Also, all the unsold tokens will be burned.

There is no softcap as the company is already generating revenue but there is a hardcap of about € 20.45 Million. Also from the total collected, some amount will be reserved which will be used to stabilize the coin price if it gets a pump or dump. This is something which most investors want to find in the project.
FUNDS ALLOCATION:
Actually, this is a project which is running from 2016 and already generating revenue but to further expand and reach to the top level they are using blockchain technology. The fund's allocation will be changing every year according to need. From the chart below you will be able to understand how they will be using their funds every year.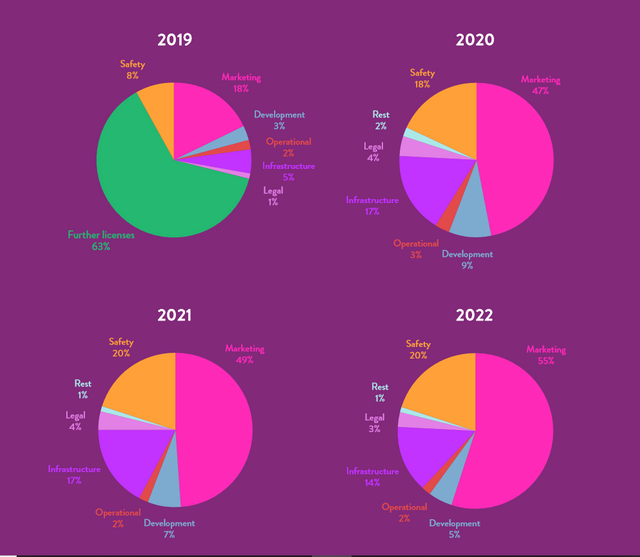 PLATFORM DESCRIPTION:
Basically, it is a platform designed to solve prostitute problems all over the world. People need to enter the dark web to avail these services. This is not all safe as it is illegal and also this may lead to human trafficking too. The places where the meeting takes place is not all safe and also there is no guarantee of payment. The client is in the risk of exposing themselves to the public. GGC platform will act as an escrow between the client and sex-worker. Special rental hotels will be also booked for them to protect their privacy. There is a safe and easy payment through cryptocurrencies and also it offers privacy too. Also, the chart below will help you to understand better.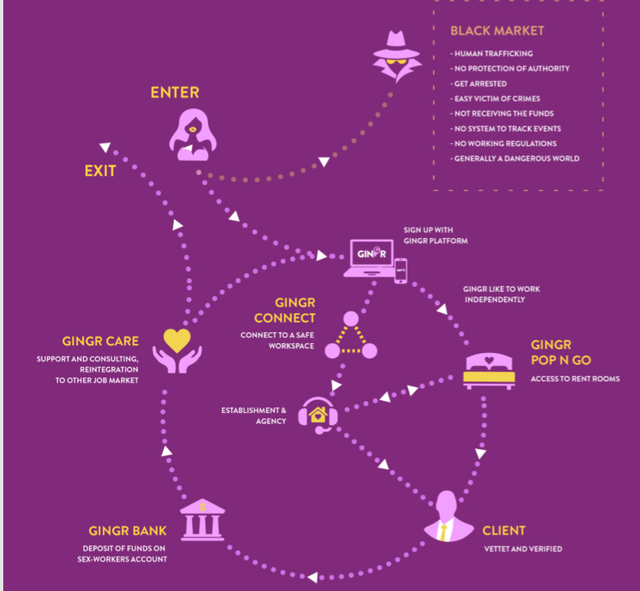 There are vast things I can explain about this project but I want it to make a short review. IF you want to know more about the project you can check out the following paper works:
WHITEPAPER - https://api.ggcoin.ch/download/pdf/ggc-white-paper.pdf
LIGHT PAPER - https://api.ggcoin.ch/download/pdf/ggc-light-paper.pdf
FACT SHEET - https://api.ggcoin.ch/download/pdf/ggc-fact-sheet.pdf
TECHNICAL PAPER - https://api.ggcoin.ch/download/pdf/ggc-technical-paper.pdf
LEGAL MOMERANDUM - https://api.ggcoin.ch/download/pdf/ggc-legal-memorandum.pdf
COMPANY'S MEMORANDUM & ARTICLES OF ASSOCIATION - https://api.ggcoin.ch/download/pdf/ggc-company-memorandum.pdf
SOCIAL SITES:
FACEBOOK - https://www.facebook.com/gingr.ch/
TWITTER - https://twitter.com/GingrICO
TELEGRAM - https://t.me/gingrggcgroup
INSTAGRAM - https://www.instagram.com/gingrerotic/
bounty0x username - manishanand