The Content Industry is revitalized with Contents Protocol
The internet changed spate of human interactions. As the year 2019 draws closer, talks are rife that Internet of Things (IoT) will be the in-thing. But what would be the fate of present medium of communications and others in the pipeline? The system has been fragmented and few platforms are holding major players to ransom.
Social media platforms like Facebook were invented to facilitate communications. But despite making over-the-air communications possible, these platforms delved into a medium that was not stated in the clear objective. With this malaise, personal information of users have been laid bare and at the mercy of online platforms.
This perhaps explains why you come across adverts about your current need. The syncing of users' data also enabled these platforms to raise funds when such data is sold. In the light of these unprecedented and unprofessional conducts by social media platforms, a solution has been crafted in the next-generation technology.
Contents Protocol – Home to All Contents


The blockchain technology has erupted from a platform for cryptocurrencies to one that has made tremendous impact in the global space. From cross-border transactions to decentralized outlook to enterprises, the blockchain has played host to unique projects which seek to address pressing issues. To this end, another feather is added to its cap with the coming of Content Protocol.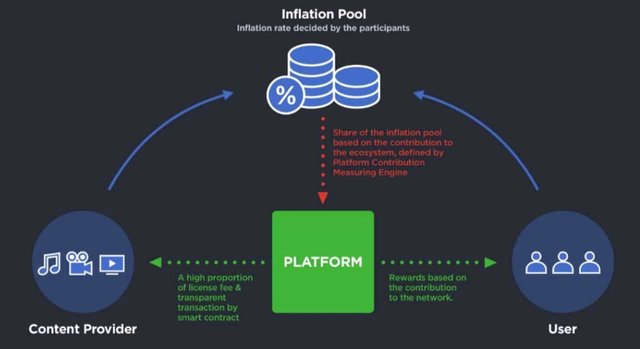 The protocol seeks to return data to the owners. By virtue of this, inordinate practice of utilizing users' personal information without consent is quashed. It is also important to note that Contents Protocol is poised to be the first decentralized content ecosystem where data can be created and secured.
Breeding Valuable Data
The hay days when content owners are taken out of the map will be stopped. The project in view promises to make the platform a hunting ground for valuable data. Users who have been discouraged by sidelines in previous platform and content providers who have been cheated out of profits garnered from their contents now have a new home.
Major Players
In the new content system, content providers are vested with the authority of creating and monetizing their contents. Consumers are individuals who purchase contents. They can be persons or establishments that need data to keep afloat. After the "consumption" of content, they drop reviews based on their experience and how useful the data was. Consumers are the primary source to valuable data. Their feedback goes the extra mile in providing the system with information about the content.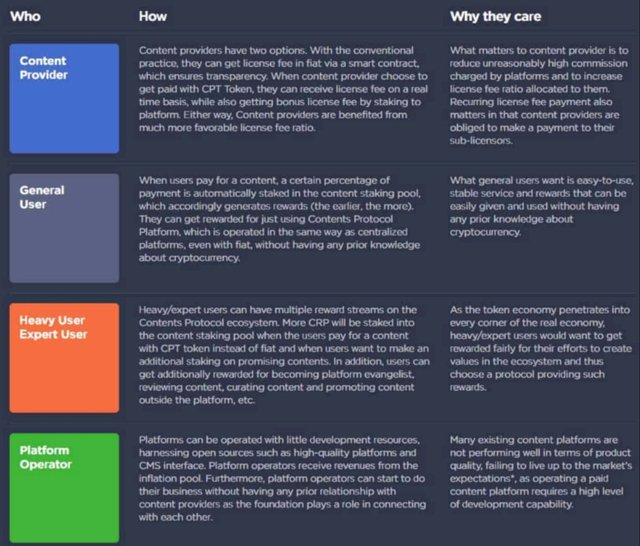 There is the 'Review Aggregator Platform" which accesses reviews from the consumer. The platform is designed to work in categories. For instance, if a consumer accessed music content, the aggregato platform UK-based Last.Fm and American-based AllMusic will take the consumer's reviews into consideration and afterwards, uses the data in providing recommended contents to other consumers.
Finally, there is the consuming platform. These are physical platforms like Netflix, Spotify and Amazon Prime Video. These platforms will purchase contents from the provider and make it available to their user bases.
By this formation, it is crystal clear that Contents Protocol does not stop at stopping unlawful use of users' data. The protocol went the extra mile to allow content providers generate income from their data.
Payment Options
There are two (2) distinct aspects of making payments for contents. Consumers can subscribe and access contents in bulk or pay per view (PPV). For the latter, (PPV), a consumer only makes payment for the particular content he wants to access.
Token Sales Information
Ticker: CPT
Token Standard: ERC-20
Token Type: Utility Token
Token Supply: 10,000,000,000 CPT
Exchange Rate: 1 CPT=$0.0015
Tokensale Start: December 17th
MAJOR INVESTORS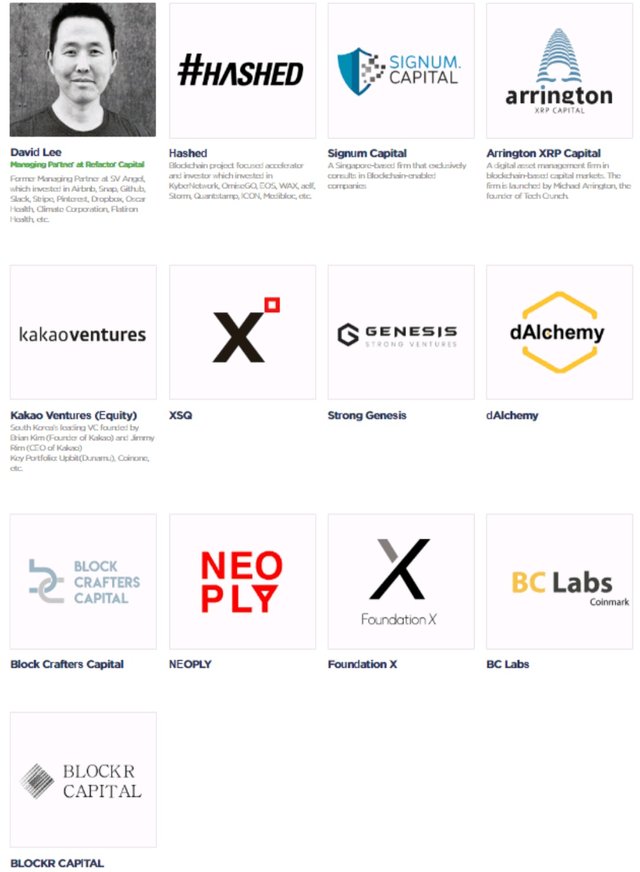 Drawing the Curtain
As the world is set to integrate Internet of Things (IoT) devices in coming years, a decentralized platform like Contents Protocol will make sure that content providers are not lopsided in the system. When fully adopted, the protocol will restore the fragmented content industry, give providers value for their data and make the system a place to be.
LEARN MORE:
WEBSITE | WHITEPAPER | TELEGRAM | TWITTER | FACEBOOK
MY DETAILS
Bitcointalk Username: Collinberg
Profile Link: https://bitcointalk.org/index.php?action=profile;u=1532780
Ethereum Address:
0xDdE65B61ebBC4464eD7E313f1811353f99ccd214