ICO vs VC. A breakdown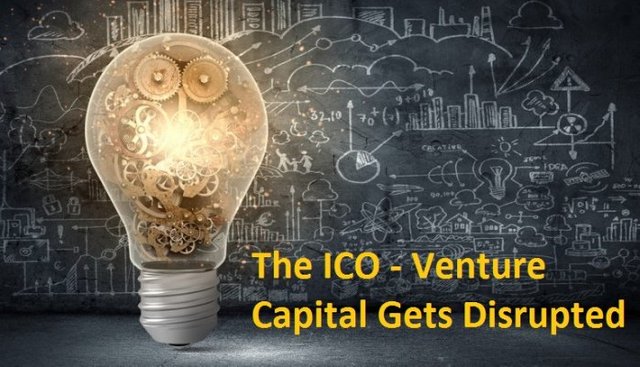 Initial Coin Offerings (ICOs) seem to be taking the world by storm and have become the go-to for most startups in the blockchain community. This leads to the question of whether ICOs are better than Venture Capital (VC) which is one of the most common strategies that startups have for the past few years been using to secure capital.
Before tossing a coin about it, it is important to have a detailed understanding of the two concepts, how they work and how they differ from each other. It is also important to understand how the two concepts are applied and which one is ideal for specific situations as well as the merits and demerits of each funding technique.

ICOs:
ICOs are still a relatively new concept that involves the sale of a new cryptocurrency to investors as a means of generating revenue and also giving value to a crypto token. This investment model has been trending in the cryptocurrency market, with most of the startups in 2017 choosing it as their preferred method of introducing their cryptocurrencies into the market. The idea is that investors are notified of an upcoming ICO so that investors get on board and purchase the digital asset on the actual ICO launch date.  The motivation for investors is that the ICO will likely gain more value, which means they can sell at higher prices in the future.
As mentioned, 2017 was a big year for ICOs because investors responded positively and as a result, the cryptocurrency market grew to more than $550 billion. One of the key features of ICOs is the fact that they allow investors to interact more conveniently with the project.

Advantages:
ICOs offer a simple approach to the concept of funding startups because they allow companies to be more accessible to the investors.  The process is rather easy and anyone can invest in an ICO-project regardless of their location.
Most ICO projects kick off with affordable investments. This strategy not only makes them attractive for investors to jump on board but the pricing also aimed at making them accessible to more potential investors.
Entry thresholds are usually set quite low. This means investors can get involved in a project at any amount unlike in venture capital funding.
ICO projects are characterized by high sped input as well as high-speed output. This means ICO investors have less technical issues to deal with compared to the classic investors. Time is the biggest factor in the cryptocurrency market.
There are no territorial barriers in ICOs as opposed to VC investments which are usually affected by location. For example, an investor in Europe might end up being charged higher transaction costs when purchasing American stock than a person who is in the U.S. ICOs completely eliminate this aspect so that they can be more attractive to investors from all over the world.

Disadvantages:
ICOs have been subjected to a lot of scrutiny by governments and regulators due to issues relating to transparency and security of investments. ICOs have also been associated with sams and it is currently difficult to tell which ones are legitimate ICOs and which ones are scams. This has to do with the lack of proper control by regulators.
The lack of regulation also means there is no quality control being subjected to ICO projects. As a result, investors are exposed to a lot of risk when they invest in ICOs.
The biggest problem facing ICOs is that most of the ICOs are illegitimate. In other words, most of the ICOs are scams meaning very few are legitimate and this makes it difficult for the good ones to gain trust from investors.

Venture Capital (VC) investments:
Venture Capital refers to investment injected into startups that show potential for long-term growth. Venture capital investors are investors that place their investments into such projects to provide funding. Just like in ICOs, there is some degree of risk involved in VCs especially because there is no guarantee of success. However, VC investors try to mitigate this risk by via careful analysis of various factors such as the product or service, the roadmap, and the market among others. VCs also have their advantages and limitations.

Advantages:
Venture Capital projects are a bit safer as investment options because they undergo quality evaluation. This is good for the investors because their goal is to invest their money effectively and in projects that have a high chance of success and low chance of failure.
Most professional investors who have been in the business long enough tend to have a team of experts that provide consultation services to startups to guide them in the right direction. This not only benefits the startup but also allows the investors to improve the success rate of the startup and thus securing their returns.
Unlike in ICOs, Venture capital investors are genuinely interested in the success of the startups in which they invest their money which is why they invest their money wisely so that they may not only gain profit but also contribute in the success of a project through funding. This is why most venture capitalists often contribute towards the development of a business and not just capital injection.

Disadvantages:
The venture capital projects usually have high input thresholds and high costs of transactions are also involved. Additionally, the process of VC investing tends to be rather technical and there is very low liquidity involved, thus the investor's funds are locked in.
VCs tend to be highly bureaucratic, perhaps due to the strict legal processes involved especially in the due diligence process. Legal examinations usually take months.
Too much cooperation between the investors and the startup means those heading it could end up losing control of the project.

Conclusion:
Judging by the advantages and disadvantages of both investment options, it is safe to say that ICOs offer more flexible options despite the downsides involved. However, both options could use some improvements. For example, ICOs need more regulation and improved transparency while VCs may benefit from simpler processes and lower costs. The best option depends on the investor's patience and preference, as well as the amount of money to be invested.
The whole article can be found here.
Disclaimer: information provided by @cryptomedics does not constitute as investment advice, financial advice, trading advice, or any other sort of advice, and you should not treat any of the website's content as such. Do conduct your own due diligence and always do your own research before investing. If you like our content, show us some love, upvote, resteeem it and join our Telegram Discussion or the MainCryptoMedics Channel.