Distributed Credit Chain (DCC): Decentralized ecosystem for financial services
Financial transactions rely heavily on the endorsement and support of large financial institutions, with substantial transaction fees paid out to these institutions. Monopolistic financial institutions have in fact raised lending rates for borrowers and reduced the interest income for lenders. The core model of a credit agency is to share the costs of non interest-earning elements and bad debts by charging the "good guys" who can pay back the money. For borrowers, it brings an additional cost. From the credit agency's perspective, a lot of time and efforts are wasted in verifying the credit of borrowers who do not meet the agencies' risk criteria, which leads to wasting resources and decreasing efficiency. A centralized credit model entices many financial institutions to deviate from their primary purpose— serving customers. Aiming for profitability, they deduct lenders while squeezing borrowers, and expand their profits by extending their customer base.
The fundamental function of the credit market is to adjust temporary or long-term funding shortfalls: in economics, the players with surpluses have extra funds and do not wish to increase their current expenditures, while those with deficits are in search of spending, but fail because of their liquidity crunch. Within the credit market, assets and capital can be properly allocated, allowing the smooth functioning of our economic system.
The data-driven credit business offers us many inspirations and dramatically improves credit efficiency. However, the credit business in every country is replete with loopholes at every stage of the process, such as unclear rights and interests, high operating costs, inefficient operations, untrustworthy credentials, and privacy leaks.
The root cause of these problems lies in the provision of services by fragmented parties through various kinds of centralized systems. First, the centralized systems cause too much instability and heighten the risk of counterfeiting. Second, the fragmentation among systems significantly increases mutual verification and trust costs. Finally, data is neither well encrypted during delivery, nor actually authorized by users during utilization, thus enabling abuses of privacy.
Financial services are the economic services provided by the finance industry, which encompasses a broad range of businesses that manage money, including credit unions, banks, credit-card companies, insurance companies, accountancy companies, consumer-finance companies, stock brokerages, investment funds, individual managers and some government-sponsored enterprises.
WHY DCC?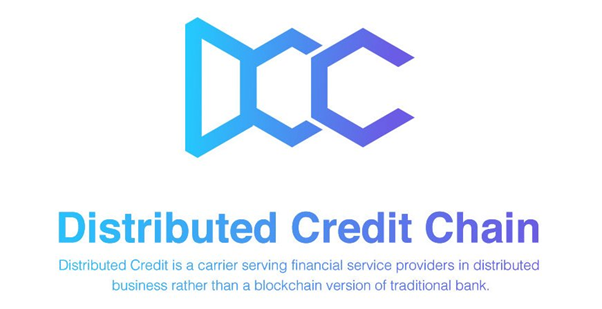 source
Distributed Credit Chain (DCC) is the world's first distributed banking public blockchain with a goal to establish a decentralized ecosystem for financial service providers around the world. By empowering credit with blockchain technology and returning ownership of data to individuals. DCC aims to reconstruct the ecosystem of traditional credit business through decentralized thinking and distributed ledger technology.
Distributed Credit Chain will be running on decentralized blockchain system to serving its credit business. In the decentralized credit chain (DCC) each individual or institution has been given one DCCID generated through Public-Private key. DCC provide an open source personal credit data management framework-DCDMF (Distributed Credit Data Management Framework),It uses Advanced Encryption Standard (AES) to encrypt the data with private key and password.
It follows cyclic way from borrowers to data providers then algorithm and computational service providers, then risk assuming institutions to funding providers so that finally user gets funds from lenders after successful completion of each stage.
Data in the DCC stored distributed in the hands of users, that means it is returning control of credit to customers
The DIV framework of DCC enables the change from centralized management by credit reporting agencies to decentralized individual ownership, which will fundamentally alter the original landscape in which the personal credit reporting system is maintained by centralized credit information systems in each country and region.
It Improves data validation efficiency and reducing data used cost
Providing AI risk control where anti-fraud and modelling algorithms are provided on the blockchain which is to help financial institutions process personal data without storing data.
It provides solution for Eliminating Monopoly and Profiteering, Creating Data Marketplace, AI Risk Control, Disclosing Lending Behaviours, Positive Data Feedback.
The Open Platform on Distributed Credit Chain is a centralized system which serves as a data provider and market. The transcation market serves data collaborators, AI risk control algorithm providers, credit structuring institutions, and other institution partners. Through this platform, institutional partners can check, screen, contact and reach cooperation with other partners based on their needs through DCC, while using the services on DCC .
The Open Platform interfaces with DCCmarket contracts. All cooperating institutions can publish their labor costs through this platform. After analysis and processing, these data will be sent to users and institutions as their price basis for choosing the services they need. The real-time quotes will smoothen the exchange of information across the institutional service market .
The distributed credit chain can be applied in many scenes in financial area, among which a DApp serving the personal loan market has been launched and in use, the others are under developing and will come soon.
TOKEN DETAILS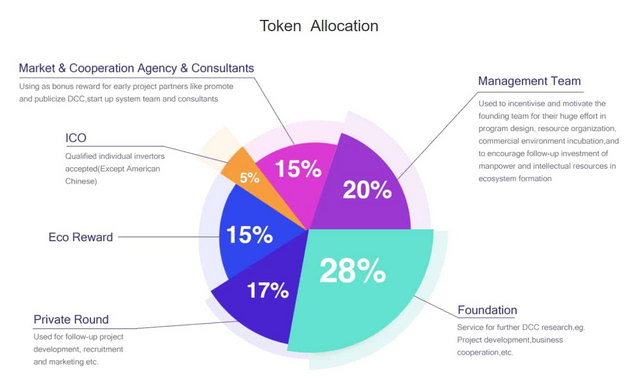 source
Token: DCC
Standard: ERC: 20
Type: Utility token
The token cost in ETH: one Token = 0.000073 ETH
Accepted currencies: BNB and ETH
Hard cap: 36,500 ETH
Soft cap: 14,500 ETH
ICO Start: 28th May 2018
ICO End: 28th June 2018
Full token supply: 500000000
Additional token Emission: No
Bonus program: Yes
The token sales has ended, it was sold out before the end date.
ROAD MAP


source
Website:source
Telegram: source
White Paper: source
Facebook: source
Twitter: source
Youtube:source
Medium:source
Reddit:source
Github:source
join me on bitcointalk here