Online.io : Internet for change
Internet have been of huge importance according to statistics, more than 51% of the world population have internet access. The internet which is a global village where computer devices connect to a network to share a variety of information and communication data.
There are different types of internet services and they vary from their use and an example of Internet services includes.
World Wide Web
Electronic Mail
File Transfer Protocol
Chat
Telnet
Newsgroups
One of the major grumbles that people tend to have about websites has to be the sheer number of adverts and popups that just appear out of nowhere and irritate us to a huge extent. We are particular about the World Wide Web. The website serves as a medium where people socialize, educate themselves, interact with business partners and co-workers; Some even create personal pages to talk about their personal life, family, life experience and maybe a resume. Today, websites are crowded with many unpleasant experiences, aggressive ads which make browsing experience tiresome. Additionally, most of those ads are misleading and are embedded with malicious and harmful script hidden under these ads.
Most users say that ads are becoming increasingly intrusive and they've also closed their browsers due to pop-up ads. Consumers are increasingly unable to tolerate ads because it is Intrusive and disruptive ,Cause security problems and
Affects load time and bandwidth.
Most users are very concerned with security and privacy issues. We know that user behavior data are tracked and recorded for later use for the benefit of "evil" companies. Increasingly sophisticated tracking techniques today can track interests, attributes, shopping events, visited places, etc. Moreover users do not have access to the data collected and can not make corrections in case of invalid data.


source
Why online?
The new project say that they will be in a position to revolutionize our approach to browsing by providing a safe and secure platform that will be devoid of those ads, malware, and other malicious code that can appear at various times. At first, this does sound rather promising but there is a bit more to what they are offering to do for us to explore before you can reach a decision as to whether or not this project is for you.
Of course, the website owners are making a lot of money from showing the different ads, but at the same time it is clearly having a negative impact on our overall experience. By removing these problems, it may very well mean that people will be able to enjoy the Internet rather than dreading all of those adverts appearing at random times.
However, the interesting part is that they state website operators are still going to be able to gain financially from this new type of Internet while the users are not going to be left effectively being inundated with ads, which does sound like a win-win situation.
source
Main Features Of Online.io
To solve the challenges users have while surfing the internet, Online.io is putting together different features to totally create an enjoyable user experience while surfing the internet. These features create a boundary between the old and the new internet.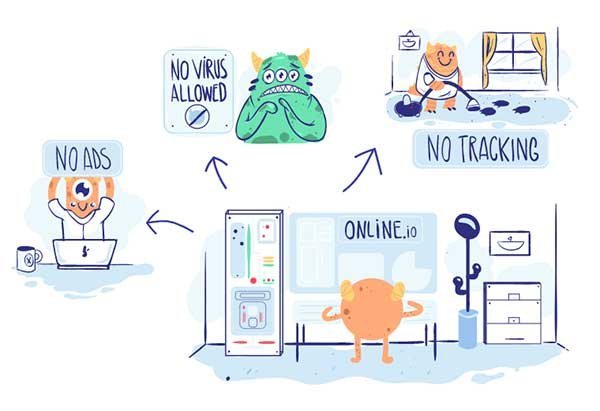 Ads free: while website owners put ads on their website to be able to pay for website resources and to be able to earn some token at the end of a period. This could be changed with the way website operators benefits from their website. Creating a friendly and enjoyable experience for website users is paramount. website owners can still benefit from financial rewards.
No Tracking: Peoples are always keen to issues that have to do with their privacy, but unfortunately for them, website owners find a way to collect not just their data but sensitive information about them through their browser's cookies. They collect their personal data even without their consent and use it to serve them targeted ads. Online.io is bringing an end to this, by creating a platform that integrates blocking tracking script which makes it impossible to track users activities in real time.
Faster surfing: Website owners use users cache and cookies to track users online activities, these cookies take up a considerable system memory which slows down the system speed. Also, these ads take up spaces on the websites and sometimes they contain large sized images and animated objects, which slows down browsing speed. Through the solution Online.io proposes by blocking ads, this would help makes users surf website faster and more enjoyable.
Protection from malware and virus: The massive user base of an online website has lead to attraction from hackers and data mongers. They use every means possible to carry out their cyber attacks through malicious website and ads. Online.io uses a powerful ads blocker that helps protect users personal data and enhances their security.
Token details
Online.io Token (OIO)
This OIO Tokens are issued to fund the development of the Online.io platform as well as a staking token or Proof-of-Stake (POS) to generate ICE tokens. This ICE Tokens are not only can be obtained from POS OIO, but also can be mined with the Proof-of-Elapsed-Time (POET) i.e. user performing certain actions within a certain period of time. In this case, when users spend time on a website that uses the Online.io platform. A fixed number of ICE tokens will be distributed weekly on websites using Online.io and OIO tokens owners who store their tokens in special wallets.
Online.io Ecosystem Chart
The OIO Token can be purchased by end-users and web operators who use Online.io solution. The OIO Token can be locked in a special wallet to generate ICE token, this is similar to stock interest or dividend. This mechanism is called Proof-of-Stake (POS). The OIO Token will be traded on the exchange so it can be traded to get fiat or other cryptocurrencies.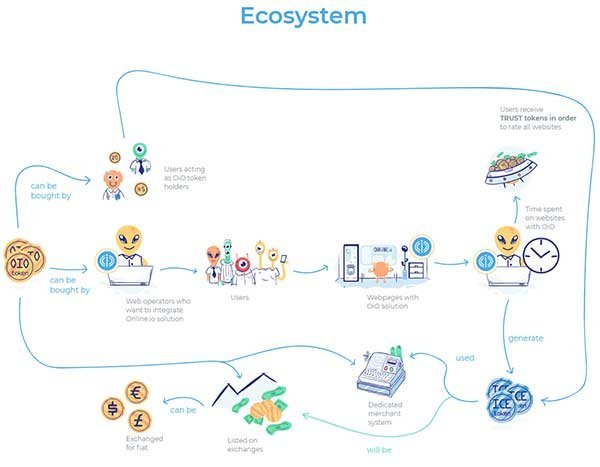 ICO DETAILS
Pre Sale start date: 15 June 2018
Public start date: 10 July 2018
TGE end date 31 July 2018
Max OIO tokens 2,500,000,000
OIO token price $ 0,04
Soft cap: $ 5,000,000
Hard cap: $ 50,000,000
TOKEN DISTRIBUTION
OIO Community – 70%
Company – 15%
Marketing & Loyalty – 10%
Partners & Advisers – 5%

For more details visit:
Telegram: https://t.me/OnlineIO
website: https://online.io/
Medium: https://medium.com/online-io-blockchain-technologies
Whitepaper: https://online.io/download/OIO-Whitepaper.pdf
Twitter: https://twitter.com/OnlineIO_
Facebook: https://www.facebook.com/Online.io/
If you loved what you have read follow me at bitcointalk here