DBXChain (DBX) ICO REVIEW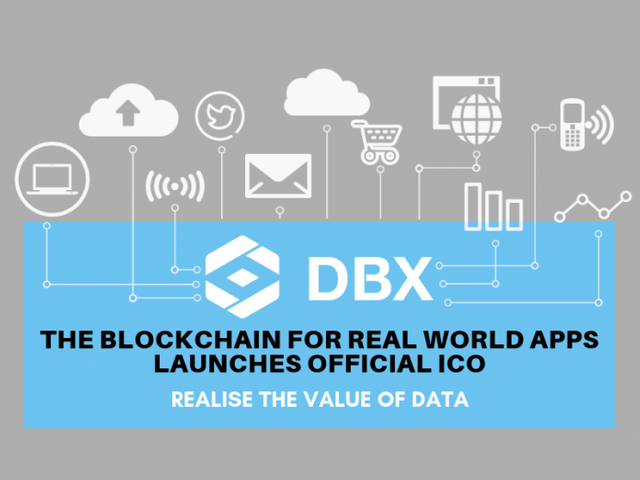 What is DBXChain?
"DBX (Database X) is a value-based ecosystem of data built on blockchain: it is a decentralized community for exploring and exchanging valuable data; it makes a huge amount of "useless" data to achieve great value by making a perfect match with certain demand undiscovered before; it enables every participator in the community to acquire data with higher efficiency, lower cost and fairer trading."
What DBXChain Brings New?
"On the classical internet, to make an application, we need to analyze data demand, find out data source, purchase, and load data. This is an extremely time - wasting process. Instead, through its globally distributed blockchain network supported by Trinity Nodes (the key nodes that undertake fundamental function services of DBXChain) as well as data demand analysis/quality supervising dApp as consensus, followed by highly automatic and autonomous data value transferring, DBX could make the whole procedure (analyzing demand –matching source –exchanging data and transferring value) be accomplished automatically."
What technology DBXChain uses?
"DBXChain combines blockchain technology with the most important data assets in future society and establishes a trustworthy data value exchanging network suitable for all fields based on blockchain technology, so that data in all fields can be shared and exchanged in a free, equal, credible and efficient manner. It aims to eliminate information islands making data provide higher value for businesses and society and improve the social credit system.
DBXChain can not only provide high-frequency data exchanges/transactions, but also help developers develop various data applications. With all the data applications, DBXChain only stores basic information in data exchange, including transaction vouchers, summaries, digital copyrights, etc. However, it does not precipitate data in order to protect users' privacy at the same time."
What is the trend of the market?
"It is predicted and reported by Research and Market that the worldwide big data market scale has reached 57 billion USD. With gradual mature solution, big data is applied to various industries which stimulates development aggressively, becoming the new incremental point of worldwide IT exportation. It is estimated that by 2020, the worldwide big data scale will reach 76 billion USD with a compound growth rate of over 10%."
"Big Data, which has been defined as the next natural resource, has gone through a drastic shift in terms of how personal data should be accessed and utilized by organizations. Every day 2.5 quintillion bytes of data is created. A lot of this data is created by individuals. This data is owned and stored by large organizations in huge data silos where it is sold, extracted and exploited. Often the individual loses control over their data when signing up to various services such as Facebook, Google, Instagram, Twitter etc."
https://www.theguardian.com/technology/2018/apr/08/facebook-to-contact-the-87-million-users-affected-by-data-breach
As you can check from the link, there is a huge risk of data breach.
What is the problem?
In the existing value-based data system, some conundrums remain unsolved, which hinders the further advance of value-based data exchanges
• Data Waste: Data value varies by scenarios. Totally valueless data for one party may be priceless to another.
• Data Islands: In recent years, the government, internet giants and large enterprises have all entered various parts of the data value exchange chain. In doing so, they have provided not only rich data sources but also formed a coexistent trend of multi data transaction methods with the existing platforms in the market.
• Data Supply and Demand Asymmetry: The current value-based data exchange is in mass volume so that the supply and demand are extremely asymmetrical. Thus, data buyers need to clean, compare, complete and improve their own data.
What are the benefits of DBXChain?
-Data Storage: Making data accessible easily by integrated Data Storage Side-Chain.
Reward Mechanism RoDS :Opportunity to receive rewards for each data set the user choose to share to Data Buyers.

D-DPoS Consensus Mechanism : Real-time and unpredictable Trinity Node election procedure according to each nodes data contribution to avoid bribery.

Fully Decentralize Blockchain.

Low fees and costs.

Real world applications.

Transparent and open.
What is the consensus mechanism of DBXChain?
DBX defines a new consensus mechanism: D-DPoS (Data-Based Delegated Proof of Stake). D-DPoS s a stake authorization proof based on data. It comprehensively measures data supply sharing, computing power provision and data processing dApp quality contribution. Those factors meanwhile reflect the time weighted contribution of each voting node to the whole network according to CES (Constant Elasticity of Substitution) function model. In this way, it prevents bribery or ballot rigging which DPoS mechanism are faced with.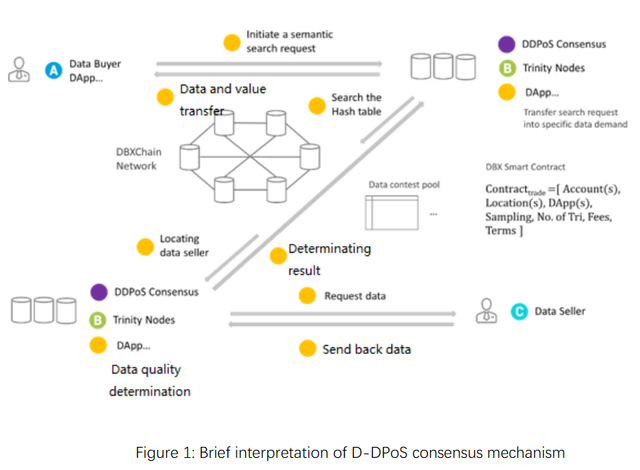 Token Distribution
DBXChain will issue 10,000,000,000 (10 billion) DBXs in total.
Founding team members can trade as many as 5% of DBX they hold monthly with 7-month locking period.
Initial investors and consultants: 10%
Investors or consultants can trade as many as 20% of DBX they hold monthly with 2-month locking period.
No lock period.
Fund expense is managed by the policy-making committee of the Foundation and supervised by the entire network.
Ecosystem construction: 15%
Gradually during 10 years after the main network launch for early contributors.
Gradually issued during 10 years after the test main net launch for early data contributors / users and promoters through
RoDS mechanism.
*If ICO does not reach the Hard cap, the total supply of tokens will be smaller (due to unsold tokens during ICO will
be burned).
Team
1.Tomi Wen / Founder
2.Ben Fu / Technology Director
3.Summer Xu, MBA. / Operating and Marketing Partner
4.Trinity Wang, Ph.D. / Developer Ecosystem Director
5.Alex Xiang / Product Director
6.Alvin Zhou / Economic System Director
7.Oceanus Zeng / Risk Management Director
Generally a solid team with an academic and technical background. To see fully (https://dbx.one/libs/pdf.js/web/viewer.html?file=%2Fassets%2FDBX_Whitepaper_en_v1_0Q.pdf)
Investment Institutes
There are several investment institutes. "Vlane Capital, BCFOF, TFund, JINGTUM TECH, Fulcrum Capital, Sparkling Star Capital, Jiuzhou Capital, ARRIVAL Capital, Deep Capital, F8COIN, VVCAPITAL, Fengkuang Capital, BitcapitalVendor, BitMARS Capital, Yishi Capital"
Business Partners
"AWS, Yue Chain, Cardeal, Geetest, Superfans, Ruegou, Bishijie, Ear Finance, Block Technology, Lujiazui Live, Uplus, Focus Blockchain, Shenlian Finance ,Yangtuo Blockchain, Candy.ONE" are the business partners.
Generally, DBXChain has a solid support from institutions.
Roadmap
In Q3 2016-Q2 2017: Finishing systematic framework designation of DBXChain.
In Q3-Q4 2017: Finishing development of DBXChain internal beta edition.
In Q1-Q2 2018: Releasing Internal Test net of DBXChain and developing D-DPoS Consensus Mechanism.
In Q2-Q3 2018: Integrating DBXChain ́s first dApp "Data Game" and complete native DBX Wallet.
In Q3-Q4 2018: Expand the technical team to ensure completion of DBX Main net and provide DBXChainBaaS for supportthird-party dApps 'development.
In Q4 2018: Complete DBXChain Smart Contract protocol to register transactionsand activities as Data Exchanges to allow future Side-Chain for Data Storage utilization.
In Q4 2018: Release of Public Test net for developers.
In Q4 2018: Have multiple dApps integrated on DBXChain from third-parties.
In Q4 2018: Implementing RODS Reward system for Data supply.
In Q4 2018: Listing the DBX Coin on multiple exchanges.
In Q1-Q2 2019: Complete final test of the first network-wide election of Trinity nodes.
In Q1-Q2 2019: Expand the Business Development & Support team for new partnerships and dApps integrations.
In Q3 2019: DBXChain Official Main net is launched.
In Q3 2019: Continuing developing Side-Chain for Data Storage with User Data Library
In Q4 2019: Launching a decentralized and transparent Exchange-as-a-Service for integrated dApps.
It is a very detailed roadmap. Basically it shows that the project is well-organized.
Conclusion:
It looks like a solid project with a solid team. They are bringing something new which is essential for an ICO to be succesfull. "DBX is unique from other ICOs by the fact that before ICOs began, DBX had already completed:"
An open source oncomof the first version of DBX Chain.
The launch of the Testnet.
Created the wallet app.
The first DApp (decentralized applications), known as "Data Game".
Because of the diffrences which is pointed above, I believe DBXChain has an huge potential in the long run.
To search more:
Web site: https://dbx.one
Whitepaper : https://dbx.one/libs/pdf.js/web/viewer.html?file=%2Fassets%2FDBX_Whitepaper_en_v1_0Q.pdf
Telegram : https://t.me/DBXOfficial
Twitter : https://twitter.com/DBXFoundation
Facebook : https://www.facebook.com/DBX-Foundation-2034487803539197/
Linkedin : https://www.linkedin.com/company/dbx-foundation-ltd/
Bitcointalk : https://bitcointalk.org/index.php?topic=4807962.0
Medium : https://medium.com/@dbxchain
Also there is an article that you should check:
https://medium.com/@dbxchain/dbxchain-completes-its-virtual-machine-utilising-webassembly-for-mass-adoption-of-dapps-5b2250086e01
Sources:
https://thebitcoinnews.com/dbx-the-blockchain-for-real-world-apps-launches-official-ico/
https://www.crypto-coinz.net/press-dbx-the-blockchain-for-real-world-apps-launches-official-ico/
** The information contained in this article, is not financial advice. Do your own research before making any investment decisions.