Saifu.ai - single European bank account for cryptocurrency and fiat money with legal interchange, depositing and withdrawal functions.
Saifu.ai - single European bank account for cryptocurrency and fiat money with legal interchange, depositing and withdrawal functions.

I'd like to present you a review of Saifu financial service that aims to develop single account with bank-grade level security for cryptocurrency and fiat (traditional) money storage and their both exchange and interchange.
List of claimed services that one can receive from Saifu right now looks attractive:
Opening accounts under license from the Czech National Bank
Depositing account with fiat or cryptocurrency
Cryptocurrency to fiat exchange and reverse exchange.
Transfer and receive fiat money via SWIFT international money transfer system
Making deposits to account from credit card directly through any bank Visa/Mastercard.
Nearest plans include:
linking up internal exchange allowing trading cryptocurrency between clients,
issuing IBAN numbers to clients,
personal debit card issue, that are linked to personal accounts with possibility to withdraw funds from clients account to the issued personal credit card.
Furthermore, Saifu token holders will receive discounts on platform services, based on the amount of coins that are in hold based on the principle - the more the better.
Let's start from the very beginning.
In contrast to many traditional cryptocurrency exchanges and exchange services Saifu is a fully regulated financial institution that has received an operating license issued by the Czech National Bank.
In this regard individuals and organizations that are planning to use Saifu accounts must pass compulsory verification and accounts review according to KYC (Know Your Customer) and AML (Anti Money Laundering) standards.
On the other hand, utilization of long-established traditional bank technologies when dealing with cryptocurrency could be attractive for ordinary people.
Saifu is aiming to make cryptocurrency more available not only for crypto lovers and geeks but for everybody.
At the same time company's activities are licensed and regulated by the state regulators.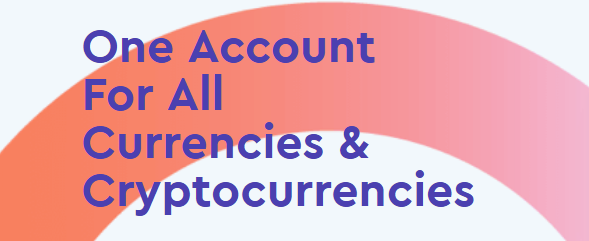 Saifu: Company and team
Company's founders are public people and have active profiles in at least Linkedin and links to them from official web-site.
You can find a lot of references and mentions about Saifu team across the web also search engines can provide plethora information about their previous activities.
There is no doubt that they are real people connected with Saifu team.
The teams professional experience including blockchain developers and marketing specialists is mostly connected with spheres of finance, banking business, consumer loans.
This result was achieved due to company founders experience or work experience in respective companies, banks and microfinance organizations - Finam, Deutsche Bank, Sberbank, Parex Banka, Absolut Bank and other.
Couple of Saifu team members recently worked in Kaspersky Lab and are specialists in network security and online safety.
Saifu is legally represented as Czech company PAYMASTER a.s.,registration number 05690382 that can be easily verified in the corresponding databases.
The president and chairman of the company is Eižens Slava. This information fits information from the web-site.
Conclusion:
Saifu team has a vast experience in working with financial and banking structures that could be proven and collaboration of former head of Parex Bank credit department with Kaspersky Lab network security specialist could be prolific.


Experts and community about Saifu:
It should be noticed that Saifu team is making really great steps towards advertising and informing the whole community about their project.
Information about Saifu is presented in all social networks, websites, groups to inform the concerned audience.
Saifu is presented in Facebook, Twitter, Telegram, YouTube, Reddit, Medium networks. In the end of the article the following links will be provided.
Saifu company is actively performing in front of live audience. For example the co-founder Evgeniy Vigovskiy represented Saifu during Crypto Space conference that was held in Skolkovo on 8 December last year.
Saifu also holds meetings in AMA (Ask Me Anything) format.
Independent experts estimate Saifu ICO prospects as:
Score from ICO Bench - 4.1 out of 5.
Score from Track ICO - 3.9 out of 5.
Stable+ mark from ICOrating.
Conclusion:
The volume of provided official documentation and unofficial reviews is fairly enough to make a full analysis of a project concept.
Saifu company is presented and stays active in all social networks especially in English-speaking comunity and managed to succeed in drawing attention of new customers due to bounty campaign and efficient marketing.
!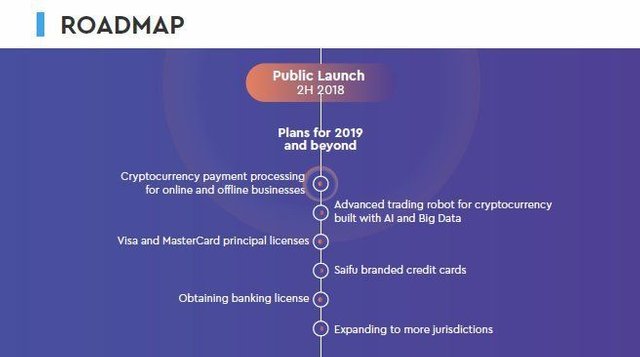 Saifu competitors and roadmap
Due to its inner specifics - cryptocurrency world is perfect for development of financial apps.
So Saifu will be working in a tough competitive environment.
Whitepaper document states Monaco, Bankera, Revolut and Crypterium as Saifu main competitors.
Monaize project - European bank built on blockchain for freelancers and small business can also be added to this list.
All the projects mentioned above are planning to operate on the markets that are in Saifu's sphere of interest.
As a result the idea of the project itself in not unique and therefore Saifu team will be working in a highly competitive environment.
On the other hand Saifu has already obtained a working platform that can be accessible via web-browser and as a standalone mobile app.
The launch of the platform is technically ready and the company is waiting for the ICO ending and receiving all necessary authorization documents from the regulators.
In addition Saifu presents oneself as the only company whose activity on cryptocurrency to fiat and reverse exchange is fully legal and licensed.
Furthermore the market is growing quickly so the level of competition can also decrease.
It is expected that by 2020 the volume of transactions in cryptocurrency will exceed $5 trillion.
As of today cryptocurrency transaction volume is 4 times lower - approximately $1.3 trillion per a year.
Having existing technology and application the major part of funds raised during ICO would be invested in legal support and business licensing (40%) and marketing (15%).
Operational costs are planned to be 40% and other 5% will be allocated for representation expenses and conferences attending expenses.
Saifu has already managed to prepare issuing their clients the IBAN numbers (International bank account number) for cryptocurrency operations.
Upon the platform launch it will not work on the blockchain but Saifu is considering to implement this feature after 2020.
ICO and SFU tokens.

Fund raising and SFU token sale of Saifu platform is launched on Ethereum blockchain under the following conditions:
Soft cap (minimal amount needed to launch the platform): $10 million
Hard cap (maximum amount of funds gathered): $49 million
Maximum amount of tokens: 100,000,000 SFU
Nominal price: 1 SFU = 0.0001 BTC
ICO ending; April 30, 2018
Unsold tokens during ICO will be burned after the ICO.
Currently more than $11,000,000 has already been raised
The very essence of SFU tokens lies in their necessity for operations with the platform.
All transaction fees inside the platform will be committed in tokens.
Saifu platform clients should buy tokens inside the platform or in the open market or exchange.
As the number of tokens is limited their value will grow in proportion to the development of the Saifu platform
To encourage clients to hold tokens Saifu developed loyalty program under which token holders will receive discounts on Saifu services depending on amount of tokens they possess.
And beside that Saifu provides a procedure of burning 70% of tokens that are involved in transactions inside the platform to prevent excessive liquidity.
Tokens will be issued after the ICO finish and sent to the ERC-20 wallets addresses stated in your Saifu ICO personal account.
ICO smart contract source code is open so each interested person can verify correspondence of code with the ICO conditions.
General Summary
Advantages:
Saifu has already obtained a ready and working Internet banking platform and mobile application.
Current Saifu activity shows their ability to conduct aggressive marketing that is necessary for the platform development.
The team has much experience in banking and financial spheres. The company has operating business and all necessary licenses for activity.
Disadvantages:
Business idea is not unique and the project is targeting a highly competitive market occupied by major players.
Company success largely depends on marketing and advertising rather than on technology.
Benefits of holding SFU tokens have rather speculative interest and consist of waiting for the token price growth according to the company development adding bonuses and discounts for using platform internal services.
USEFUL LINKS:
Telegram channel : https://t.me/saifu_ai
ANN Bitcointalk Thread: https://bitcointalk.org/index.php?topic=2472594
Facebook: https://www.facebook.com/signals.network/
Web-site: http://saifu.ai/
Whitepaper https://ico.saifu.ai/Saifu-WhitePaper.pdf
MY LINKS:
https://golos.io/@aggress0r
https://steemit.com/@fedotfedot
My bitcointalk https://bitcointalk.org/index.php?action=profile;u=1121623