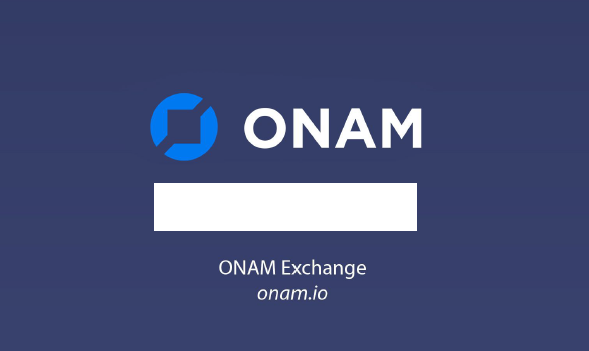 INTRODUCTION TO A FAST GROWING BLOCKCHAIN TECHNOLOGY
It baffles how the blockchain ecosystem grows since it introduction. No technology has ever grown so fast as the blockchain technology. In less than a decade, it is almost sinking into every nuke and cranny of every economy as long as the internet is concern. Even the computer itself did not experience this fast growth when it was invented. This positive record is due to the blockchain nature; it ease of operation and mitigating the limitations of traditional centralized economy. For just a short period, more than 700 cryptocurrencies has been birthed paving way for trades to be done on the blockchain with numerous currencies rather than just the Bitcoin which was the first digital currency. However, the massive introduction of cryptocurrencies into the crypto market has also shaken the stand of cryptocurrencies' exchanges. This is because they could not withstand the fast growth and mass adoption of cryptocurrencies due to their rigid and poor scalability. Below are some major problems and limitations the crypto market and exchanges are currently facing.

CRYPTOCURRENCIES EXCHANGES CHALLENGES
SECURITY
The issue of insecurity has always been a major issue when it comes to the cryptomarket. Digital assets safety is one of the major challenges that the current cryptomarket faces. The issue of internet hacks is no longer old news. According to
Cointelegraph
,in 2017 alone, 1.35 million BTC, 120,000BTC, 24,000BTC, 19,000BTC and 97BTC were lost to internet hacks by major cryptocurrencies exchanges which include Mt. Gox, Bitfinex, Bitfloor, Bitstamp and Poloniex respectively. And every year, exchanges are prone to hack attacks.
Apart from internet hacks that has been a major issue in crypto market, ICO scams are also a security breach to look at for.
SCALABILITY LIMITS
No one ever expected to see the crypto market grow so fast. I remember when the first cryptocurrency was introduced, most people in Africa and the World generally thought it was another internet scam and only a few ventured into it. This myopic view of how fast the market will grow has also limited exchanges in creating room to accommodate more features for future invention of other currencies. In just 2017 and 2018, massive number of new investors trooped the market after seeing the possibility in the bitcoin and other subsequent currencies birthed. Cryptocurrencies exchanges find it difficult to accommodate more trades as their exchange matching engines are overloaded during peak trading times.
MARKET MANIPULATION
Most times, market manipulation is initiated by a group of individuals in the crypto market usually called "Whales". This creates pressure for smaller scale investors or new investors to the market who find it difficult to join the market at particular price range set by these big investors that are already in the market.
LACKLUSTER CUSTOMER SUPPORT
Most exchanges has taken an "I don't care" customer support approach especially when they've gotten some good numbers of customers they tagged "VIP" or "Big Whales" in their market. New users or small scale investors are almost neglected in issues such as approval of customers' accounts or KYC, urgent cases such as loss of funds during a trade by a new user etcetera. These issues most times take days or even weeks to be resolved. This has lead to users been indifferent with such exchanges because they are not been treated well when they report a situation hence, they sort for better services.
POOR MARKET LIQUIDITY
Another limitation of exchanges is poor market liquidity. The cryto market is not yet ready to accommodate large orders of trades without altering the value of the Cryptocurrencies. This happens due to lack of liquidity in the system.
LACK OF REGULATORY COMPLIANCE
If you've been a crypto trader, you will know that prices of individual Cryptocurrencies are never uniform across different exchange platforms. This made traders find it difficult to trust which exchange to invest or trade on. To have an ideal and reliable exchange, there have to be a regulatory framework to protect traders or investors from fake or unserious exchanges or ICOs that might likely fail to deliver on their project as promised.
HIGH COMMISSION ON TRADES
The issues of the crypto market are endless. Apart from the issues listed above, most exchanges charges traders very high commission for trades initiated in their platform which left the traders with little or no profit after paying such commissions. Therefore, there is need to call for a system that can breach this issue and prepare a better platform for cryptocurrencies to the traders with ease and safely. And this is exactly where
ONAM
comes into the picture.

INTRODUCTION TO ONAM EXCHANGE
The
ONAM
exchange has finally came up with interesting remedy to the issues discussed above. ONAM is a compliant cryptocurrency exchange platform offering the latest and best security, scalability, transparency, customer support, liquidity and compliance features.
ONAM's SOLUTION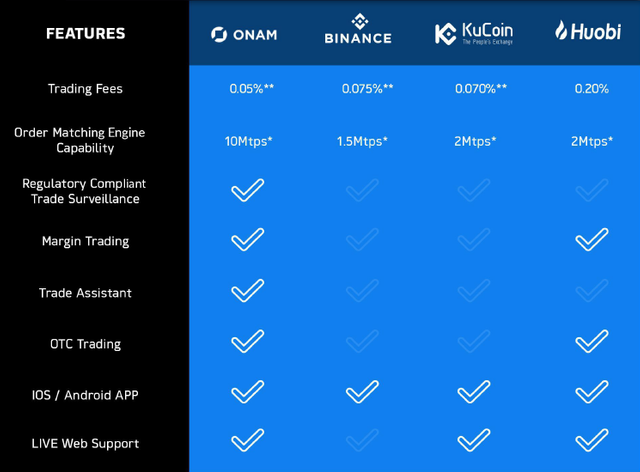 ONAM compared to other exchanges
SECURITY
Using the Advanced threat prevention, intrusion detection and Trade Surveillance system,
ONAM
gives it users a confident that no other exchanges has given. With it machine learning technologies, fraudulent activities can be detected event before they happens. In other words,
ONAM
's team will tackle security breach using advance machine algorithm to detect such breach before their initiators dream of succeeding such attacks. This will encourage investors' trust since users are prevented from theft and being pre-informed before such activities happens in real time.
SCALABILITY
It is true that other exchanges matching engines cannot handle more transactions per second. Using the GoLang programming protocol,
ONAM
exchange is capable of processing 10 million transactions per second with a minimum transactions delay of 40 nanoseconds.
MARKET MANIPULATION
The
ONAM
Real-time market surveillance, supervision and compliance system,
ONAM
will be able to track down any form of manipulation that big whales or massive investors may cause such as unusual large trades, pass-through trades, wash trades, spoofing, layering etcetera in order to acquire more profit.
INTENSIVE CUSTOMER CARE SUPPORT
At
ONAM
, every customer is important to the exchange. They are ready to tackle any issue raised by users in less than no time using a live chat channels where users can communicate directly to a customer care representative. These chat rooms are flavoured with different languages option to mitigate the issue of language barrier among users across the globe. At
ONAM
, customers are first priority!
MARKET LIQUIDITY
With
ONAM
, the issue of poor market liquidity is history as it will be resolved by incentivizing and offering truly transparent order books from different exchanges.
REGULATORY COMPLIANCE
Following the rules and regulations that guides and give users a better confident in trading on the platform is a very important factor at
ONAM
. Therefore,
ONAM
is working with the necessary legal firms to make sure they work in line with the regulatory bodies of exchanges; obtaining necessary documents and permissions in order not to be locked out of the market.
Conclusively, at
ONAM
, every possible measures are taken to make sure it customers benefits their investment. With other piled up features of the platform, it is certain that users will be attracted to
ONAM
's exchange.

FEATURES OF THE ONAM PLATFORM
HIGH TRANSACTION PERFORMANCE
With other exchanges been capable of processing just a few million transactions per second,
ONAM
, using it machine learning and matching engine system will be able to process more than 10 million transactions per second with transaction delay as low as 40 nanoseconds.
COMPOSITE INDEX FUND
Customers will get more exposure of crypto assets to invest on via the
ONAM
monthly rebalanced composite index funds.
PAPER TRADING/DEMO TRADING
With this feature, traders can initiate demo trades without involving their real assets. This helps customers to be conversant with the platform and acquired trading skills for better insight for the real deal. In other words, novice and new users can use the paper trading feature of the
ONAM
platform to practice in order to be prepared for trading with their real assets.
FLEXIBLE USER INTERFACE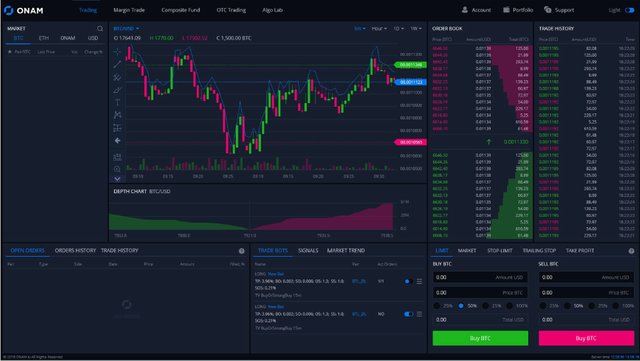 The ONAM modular User Interface enables users to personalize the ONAM trading Interface to suit their own desire since everyone has their own taste that might be different from the default design.

ADVANCE STATISTICAL TOOLS
Having a statistical report on trades is a very vital ingredient for effective and better trading.
ONAM
platform present to it customers an advance charting tools that gives them advantage of getting the best analysis of different assets at a glance without surfing for such information outside the platform.
TRADING EXPERTS
It is clear that not every crypto trader or investors is conversant around exchanges or investing in the crypto market. This is a feature other exchanges do not have. At
ONAM
, customers are provided with onboard trading experts that educate new users and totally new investors that might have no clue about the market.
MARKET SCANNING
Most times users may not know on what assets to invest on.
ONAM
provides an institutional grade market scanning tool that helps traders or investors make the right choice of assets to invest on.
MULTI-LANGUAGE USER INTERFACE
It is true that language has always been a barrier in exchanges. At
ONAM
, multiple languages users Interface feature that enable users to chose a language of their choice. This multi-language feature also extended to it live chat rooms and social medium platforms.
PUSH NOTIFICATIONS AND UPDATES
Push notifications are used to alert users of current trend of the market to users. This will help users to be at alert of what is happening in the market before they initiate any transaction.
OTHER FEATURES OF ONAM PLATFORM INCLUDE
Margin trading that allows users to pay small percentage fee or commission on borrowed funds.
Margin lending that allows users to lend out funds in order to earn profit even if they do not initiate trades or transactions by themselves that will generate them profit.
Trade assistant that will guide users on trades to initiate based on possible risk and market position of such assets to be traded on.
Low trading fees: With the statistics on ground, ONAM trading commissions are very minimal. They are as low as 0.05% on all trades initiated on the platform.
OTC trading
FIX server for institutional traders
Advance and custom APIs
The list of the features of the
ONAM
platform are almost endless. This is to make sure that they tackle every limitation set by other exchanges and give customers and investors a better trading platform. Comparing the
ONAM
's exchange features to existing exchanges, it can be assured that
ONAM
exchange is ready to mitigate a lot of the bottle neck of other exchanges.

TOKENOMY
ICO CROWD SALE
The
ONAM
token is an ERC-20 Ethereum standard token. A total number of 300 millions tokens at $0.08 each with limit of 195 millions
ONAM
tokens are available for crowd sale. This sale is ongoing as at the time of writing this review and end as soon as the reserved of 195M
ONAM
made available for crowd sale are sold out.
ONAM TOKEN FEATURES AND BENEFITS
HOLDERS BENEFITS
ONAM
token holders will be able to access the full features that are not ordinarily available for non token holders. Such features include Trade assistant, Trade Alerts and Signals, Market scanning and saving up to 50% of discount on trading commissions or fees.
Traders will be able to pay for commissions, access the market core features, pay for trading bots and carry out some activities on the platform. Users will be incentivized with the
ONAM
token for outstanding trading skills and activeness on the platform.
Finally, the
ONAM
token is only available on the
ONAM
exchange in order to have a local micro-economy.
TOKEN BUY BACK
Quarterly,
ONAM
tokens will be bought back by
ONAM
itself until no more of the token in circulation is removed.
TOKEN ALLOCATION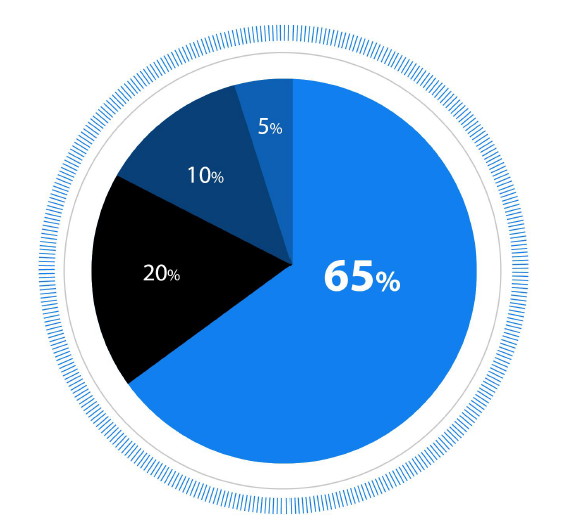 TOKEN SALE ALLOCATION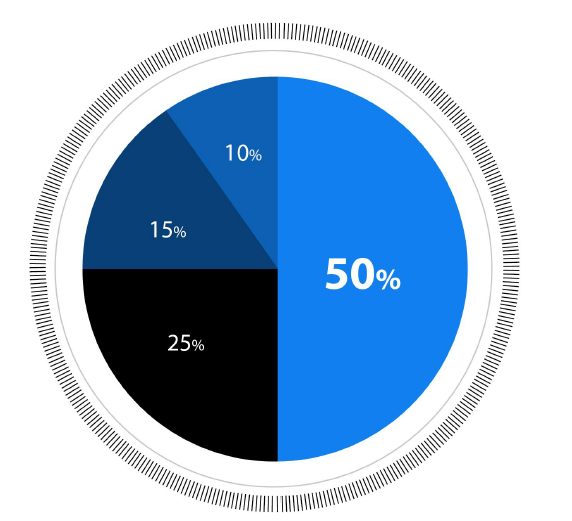 TEAM AND ADVISORS
TEAM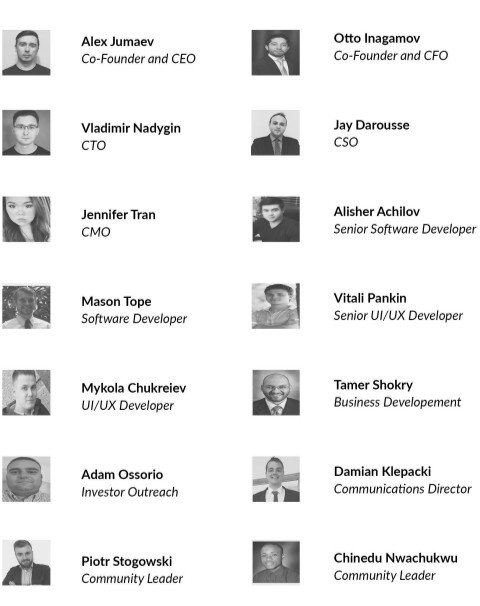 ADVISORS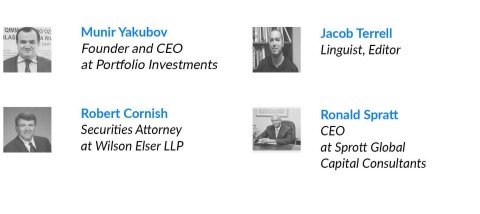 CONCLUSION
With the features of
ONAM
and tokenomy discussed above it is assured that
ONAM
exchange is absolutely the current redeemer of the blockchain exchange sector. Working with the appropriate regulators of the crypomarket, investors will be assured of an exchange that will not varnished into thin air because they could not meet up with policies or acquired the necessary documents and operational files or rights that can warrant their lock down.
Comparing the low commission charges on trades, investors will benefit more profit unlike other exchanges that almost all profit made from trade are used to pay commission to the exchanges they operate on.
In terms of fast speed of processing transactions,
ONAM
will encourage investors to initiate more trades in lesser time since it has a bandwidth of more than 10 million transactions per second and latency as low as 40 nanoseconds.
Finally,
ONAM
platform will be home to many crypto traders because everyone likes a better treatment. Having their customers in mind and providing assistant within few minutes of request is a welcome development because traders can attend to other trading matters once their complaints are resolve speedily.

I hope this review was helpful. However, for more information, consult the following medium and talk to the team behind the ONAM exchange for better clarification on the features of the platform.
NOTE: All images are credited to ONAM provided materials unless stated otherwise.


This is an @originalworks writing contest sponsored by ONAM . You can follow up this contest on: https://steemit.com/crypto/@originalworks/1300-steem-sponsored-writing-contest-onam
This article is also shared on twitter on: https://twitter.com/TOmuabor/status/1062375441187647488
Thank you.
onamtwitter
onam2018