What the heck is a virtual computer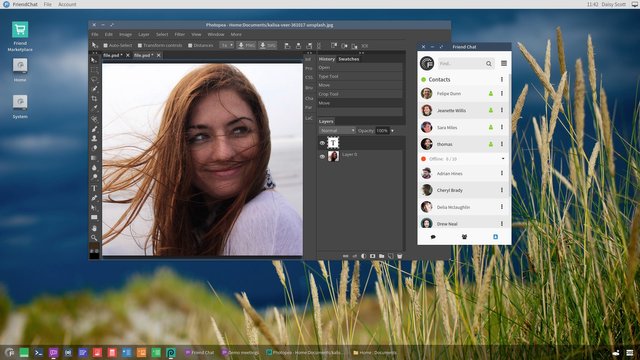 Here at Friend Software Labs we are creating the internet operating system and talk about virtual cloud computers. What is that? A virtual computer? Can I actually use it? How does it differ from the computer I have now? Why would I want/need/use that?
Can I actually use it? How does it differ from the computer I have now?
As the virtual computer lets you use keyboard and mouse just as on your computer, of course you can use it. The computer you use today is running an operating system that is installed onto the computer. That usually is Windows or OSX or Linux. Where the Friend computer differs from yours is that is never installed onto your device. While it provides all the functionality you need, it does not depend on your hardware to work.
That has both advantages and disadvantages. We think the advantages in today's connected world by far outweigh the disadvantages. We also have plans to make Friend work in offline scenarios.
Why would I want / need / use a virtual computer?
Why would you want one? To not depend on the device you use right now. As Werner Vogels (and probably others) once said "everything breaks all the time". Drowning your computer in water, tea or coffee usually means you are unable to work for a day or so. A virtual computer allows you to continue working on any device at hand — even a TV and a Bluetooth keyboard.
Why do you need one? If you read the last paragraph it should explain why you need one: to be able to work without depending on the hardware you use. And also to be able to have a computer that offers far more capabilities that any single device can offer. Friends architecture allows you to distribute processing across many clients and servers.
Why would you use a virtual computer? Because it is outperforms the one you have, it provides all the functionality you need and does not force you to always have you maybe heavy, clunky workstation with you in order to be able to be productive or creative.
Wow — I want this? How do I get it
While Friend has been released in version 1.2(rc1) we are still working with our first users and customers and are putting a lot of effort into getting applications available that will provide everything you want and need.
Free demo account
You can have a read-only test run at go.friendup.cloud. There, you can also sign up for a more functional demo account on our my.friendup.cloud demo server.
Anything more?
This article is the first of two in a series of two explaining why virtual computers rock.
Follow our Telegram Group https://t.me/friendupcloud
For more posts visit our official
Twitter Page: https://twitter.com/FriendUPCloud
Medium: https://medium.com/friendupcloud
Web: https://friendup.cloud
And do not forget to support us by joining the Crowdsale Campaign: https://tge.friendup.cloud