qiibee's Crowd Sale has started! With over 38,500 people that already registered in the first day of their crowdsale, qiibee reached 6.75m USD worth of QBX from the total hardcap of 11.25m USD.


The time has finally come: THE qiibee CROWD SALE has OFFICIALLY STARTED and things are heating up fast! So far, through our trusted contributors — the ones already onboarded and the ones we're currently onboarding, — we've reached 6.75m USDworth of QBX from the total hardcap of 11.25m USD. Even more exciting, over 37,500 people have already registered for our Crowd Sale.
Now some facts before you aboard the qiibee rocketship 🚀 😎
Facts:
Our Telegram group is massive and growing every day, currently numbering over 75,000
We're making waves across the globe, with some of the most high profile news outlets, such as Forbes, CNN, Nasdaq and Bloomberg
So far, we already have over 37,500 pre-registrations
We have five major marketing agencies on board to help us roll out more than 30 brands before the year's end
Currently have a partnership with big names like Domino's, Burger King, Subway and Lattesso and aiming to add more in the future.
The team of 19 is highly passionate, driven, and focused.
The token supply is LIMITED and there won't be any more QBX created after our token sale.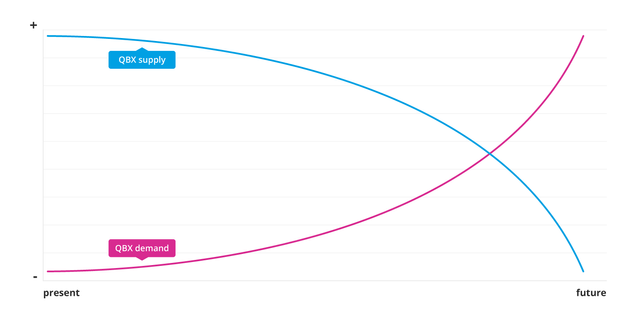 Crowd Sale details
Token sale hard cap: 11,250,000 USD
Token sale soft cap reached: 3,000,000 USD
Total amount QBX: approx. 1,380,392,157
Amount TGE: 48.1% (approx. 664,000,000)
Contribution method: Multiple Currencies
Minimum contribution: 200 USD
Maximum contribution: 10,000 USD (if you want to contribute tokens worth more than 10,000 USD, please write an email to [email protected])
Crowd Sale: September 24 — October 24
BONUS: during the first week of the Crowd Sale, get an extra 5 percent on your total contribution
Participate by clicking here!😎
Having a problem with participating? You can view this quick guide on youtube.
We'd love to have you aboard the qiibee rocketship! Next destination: the moon 🚀 🙌