Velix.ID ICO Bounty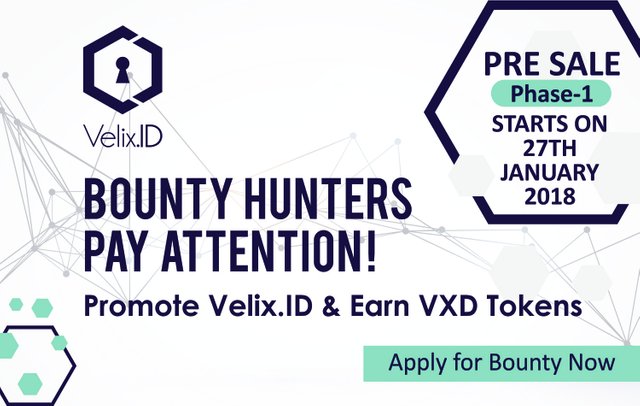 We are happy to announce details about the official Velix.ID bounty program. We invite you to participate in our bounty campaign and help us build a wide and strong community.
Velix.ID is a universal, obscure, transparent, decentralized, time and cost efficient ecosystem for identity verification.
Velix.ID offers 0.75% of all tokens supply (100 Million VXD Tokens) for the bounty program i.e 750,000 VXD tokens, which will be distributed among the participants by using the "Stakes" System.
Bounty participants will be split into bounty pools based on their method of contribution, with each pool having its own distribution of Velix.ID tokens (VXD).
Participants will get stakes during the campaign and at the end of the campaign, each member's amount of bounty VXD tokens will be calculated and distributed on the basis on work.
Bounty Campaign will last for 4 weeks and will be extended if successful.
For any other questions, not related to the bounty program, please visit VELIX.ID ANN THREAD
Bounty campaign Token Allocation:
Facebook bounty: 15%
112,500 VXD
Twitter bounty: 15%
112,500 VXD
VK bounty: 5%
37,500 VXD
Telegram Bounty: 10%
75,000 VXD
Reddit Bounty: 10%
75,000 VXD
Signature and Avatar Campaign Bounty: 15%
112,500 VXD
Translation And Ann Thread Moderation Bounty: 15%
112,500 VXD
Blog/Media Bounty Campaign: 10%
75,000 VXD
Bug Bounty: 5%
37,500