monetize your content with the blockchain platform "SleekPlay"
The SleekPlay platform basically operates a single purpose - the possibility of long interactions, ie sessions. Digital content, such as music, movies, and games that appeal to users for longer periods, can be monetized using platforms since their devices can contribute a sufficient number of hashes per second to the time spent learning content. In short, the target system is a brilliant concept based on the time spent and hash per second created at a given time. The exchange formula is used to determine the amount of SKP coin payments to users and SleekPlay network developers.
The platform also provides application developers with new ways to monetize content and offerings to increase user activity that will have unlimited premium access, UX quality, and unlimited content.
Developers themselves, in turn, will receive income from investments.
With the many monetization platforms that have been created and developed, a strong understanding and approach of the SleekPlay platform will differentiate SleekPlay from existing monetization platforms or systems.
SleekPlay offers a complete packing solution that will promote cross-platform integration, zero user demand technically and profitability in a unique yet powerful target system.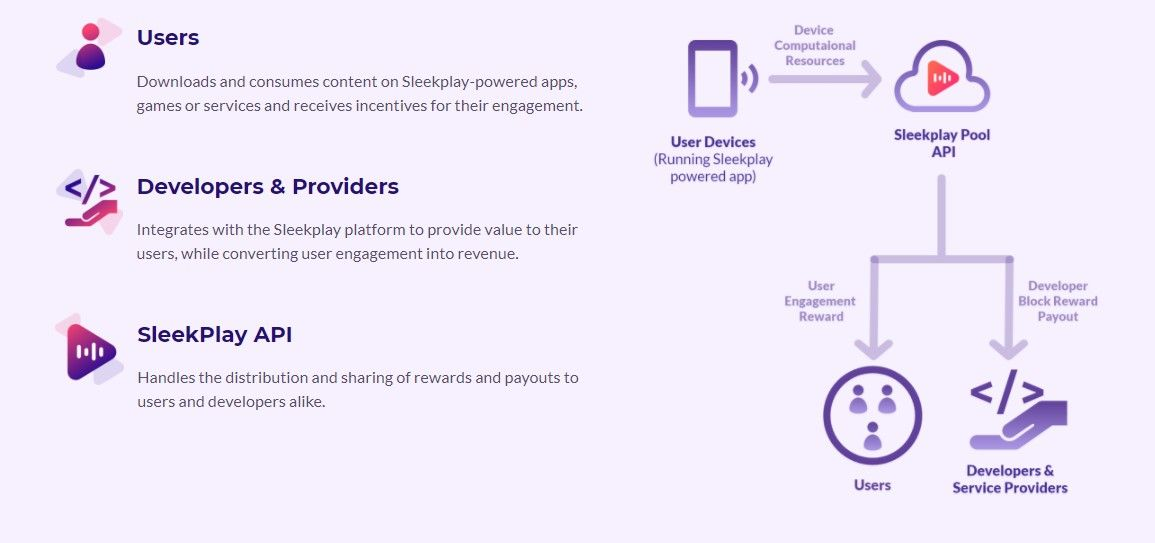 Sleekplay is the new face of the blockchain-based content monetization platform that uses the computing power of the device to reward all users and deliver maximum benefits. All stakeholders involved in the SleekPlay ecosystem such as App developers, users, and SleekPlay APIs. Blockchain technology has transformed the platform paradigm and made future platforms more transparent, secure, and efficient because of this system.
Tokens & ICO
This system will have a SKP coin token. Users will be able to receive tokens to use their favorite apps and for their computing power, and developers to provide content. The entire destination system is the foundation of the Sleekplay model, which becomes possible thanks to the crypto currency mining.
Users will be able to exchange SKP tokens for digital goods. A good example is virtual gaming stuff.
Pre-sales start: May 14 Start
main sales: June
Hardcap: 2000ETH
At the time of registration on the system, the user receives a free bonus in the form of +500 SKP.
Minimum payment: 0.1 ETH.
Tokens are distributed in systems in the form of 70/25/5% between developers, users, and Sleekplay projects, respectively. More higher mining and token fees.
Tokens are distributed in systems in the form of 70/25/5% between developers, users, and Sleekplay projects, respectively. More higher mining and token fees.
The Bancor Protocol is the standard for creating Smart Token, Cryptocurrency with direct internal convertibility through their smart contract. Using the innovative token 'connector' method, bancor allows continuous pricing and liquidity calculation for all integrated tokens, without the need to match two tokens in exchange.
The Bancor protocol has been integrated into the SleekPlay platform for sustainable liquidity.
SleekPlay has just started a personal token-making event and is expected to achieve its campaign goals
Very interesting project. You can make money by monetizing your content simply by searching for your feed on social networks.

You can participate in this project's campaign at BOUNTYHIVE: https://bountyhive.io/browse/SleekPlay. Please visit their WEBSITE: https://sleekplay.com/, to learn WHITEPAPER: https://www.sleekplay.com/docs/Sleekplay-Whitepaper-EN.pdf Platform SleekPlay.
For more information please join:
FACEBOOK: http://www.facebook.com/sleekplayofficial
TWITTER: https://twitter.com/sleekplay_io
TELEGRAM: https://t.me/sleekplayofficial
By: Yaelahwall
Bitcointalk: https://bitcointalk.org/index.php?action=profile;u=1030475
0xbDC74F90F735aD59117debA18c6F14419D7acc14