A GAME CHANGING DECENTRALIZED LABOUR PLATFORM-UMKA
Website Whitepaper ANN Telegram Facebook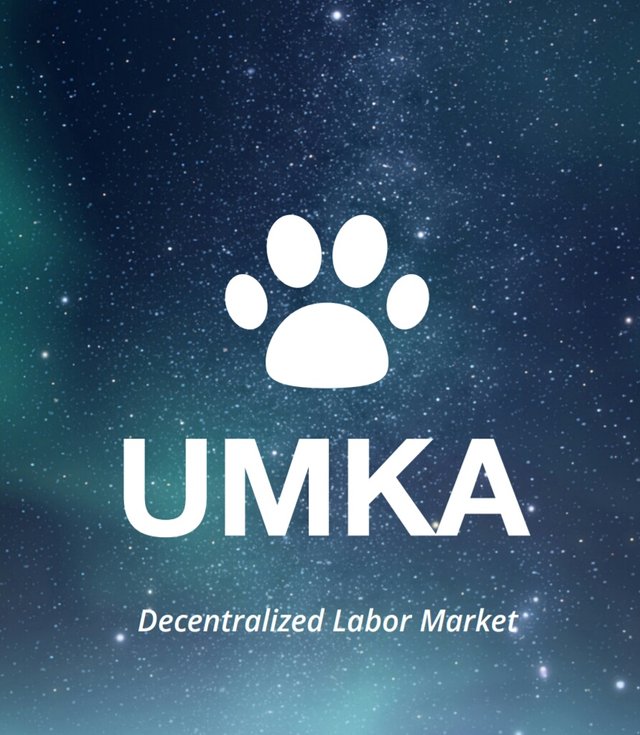 The advancement of internet has brought a new dimension to how services are being rendered globally. Consequently, there has been a general surge in the number of freelancers across the globe, professionals often prefer to remain independent while offering their services for limited time. Being a freelancer myself, I can relate with the numerous challenges faced by everyday freelancer.
Most notable among this challenge is the role third parties organisation ( middlemen) play in the scheme of things. These third-parties organisation includes outsourcing firms, freelancing websites such as Fivver, Upwork etc who charges high commission on every gig ( a piece of work) completed by a freelancer while job outsourcing firms are equally guilty of poor remuneration and short-changing of employees.
Furthermore, there are presently very limited opportunities for freelancers to improve on their skillset and gained more knowledge. Outsourcing firms are established solely for maximizing profit and does not care about providing opportunities for freelancers to get requisite training and development. As a result of this, most freelancers are in a limbo as to how or where to access quality education for their professional development.
It is based on the foregoing, that a team of experts with requisite knowledge of blockchain technology and job outsourcing industry came up with an innovative project powered by the blockchain to proffer solutions to the numerous challenges bedevilling facing freelancers. Blockchain is the underlying technology behind bitcoin and other similar cryptocurrencies. Gentlemen, permit me to introduce UMKA project to you.
UMKA- A DECENTRALIZED LABOUR MARKET
Umka is a decentralized labour market with the goal of minimizing transaction costs, creating educational opportunities from top institutions across the globe for freelancers to improve their skillset and knowledge and bringing much needed transparency to the freelancing industry. Umka platform is built on the EOS blockchain. Due to its robustness and speed, EOS is fast gaining ground among upcoming blockchain projects and a little surprised why it was adopted by Umka.
Some of the Interesting Features of Umka are highlighted below:
Digital Passport containing Users Information:
Users on Umka platform both Freelancer and Employer has a digital passport where their information is stored. Relevant Freelancers information such as educational qualifications, certifications acquired, work experience and professional development are available on freelancers passport while employers passport contain information about company's profile and contractor's feedback. This information are available for every user of the platform, this would facilitate seamless recruitment of right freelancers for available jobs by employers on the platform.
Transparent Rating System:
Umka has an inbuilt anti-fraud statistical system which cannot be manipulated. This would be employ in bringing much needed transparency to the labour market and in particular the outsourcing industry. After completion of a job on the Umka platform, a rating score between 1-5 is apportioned based on quality of job done and employers commitment to the terms of the contract. This information is essential to both freelancers and employers in determining the credibility and genuineness of parties before agreeing on a contract.
Dynamic Payment Solutions:
Umka platform would accept more than one payment solution, 15 cryptocurrencies shall be accepted on the platform. As shown below:


Users can therefore create wallet on the platform and fund it using PayPal, Credit card or a cryptocurrency wallet.
Revenue Sharing Model:
Holders of UMK token are entitled to revenue on their token based on the amount of tokens in their possession. Umka charges a transaction fee of 1% which serves is the major source of income and would be distributed whenever the revenue reach $150,000.
TOKENOMICS
UMK token will be built on EOS blockchain and issued according to the ERC-20 token standards. The UMK token is a security and investment token that gives it's holder the right to pursue their investments interest.
Token sale and distribution information:
Token name: UMK

Total supply: 180,000,000

Price/UMK : $0.1

Soft cap: $1,000,000

Hard cap: $10,000,000
Roadmap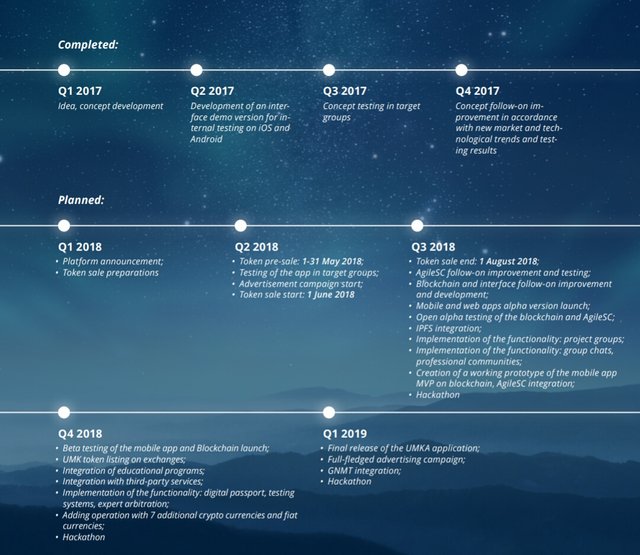 Website
Whitepaper
ANN
Telegram
Facebook
Bitcointalk username: Meusyou
Bitcointalk:
https://bitcointalk.org/index.php?action=profile;u=2130916;sa=summary