INTRODUCING KITTOKEN BLOCKCHAIN PROJECT
General Overview
Visionaries are already envisioning the future of global financial ecosystem and has come to a certain conclusion that digitalisation of money/assets is indeed the future. Championing this cause presently is the blockchain technology which has successfully brought digital assets as another major components of the global financial system.
To further attest to this fact, technological innovations in fintech which has greatly reduced transaction costs and limit involvement of third parties/middlemen are some of the earliest testimony. Moreover, this advancement has made transactions more efficient, fast, secured and a sizable number are adopting cryptocurrencies on daily basis.
Therefore, the global financial industry is set to embrace the disruptive technology of blockchain technology as the way forward.
KITTOKEN GOALS AND MISSION
It is based on this milieu that the KitToken team posited to create a sustainable and stable financial eco-system utilising the vast potential benefits of blockchain technology. KitToken utilizes value transfer protocol to facilitate the exchange of payments from one person to another based on peer-to-peer network.
Furthermore, KitToken aspire to develop a decentralized platform for improving in financial transactions both in terms of effectiveness and efficiency. More So, KitToken security is top-notch as it is powered by the world's top most security systems to ensure that its financial ecosystem is not only fast but also well secured.
KITPAY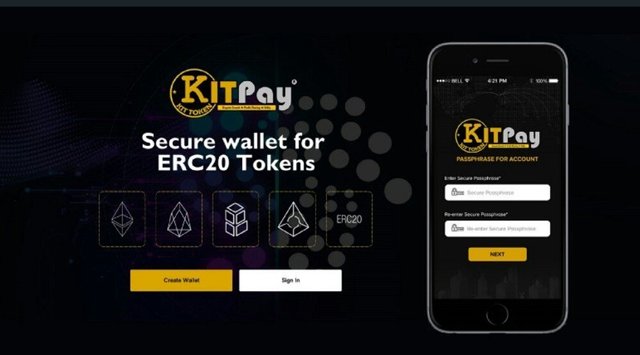 One of the exciting features of KitToken ecosystem is her wallet tagged KitPay. The competitive advantage of Kitpay lies in the fact that it support a wide range of cryptocurrencies unlike other traditional wallets.
Also, Kitpay interoperability features which allows it to easily support other wallets such as imtoken, myetherwallet, metamask to name a few.
With Kitpay, you can create Ethereum wallets easily and also transfer funds to different wallets. There is both the mobile and web version of the wallet which would be released very soon.
Tokenomic and ICO Information
Name of Token: KitToken

Ticker: KIT

Platform: Ethereum

Token Standard: ERC20

Token Type: Utility Token

Token Price: Price: 1 KIT= $0.05

Total Supply: 8 billion

Accepted Currencies: Ethereum
Conclusion
KitToken is a laudable initiative which I believe would achieve success in the crypto space. This is borne out of my experience with delay transactions and other bottlenecks experience with other competitors with similar projects. I expect other crypto enthusiasts to find Kitpay wallet in particular, a useful assets for seamless transactions.
For more details regarding this project, consult any of these links
Btt Ann: https://bitcointalk.org/index.php?topic=4557979.msg41057899#msg41057899
Writer's Details
Bitcointalk username: Daseento
Profile link
https://bitcointalk.org/index.php?action=profile;u=1544370