PROFFERING SOLUTIONS TO BOTTLENECKS IN THE SHIPPING INDUSTRY-BITNAUTIC
The shipping industry is unarguably one of the biggest industry globally without which transportation of goods and services would remain an arduous task. According to statistics, shipping accounts for over 90% of international trade in 2018.
Therefore, the Shipping and Cargo industries play an essential part in facilitating accessibility to goods and commodities world-wide. Imagine a situation where manufacturing giants nations in Asia, such as China faces difficulty in shipping their commodities to other parts of the world where such commodities are highly needed.
While this sector have witnessed considerable growth over the years, some underlying issues in the maritime sector remained unaddressed and subsequently poses a huge threat to viability and attractiveness of this industry.
Some of these challenges include:
Insecurity
Activities of men of the underworld including Pirates, Hackers, Armed Robbers have inhibited the growth of the maritime industry and overtime have led to loss of revenue to carriers in this sector.
Corruption
There's a serious concerns on how shipping data and information are being handled. Majority of stakeholders believe that data are tampered and subsequently, loss of trust and confidence.
Pollution
Environmental pollution majorly from carbon(IV)oxide emissions from maritime transport poses a great threat to lifes especially that of acquatic organisms.
Others are
Inefficiency in documentation processing leading to delay and higher transaction cost
The present demand for shipping far outweigh the supply.
Labour disputes and loss of job
Shippers face a difficult task of finding the best freight rates.
It is based on this milieu that a team of experts with requisite experience of blockchain technology and the maritime industry came up with an innovative project to proffer solutions to these challenges. Blockchain is the underlying technology behind popular cryptocurrencies such as Bitcoin, Ethereum and several others. The project is tagged BITNAUTIC
DECENTRALIZED SHIPPING INDUSTRY-BITNAUTIC
Bitnautic is a decentralized blockchain platform which afford stakeholders in the maritime industry the opportunity to negotiate and enter contractual relationship in a secure and transparent manner thereby proffering solutions to the many problem of this sector. Since the information is recorded on the blockchain, the security and authenticity is assured and cannot be tampered with.
Bitnautic platform provides a reliable, affordable and transparent shipping process that suits every stakeholders in the maritime sector. Some of the game-changing features of Bitnautic are presented below:
CARGO BOOKING SYSTEM
With these features, every importer and exporter on the platform are provided with a general overview of available ships for transportation globally and their associated prices. Moreover, stated prices on bitnautic platform are based on specifications such as weight, shipping address etc. This would definitely come handy in apporting trusted agents to render shipping services.
SHIP BROKERAGE SYSTEM
Bitnautic also ensures that a proper and efficient documentations is carried out by parties with its booking system. This is particular beneficial to shippers as it ensures best matching leads and transparent terms and conditions of shipments without ambiguity.
PROMOTION OF E-COMMERCE
The platform also has Escrow features which allows acceptance of cryptocurrencies for payment on the platform. Also, there is online marketplace which users can use in advertising and selling wholesale goods based on the geographical location.
TRACKING SYSTEM
Bitnautic tracking system will allow stakeholders to know the exact location of ships, numbers of containers/vessels in real time. This would further promote transparency in the shipping industry as well as stakeholders confidence and trust.
TOKENOMICS
Bitnautic Token (BTNT) is the currency of the platform and is built on the Ethereum blockchain. Therefore, it is an ERC-20 supporting token.
Ticker: BTNT

Available Token Supply: 50,000,000

Crowdsale: 50,000

Token Price: 1 ETH = 500 BTNT

Minimum Transaction: 0.05 ETH

Maximum Goal: 50,000 ETH

Main ICO Ends: Jul 15, 2018

Soft Cap: 2,500,000 BTNT SOLD

Hard Cap: 25,000,000 BTNT SOLD

Pre-ICO Starts: May 1, 2018

Pre-ICO Ends: May 31, 2018
Starting Date ICO Phase 1: June 1, 2018
Deadline ICO Phase 1: July 4, 2018
*Starting Date ICO Phase 2: July 11, 2018
Deadline for ICO 2nd Phase: September 15, 2018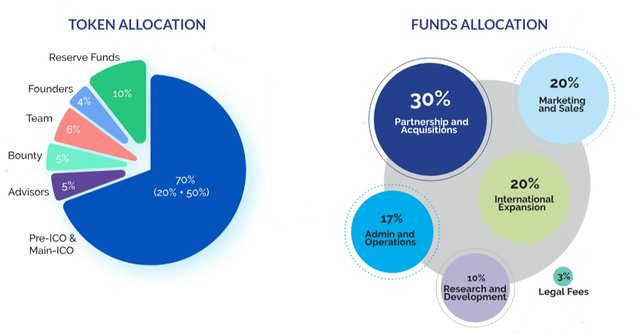 Note: No additional tokens would be created and all unsold tokens during ICO would be burnt.
Project Roadmap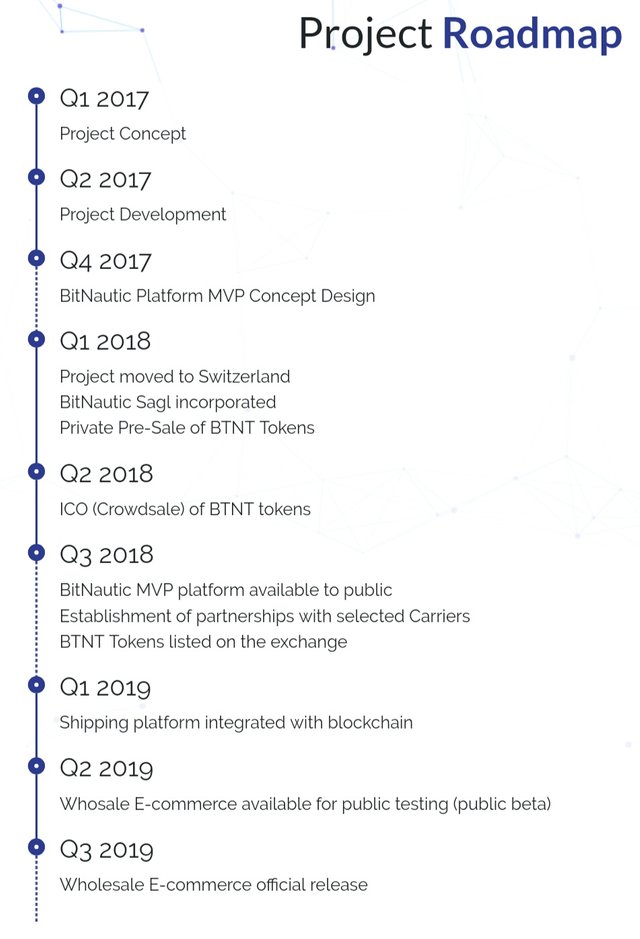 For further information and Investment opportunity, kindly use any of these links
Writer's BTT Username: Daseento
Bitcointalk URL:https://bitcointalk.org/index.php?action=profile;u=1544370;sa=summary