Dorado ICO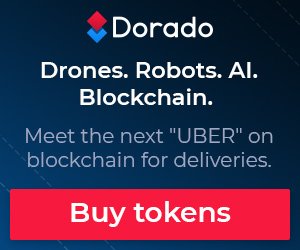 Why Dorado?
Link – https://www.dorado.tech/
Robots. Drones. Artificial Intelligence.
Next-generation leading on-demand delivery company with Quarterly Loyalty Payout Bonuses
Whitepaper:
https://www.dorado.tech/docs/Dorado-White-Paper.pdf
Detailed review:
What is Dorado?
Dorado is based on the MVP – commercially available Foodout platform (foodoutgroup.com), which is already operating in 6 countries, with +50M in sales, 1M active users, +4M orders and 6227% growth in 3 years. Dorado's vision is to go beyond the food delivery, to deliver "anything customer wants", to become an "uber" for all the last-mile deliveries, leveraging existing teams know-how, platforms core technology, user base, and using latest innovations like drones, robots and artificial intelligence to scale globally.
What is the Dorado's token model?
7% of net sales payouts to Token holders.
The bigger Dorado grows, the more token holders will benefit. Dorado has offered quarterly commissions payments within the ecosystem of 7% net sales to all Dorado token owners.
This is a visionaries' token — for the long-term. The longer you can hold, the greater potential value distribution you will get.
What is Dorado's business model?
Dorado has an high growth profitable business model, which can be viewed as a mix between Uber (commission fee) and Google (listing and advertising services). There are 5 main revenue streams:
Commission fee
Dorado charges 20-30% commission fee on orders from for delivery from the business which gets the order. For example, if a family orders a dinner for 30 USD, the restaurant makes the food and we deliver it. The restaurant gets to keep 70% of the total bill and we take 30% (10 USD); therefore, both parties profit.
Delivery fee from customer
Depending on the market, we charge customers a 2 to 5 USD delivery fee. This is low enough to still encourage people to order but also guarantees an additional revenue stream for us.
Listing fees (Similar to Google Search Adwords)
Just like Google Search Adwords, Dorado charges businesses to have their business listed higher on the results page that the customer sees when they search for delivery options.
For example, If a pharmacy store wants to be seen more often and thus receive more orders, they can achieve this by listing higher in our platform, thus by paying an extra fee for us.
Premium advertising services.
For an extra fee, we offer additional promotion through our marketing channels. Businesses can achieve higher exposure by choosing one or more of the mediums we offer, such as promotion emails, social media posts, banner ads and more.
3rd party ad services
Foodout gets added revenue from additional 3rd party ad services like Google AdSense.