Reducing deal commission at WONO to 1–5%: lowering operating costs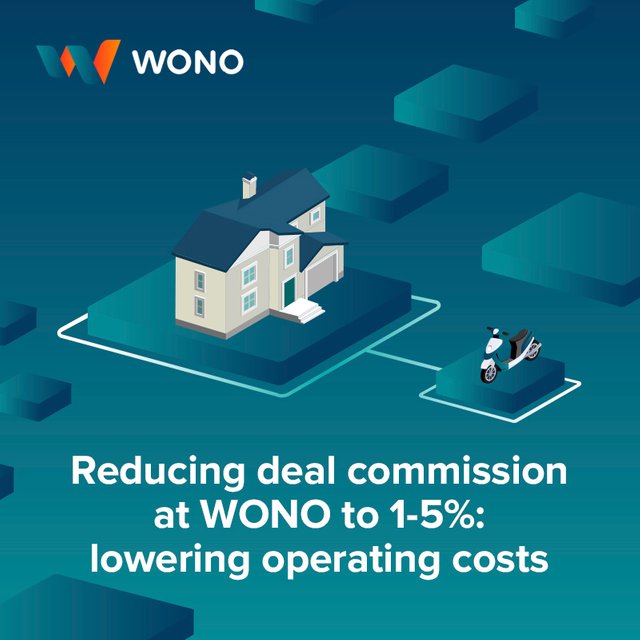 WONO's deal commission will be much lower than at Airbnb, Turo and other centralized sharing services. We've asked our accommodation and travel advisor Benedict O'Leary, who worked for more than 3 years as a business development manager at Booking.com, to explain, how the commission can be reduced. In this article he writes about operating costs.
One of the biggest cost for web-based companies is their large numbers of staff. In an ideal world scenario there should be no need for interaction between User and Vendor.
However, in the real world, this is far from the case — when issues arise the User turns first to the intermediary for help. It is for this reason that by far the biggest number of staff employed by OTAs are customer service staff (with sophisticated role titles such as Customer Experience Ambassadors or Specialists).
Basically they perform manual operational procedures on behalf of Users and Vendors. In order for these companies to provide a global level of support teams work throughout the clock in dedicated call centres at different locations and provide support in a range of languages.
This all costs money — from recruiting and training through to finding new offices and the associated operational costs.
Quite often, although the USP promoted by these companies is that the staff are there to help, it can often be the case that nothing can be done by the intermediary (communication problems or time difference) and that the best solution is resolved via direct interaction with the User and Vendor. Call-centre staff are on a fixed, usually low, salary with limited motivation because they have to deal with angry and frustrated consumers most of the time.
What is the advantage of the WONO platform in this case?
We have a system of arbitrage when one side of the parties in a deal decides to cancel. There can be any number of reasons why this may happen — the job you want to hire a freelancer for is no longer required, your travel plans change or an unexpected domestic situation occurs. Cancellations always affect one party
It is to tackle this problem that we decided to build a fair crowd arbitrage system. When a cancellation dispute begins, any user (excluding those who participate in the deal) can take part in voting to determine who is at fault. The reasons for cancellations are various, but in most cases they are referred to customer experience.
What this usually means is a long wait over the phone, which costs money, to speak to someone who either cannot help (i.e. does not have the authority or capability to make a decision) or is not interested (i.e. doesn't understand the problem due to language barriers or their own attitude). There are also time constraints — for example in the case where a User cannot gain access to a property, say their flight has been delayed and they cannot reach the Vendor, they will appeal to the Intermediary. In a real-time situation this can mean waiting outside on the street with family and baggage whilst waiting to hear something.
Crowd arbitrage works in a different way.
Arbitrators on WONO are highly engaged in studying all cases thoroughly because if they vote for the party which as a result will be recognized as affected, they will receive a bonus from the insurance part of the platform's commission.
Such a mechanism makes the quality of arbitrage higher, fairer and, in the end, ensures that you will be compensated if something goes wrong through no fault of your own. The benefit of this is that it does not require a costly back-up system of call centre staff located in offices all around the world, meaning that the intermediary is not focused on the result but only their profit per transaction, and results in improved User and Vendor satisfaction at a fair outcome . Community arbitrage on a blockchain-based platform will minimise the risk of cancellations — i.e. the consumer takes on some responsibility for completing the transaction, and the deal is 'insured.'
Apart from Customer Service staff there are offices whose main role is Vendor satisfaction. The function of the intermediary is to ensure that Vendors are happy and want to keep working with the platform and provide the best product available.
Benedict O'Leary