WONO's Place in the World of Peer-to-Peer Carsharing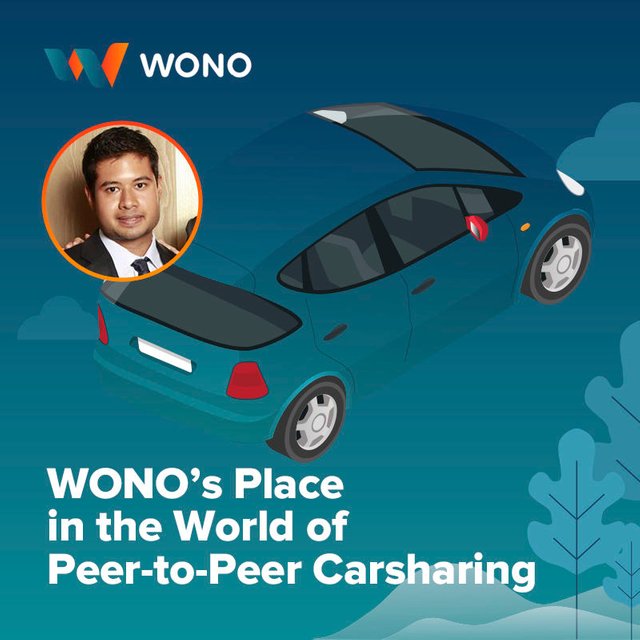 In a world where the costs of living are constantly rising, people around the globe are increasingly turning to the sharing economy to either supplement their income or to offset the costs of ownership of their most valuable assets. For most, these assets are homes and cars — but while the sharing economy has seen an increase in adoption, sharing something of value with a complete stranger does not come without its hurdles.
One concern which often arises when sharing an asset of value on a peer-to-peer exchange is the question of trust and transparency. When considering the example of peer-to-peer car sharing, a host will give away their car to a complete stranger — and while in most cases, the renter has good intentions, a first-time host might be anxious as to whether the stranger that just drove off in their car might use it for illicit purposes. While many peer-to-peer car sharing systems have strong verification and safety mechanisms in place to weed out users with malicious and criminal intentions before even completing the booking, the addition of WONO into the transaction process could further help to alleviate trust concerns from the host.
WONO's unique ability to "rate" transactions could bring an additional level of trust into peer-to-peer marketplaces. The rating system could involve having a variable deposit and trust score based on the transaction's risk profile. This would include: the asset rating (value of the asset, such as a car and duration of the rental), vendor and customer reputations (based on previous transactions) as well as conditions of the transaction (transactions occurring in areas with high risk of fraudulent/criminal activity vs. affluent areas with low crime rates). In using WONO's system to rate transactions, low risk users could use the marketplace with small or absent deposits and little friction, while high risk users would pay hefty deposits or be expunged from the marketplace all together. This would naturally result in a healthier and safer marketplace for users and increase profitability for the marketplace as a whole.
Another way in which WONO could potentially help to increase trust in the marketplace is through its verification process — because of the unique properties of Ethereum blockchain, the amount of fraudulent transactions that take place in the marketplace would significantly decrease, thus reducing losses taken by the marketplace administrators. Additionally, the fact that WONO does not allow any anonymous transactions would increase security within the marketplace and decrease verification costs, which are key elements for success in peer-to-peer sharing economies, as there needs to be accountability for every transaction in the odd event of a claim or bad transaction.
Furthermore, one of the unique advantages of using a decentralized environment to conduct transactions is that users can rest assured that their data will remain protected. In a world where users provide a plethora of granular personal data on the web which could potentially attract people with unlawful intentions, marketplaces and users should equally safeguard themselves to ensure that their personal information remains safe and out of reach of hackers — and WONO has the potential to provide a solution for that. A main benefit of decentralization is that users' personal data need not be stored on marketplaces' internal systems, saving marketplace administrators storage costs and potentially preventing data breaches, all while providing users' piece of mind knowing that their information is secure.
Anyone who has participated in the peer-to-peer marketplace will also know that a potential pain point is the cost of insurance — hosts pay a sizable portion of their earnings to insure their assets while renters often pay additional sums to receive protection on their end. In fact, it is not uncommon for the cost of insurance to make up anywhere from 15 to 40% of the total transaction cost. Even with high costs of insurance, many peer-to-peer marketplaces in existence today are actually losing money due to the high costs of insurance they incur. If WONO's unique system could increase security and decrease the costs associated to verification and insurance, and were properly integrated into some of these peer-to-peer marketplaces, it could potentially have a very strong positive impact on the bottom line for a number of marketplaces. Of course, this would require agreements with current insurance providers and regulators.
To summarize, the four main pain points for most peer-to-peer marketplaces today are the following: trust, verification, privacy and insurance costs. If allowed to live harmoniously with existing safeguards provided by existing peer-to-peer marketplaces, Wono could potentially provide a simple solution that could create safer, more trustworthy, more efficient and more profitable marketplaces around the world.
Adil Khan, Advisor at WONO