IMO ECOSYSTEM PLATFORM: INITIATING THE " INITIAL MODEL OFFERING" FORM OF FUND RAISING FOR STARTUP PROJECTS.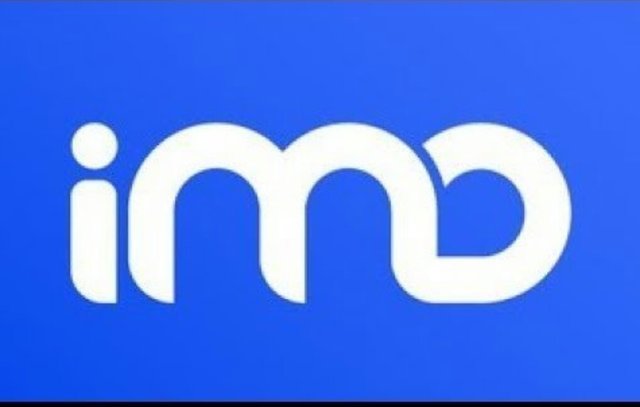 Technology is not in anyway a new term but is a term which everyone of us is conversant with which continues to break more boundaries in launching innovations that are life changing. Technology however was the basis on which blockchain technology system was developed and it went on to become a technology that is set to change or better still transform most parts of our technological lives.
Blockchain technology system has created or established a very powerful niche for itself by impacting positively and as well bettering human lives. Blockchain technology ushered in an era of cryptocurrencies which has formed an integral payment system in our society but the issue still remains many projects develop their platform with or rather on the blockchain technology system and then launch their IEOs or ICOs and at the end of this, they elope with investors funds and then crash the project and this has made many begin to lose faith in cryptocurrency and as well undermining its investment potentials.
It was on this basis that however a platform with the concept of bringing back hope in cryptocurrency and promoting trustworthiness is developed and it goes by the name IMO.
IMO ECOSYSTEM.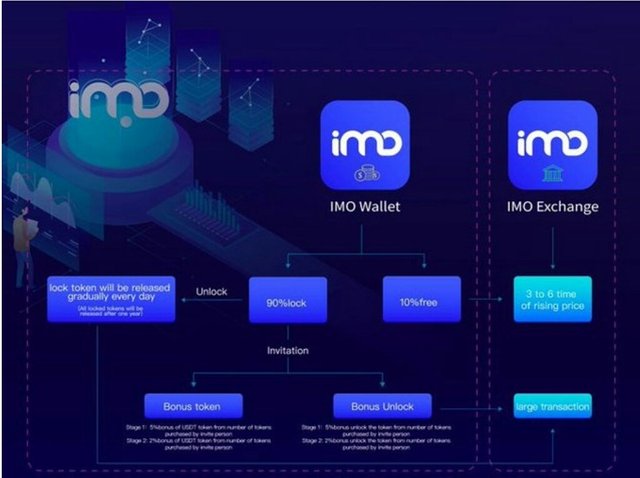 IMO is an acronym that stands for " Initial Model Offering and it is a platform that is purely based on blockchain technology system which was developed and designed to help resolve the issues of scam IEOs ( initial exchange offerings) and ICOs ( initial coin offering). It is also designed to provide startup projects with private funds as well as provide blockchain investors with good investment opportunities.
FEATURES OF THE PLATFORM THAT MAKES IT STAND OUT.
The imo ecosystem platform possess two distinct or basic features that form or stand in as key elements which makes the platform stand out from the rest of other ICO and IEO oriented platforms and the two elements are:
i. A wallet that is basically secured all ramification in the sense that it incorporated with an encryption protocol and as such one can say it is highly developed to house or securely store or house all the digital assets (cryptocurrencies) that are compatible with the IMO ecosystem platform.
ii. The IMO exchange which have some form of integration to the IMO wallet. The imo exchange is the platform where all registered users of the imo platform can go and trade or exchange their digital assets without the fear of anything whatsoever.
In other to make their exchange system stand out, the imo platform will also design their exchange system in such a way that they can easily generate funds for upcoming or startup projects which is required for their token listing. Also they will be provided with good tokeconomics plan which will serve as a guideline to ensure that their projects does not meet it's Waterloo.
VISION OR GOAL OF THE IMO ECOSYSTEM PLATFORM.
The basic goal of the imo ecosystem platform is to basically adopt the proper use of the initial model offering as a form of fund raiser for startup projects in this present day blockchain technology system. And it hopes to acheive this by employing certain concepts into their mode of operation like concepts like: flexibility, better performance, efficiency, consensus protocol, top notch security, effective and efficient smart contracts protocol etc. And to also serve as a connecting factor that will play role in linking the virtual world to the real world.
THE IMO PLATFORM TOKEN
IMO ecosystem platform will develop a utility token which will form basis for tokenisation of the platform. The token will be known as IMO Token and in total supply will have about 5billions and can be acquired also through their presale programmes.
THE IMO PRIVATE PLACEMENT PERIOD INITIATIVE
This initiative involves using a period whereby a project is placed under scrunity for a specified period of time where it is been monitored to ascertain if it is a good project worth investing in or not if it is, the exchange lists them and if it is not, the platform pulls out from it.
THE IMO TOKEN PRESALE DETAILS
Pre sale periods gives investors time to monitor as well as keep proper tabs on a project to know if it is worth investing in. For the presale, the platform will set down initiatives that will ensure that everyone has a fair opportunity to partake in it by basically placing a maximum purchase amount for each pre sale. After that token purchased during the initial model offering will be on lock down and will be released little by little to avoiding dumping.
CONCLUSION:
The IMO platform is very outstanding and thus is a platform worth identifying with from their perfect laid down plans as well as unique concepts which they have laid down to help ensure their users have a good time.
FOR MORE INFORMATION ABOUT IMO
Website : https://imoex.top/
Telegram: https://t.me/imoexchange
Twitter: https://twitter.com/eco_imo
Facebook: https://fb.me/imoexchange
Telegram ANN Thread: https://t.me/imo_announcement
Download IMO Android wallet here:
https://walletapi.imoex.top/v1/common/install-file?type=a
WRITERS BITCOINTALK USERNAME: Musekay
Bitcointalk Profile Link: https://bitcointalk.org/index.php?action=profile;u=2070957