India: Income Tax Department Targeting Crypto Users Again? - Don't Miss This Post!
It seems that the taxman is knocking on the doors of some cryptocurrency users from India. The reasons themselves aren't completely known but this isn't the first time this has happened. This was shared by Twitter user IndiaBits21.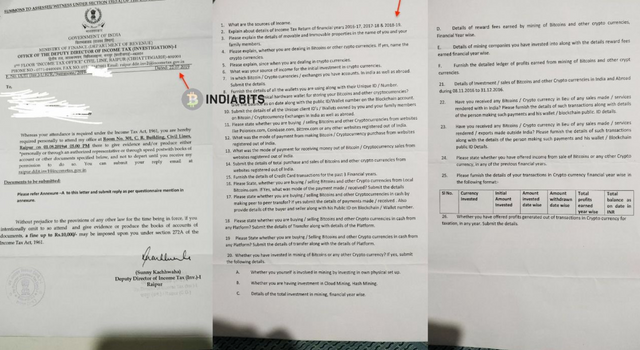 Over 1.5 years ago IT department did the same thing by sending these types of notices to HNWI for supposed tax evasion. However, with the crypto tax ban looming over our heads in India, the IT department seems to be trying to grab anyone they seem to think may be evading tax.
I've been saying it all along that if you are in the crypto space, you need to file your returns and compute your taxes on any profits earned in this space.
CA Anoush Bhasin has a few comments on this notice which he has posted on his twitter thread here
1/ Thoughts on the Income Tax Notice issued recently:

a. Notice u/s 131(1A) is issued by an Investigation Officer to summon a personal appearance or conduct inquiry
b. This Notice is usually issued when the Officer has obtained certain information about the assessee
2/
c. On the basis of this information, the Officer believes that the assessee has concealed or likely to conceal certain income
d. Questions asked in the Notice are very detailed. Seems like the Tax Deptt has a good understanding of crypto assets and its mechanics.
3/
d. Non-compliance with any requirement of the notice may attract a penalty of ₹10,000
e. If the assessee fails to provide sufficient information, the Officer can order a Search u/s 132
4/
f. Search u/s 132 is commonly known as Search & Seizure or Income Tax raid.
g. Notice should not be taken lightly. Get help if unsure about drafting a response.
5/
h. Crypto is not illegal atm. Non-payment of tax due to lack of regulation may not hold as a strong argument.
i. Income Tax laws are sufficient to deal with crypto assets.
j. Timeline to be compliant and report crypto income in ITR is Aug 30, 2019.
Now it's unclear who the individual is or any specific details with regards to this. But I have seen similar notice shared on Facebook as well today. So this isn't the only instance.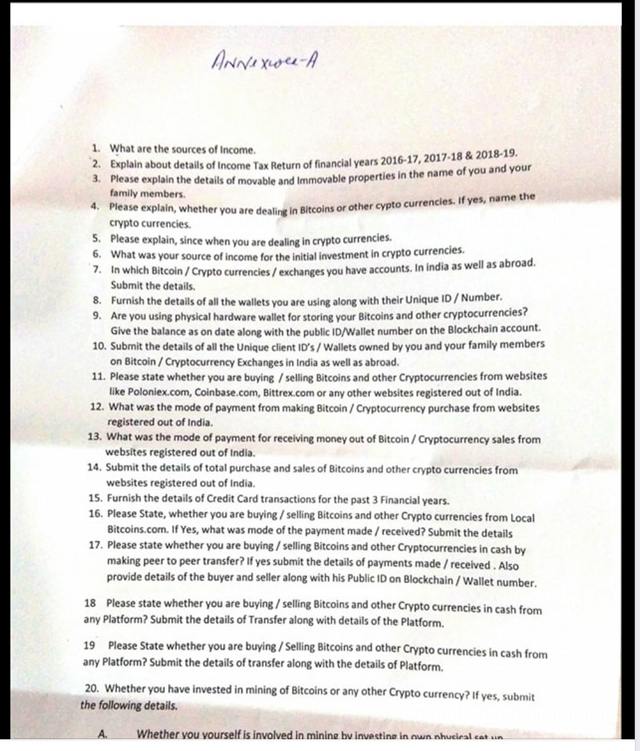 Should I be worried?
No! If you are filing your taxes on time and declaring all your income and or losses including any from the cryptocurrency space then you are unlikely to face any issues. If you have received such a notice, take help and respond to the IT department. It's not a major issue but don't sit on it and let it become one.
Crypto isn't prohibited but Income tax laws are stringent. Be sure to pay your dues to the greedy government on time whether you like it or not.
While we're on the subject, please watch this latest video from CryptoKanoon. Don't miss this at any cost.
Also listen to the exclusive conversation Jaideep Reddy had with IndiaBits.
Jaideep Reddy is a lawyer with Nishith Desai Associates which represents the IAMAI in its writ petition against the crypto banking ban by the central bank
As always I will keep Steemians from India posted on the crypto ban issue as further updates are available. Meanwhile, don't forget to check out the discount on NordVPN.
---
If you like my work kindly resteem it to your friends. You may also continue reading my recent posts which might interest you:
---