Supreme Court of India Refuses Stay on RBI's Circular—Banking Services Ban Remains!
In a disappointing outcome from the hearing that was scheduled at noon today at the Supreme Court of India, the apex court of India has refused to grant a stay on the RBI circular dated 6th April. This means that RBI's mandate to all regulated entities under it will stop rendering services to cryptocurrency exchanges in India and any related businesses.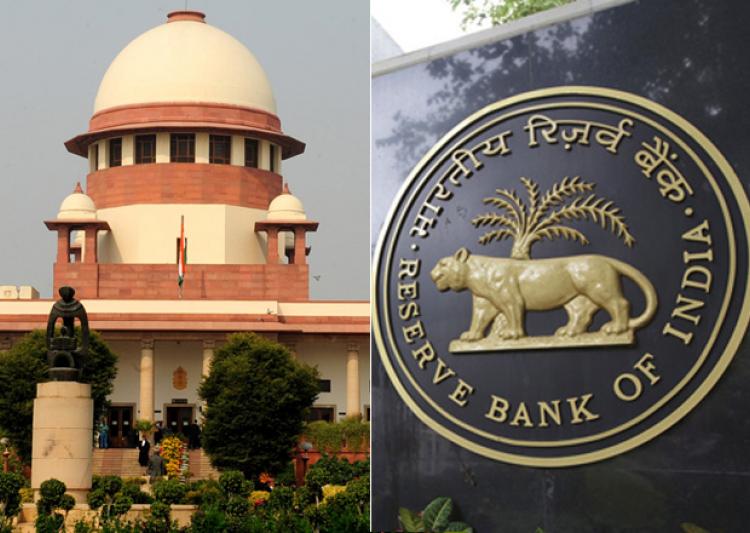 Source
It's rather sad that the apex court has decided to side by the government and central bank and avoid ruling on an unconstitutional mandate prevent legal entities from operating in this country.
This goes to show the ignorance of the apex court on the matters such as cryptocurrencies, decentralization, blockchain technology and the government/RBI muscling their way around.
Next hearing at the Supreme Court is scheduled on the 20th of July. Approximately 14 days after the banking services ban comes into effect on the 5th of July.
The Supreme Court has also said that no new petitions can be filed against the 6th April circular from RBI and all other petitions in any other court will be transferred to the Supreme Court. No high courts can file any new petition on the matter henceforth.
CryptoKanoon group and a few new smaller exchanges have shown tremendous courage in taking a stance against the government.
IAMAI & Digital and Blockchain Foundation of India
Few days ago in a fresh petition against the RBI's order dated April 6, disallowing regulated entities from dealing in virtual currencies or offering services to entities dealing with them, the IAMAI (Internet and Mobile Association of India) has moved the Supreme Court (SC) to issue a stay on the order.

The report stated that the IAMAI's petition was filed in the apex court on Tuesday, according to the SC website. Also, IAMAI president Subho Ray confirmed the filing of the petition but did not want to comment till the matter was scheduled for a hearing.
Major exchanges in India have formed an industry body known as the Digital and Blockchain Foundation of India in order to work with the government and help them understand and regulate cryptocurrencies. However, I seriously doubt their lobbying power given how things have turned out.
Cryptocurrency exchanges such as Unocoin, Zebpay, and Conisecure and many others are part of crypto-exchange body Digital and Blockchain Foundation of India. This industry body was merged with IAMAI in November 2017. Now they have filed the 5th petition on the matter against the court but today's ruling is for all writ petitions including the one from IAMAI.
This is the latest update on the matter. While this isn't the news that we wanted to hear there will be a way forward ultimately. I'll keep us all updated here.
---
If you like my work kindly resteem it to your friends. You may also continue reading my recent posts which might interest you:
---