From 2GB data to 144 up to insurance, learn all the elements of Patanjali SIM card
Yoga Guru Baba Ramdev has launched Patanjali's SIM card on Sunday. For this, he joined hands with the public sector telecom company BSNL. Its name is Patanjali Swadeshi Prosperity Sim Card. But in the early days, these SIM cards will be given to Patanjali staffers only. This indigenous prosperity of Patanjali is the first such SIM card in the country, which will give medical, life and accidental insurance to the customers.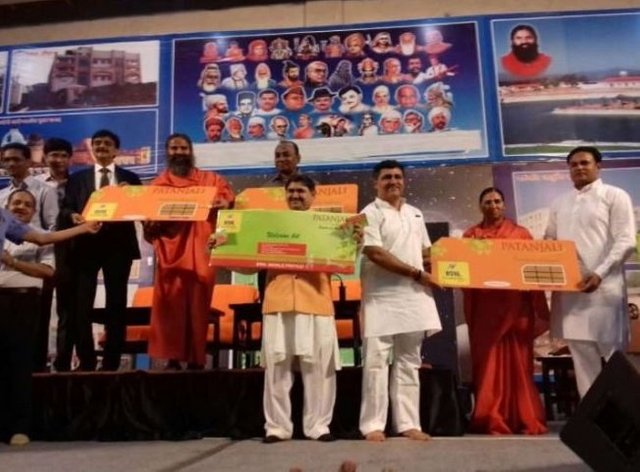 792 plan: According to the report of TelecomTalk, in addition to the plan of Rs. 144, the company will make a plan of Rs. 792. Plan validity will be 180 days. In this, the customer will be given two GB data every day, unlimited local-STD calls and 100 messages daily, like a plan of 144 rupees. The validity of this plan will be for 6 months.
₹ Plan of 1584: In this plan, the customer will be given the GB data every day, unlimited local-STD calls and 100 messages daily. For 584 rupees, plan customers will get validity of 365 days i.e. full year validity.
₹ Plan of 144: Two GB data, unlimited calls and 100 messages will be available in the plan. These plans will come with 30 days validity. That is, the benefits given in the three plans will be almost the same but their validity will vary.
Life Insurance with SIM
In the initial days, Patanjali employees will get this SIM card. But in the coming days when it will be launched commercially, this SIM card will be given 10 percent discount on every product of Patanjali. This is the country's first SIM card which will come with insurance. Sim comes with 2.5 lakhs of medical and five lakhs of life insurance. The special thing is that it can be done only in the case of Claim Road Accident.
Please tell us that this SIM was launched at a function held in Haridwar yesterday. Yoga Guru Baba Ramdev said that BSNL has an indigenous network and the purpose of both the companies is the prosperity of India, hence their company has joined hands with BSNL.