KEARIFAN LOKAL / LOCAL WISDOM
[INDONESIA]
Bismillahirrahmanirrahim
Assalamu'alaikum Warrahmatullahi Wabarakatuh
Salam sejahtera bagi kita semua
Apakabar sahabat Steemit?, semoga sehat dan sukses terus buat sahabat-sahabat Steemit.
Lama saya tidak memuat artikel, kali ini saya akan mencoba sedikit mengulas tentang kearifan lokal, sebuah kata sederhana namun tidak banyak orang yang memahami arti dari kearifan lokal tersebut, sehingga cenderung bertingkah sesuka hati atau bertingkah laku di suatu daerah/tempat tanpa mencoba mengetahui apa kebiasaan-kebiasaan didaerah tersebut baik kebiasaan yang boleh maupun yang tidak boleh dilakukan. Kita cenderung menganggap sepele, padahal jika kita mengetahui dan menghargai kearifaan lokal suatu daerah yang kita kunjungi, hal ini akan sangat berarti bagi kita baik dari segi etika maupun keselamatan.
Apa itu kearifan lokal?
Dari Wikipedia bahasa Indonesia, ensiklopedia
Kearifan lokal merupakan bagian dari budaya suatu masyarakat yang tidak dapat dipisahkan dari bahasa masyarakat itu sendiri. Kearifan lokal (local wisdom) biasanya diwariskan secara turun temurun dari satu generasi ke generasi melalui cerita dari mulut ke mulut. Kearifan lokal ada di dalam cerita rakyat, peribahasa, lagu, dan permainan rakyat. Kearifan lokal sebagai suatu pengetahuan yang ditemukan oleh masyarakat lokal tertentu melalui kumpulan pengalaman dalam mencoba dan diintegrasikan dengan pemahaman terhadap budaya dan keadaan alam suatu tempat.
Berdasarkan definisi diatas mari coba kita pahami agar kita selalu bisa menghormati dan menghargai kearifan lokal (adat istiadat, budaya) dari suatu daerah, wilayah atau negara.
Contohnya di Propinsi Saya tinggal yaitu Aceh tercinta, bahwa Aceh merupakan daerah dengan masyarakatnya yang begitu menjunjung tinggi nilai-nilai agama Islam, sehingga kebiasaan, adat istiadat, budayanya sudah bercampur dengan aturan Islam. Adanya penerapan Qanun atau diwilayah Indonesia lain namanya peraturan daerah yang mengatur tentang cara berpakaian yang harus Islami, dilarang berdua-dua an ditempat tersembunyi, hukum perjudian dan lain sebagainya sudah sangat jelas di jabarkan dalam Qanun (perda) yang sumbernya dari kebiasaan/adat istiadat dan hukum Islam.
Di Aceh setiap masyarakatnya harus memakai pakaian yang Islami ketika berada di tempat umum. Nah, cara berpakaian yang Islami merupakan salah satu kearifan lokal yang harus di hargai oleh setiap pendatang, contoh sederhana tentang kearifan lokal yang harus dipahami dan dihargai, jadi ketika datang ke Aceh, pendatang juga wajib menggunakan pakaian yang Islami saat berada di tempat umum.
Contoh penerapan Qanun terhadap pelanggaran cara berpakaian :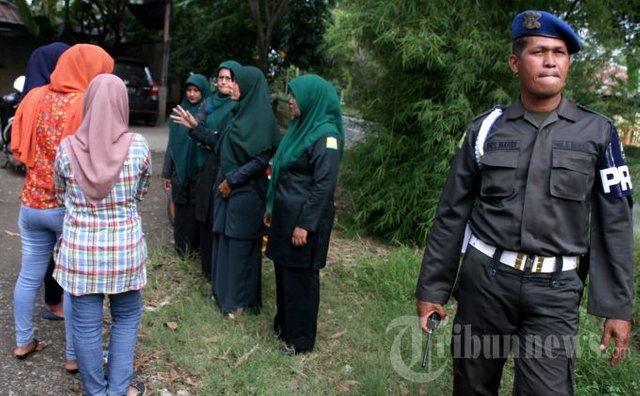 https://www.tribunnews.com/regional/2014/01/03/wanita-aceh-yang-tertangkap-berpakaian-ketat-disemprot-cat
Begitu juga di tempat lain di luar Aceh, pasti memiliki kearifan lokal yang sangat dijunjung tinggi oleh penduduknya, jadi sobat Steemit, ketika kita berkunjung kesuatu daerah jika kita memahami dan menghargai adat budaya setempat maka kita akan sangat mudah diterima dan tentunya akan selamat.
Bagi Sahabat Steemit, mari sama-sama kita berbagi pengetahuan tentang kearifan lokal suatu daerah, sehingga dimengerti oleh Sahabat Steemit lainnya sehingga jika berkunjung ke suatu daerah Sahabat-sahabat Steemit sudah paham akan kearifan lokal daerah yang dikunjungi.
Demikian sekilas tentang kearifan lokal, bagi Sahabat-sahabat yang ingin menambahkan dan lebih memahami apa itu karifan lokal, mohon maaf jika mungkin masih ada yang belum sesuai di dalam artikel ini, mohon dikoreksi.
Terimakasih kepada Komunitas Steemit Indonesia Khusus nya kepada Curator @aiqabrago , @levycore dan @jodipamungkas yang telah mendukung saya untuk dapat menghasilkan karya terbaik untuk indonesia.
[ English ]
Bismillahir rahmanir Rahim
Assalamualaikum Warrahmatullahi Wabarakatuh
Peace for us all
how are you steemit friends? I hope you will be healthy and to be successful every time .
For a long time I did not load the article, this time I will try to review the local wisdom a little, a simple word but not many people understand the meaning of local wisdom, so they tend to act as they wish or behave in an area without trying to know what habits in the area is either permissible or not. We tend to assume trivialities, even though if we know and appreciate the local wisdom of an area that we visit, this will mean a lot to us both in terms of ethics and safety.
What is local wisdom?
From the Indonesian Wikipedia, the encyclopedia
Local wisdom is part of the culture of a society that cannot be separated from the language of the community itself. Local wisdom is usually passed down from generation to generation through word of mouth. Local wisdom is in folklore, proverbs, songs, and folk games. Local wisdom as a knowledge that is found by certain local communities through a collection of experiences in trying and being integrated with an understanding of culture and natural conditions in a place.
Based on the definition above, let's try to understand so that we can always respect and appreciate the local wisdom (customs, culture) of an area, region or country.
For example in the Province I live, my beloved Aceh, that Aceh is an area with its people that upholds the values ​​of Islamic religion, so that customs, culture are mixed with Islamic rules. The implementation of Qanun or in other parts of Indonesia is called a regional regulation that regulates how to dress which must be Islamic, is prohibited from being hidden in a hidden place, gambling law, etc. has been clearly described in Qanun (egional regulation) whose source is from customs and Islamic law.
In Aceh, every community must wear Islamic clothing while in a public place. Well, Islamic dress is one of the local wisdom that must be appreciated by every migrant, a simple example of local wisdom that must be understood and appreciated, so when coming to Aceh, immigrants are also obliged to wear Islamic clothing while in public places.
Examples of the application of regional regulation to violations of dress methods: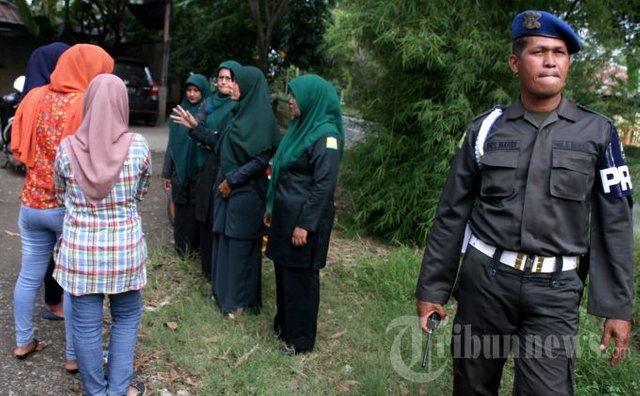 https://www.tribunnews.com/regional/2014/01/03/wanita-aceh-yang-tertangkap-berpakaian-ketat-disemprot-cat
Acehnese women who were caught dressing tightly sprayed with paint
Likewise in other places outside of Aceh, surely they have local wisdom that is highly respected by the people, so Steemit friends, when we visit an area if we understand and respect local cultural customs, we will be very easily accepted and will certainly be safe.
For Steemit Friends, let's share our knowledge about local wisdom in a region, so that it is understood by other Steemit Friends so that when visiting a region Steemit friends already understand the local wisdom of the area visited.
Such is a glimpse of local wisdom, for friends who want to add and better understand what local wisdom is, apologize if there may still be some who do not fit in this article, please correct.
Thanks to Steemit Indonesia Community Special to Curator @aiqabrago , @levycore and @jodipamungkas who have supported me to be able to produce the best work for Indonesia.

SUPPORTED BY INDONESIAN STEEMIT COMMUNITY

KEEP STEEM ON ME @junaidikl