"Freestyle Motocross", Extreme Sports That Not Just Need Guts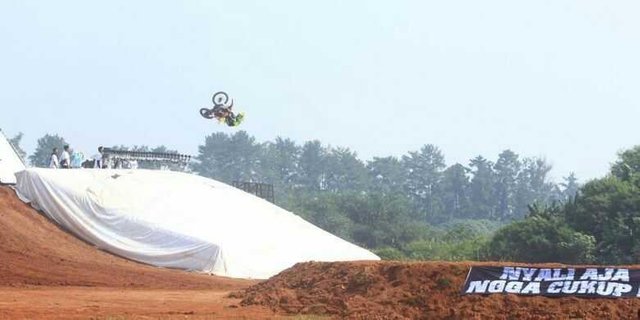 From a height of more than 5 meters in the air, Agha Riansyah Putranto (26) directed his mounts-a 250 cc-trailed bike trail to the left. He then released the iron horse, then dropped into a large mattress.
Agha's attractions do so many times after spurring his ride over the 5 meter challenge of the RXP Pipe FMX (Freestyle Moto-Cross). Rider from Pasuruan, East Java, is also claimed to still feel horrified and afraid to do the challenge.
"Quarter pipe that I conquered this is the first in Indonesia, even in Southeast Asia .. Preparation is also sudden, I just practice three days, so feel it is still very excited," said Agha at Powertrack Circuit, Bumi Serpong Damai, Tangerang , Banten.
Even so, he still believes can conquer the challenge. With the provision of seriousness and practice, he managed to pass 5 meters Quarter Pipe Ramp FMX smoothly.
The key to conquer the challenge, he said, is when the motor is flying in the air. When it does, it pushes the motor to the left so it changes direction and falls to the mat.
"The key is in the feel (when) landing or landing.If in other freestyle style, the motor gets the force of impulse forward, whereas the mount gets a boost upward.So I have to push it sideways because otherwise the motor will just retreat, "said Agha.
Rider who became champion in kejurnas motocross MX2 class Novice in 2009 is also conquered also challenge 35 meters Long Table Top. Same with previous challenges, the attraction is for the first time done in Indonesia.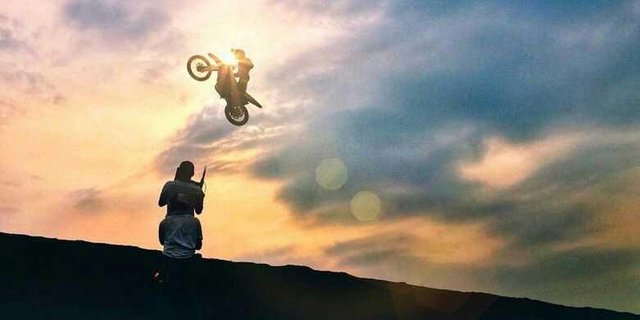 Because the ramp has a height of 4 meters, Agha also admitted difficult to conquer the challenge. Luckily, after three tries, he can get the right feel.
"The bottom line is playing in the lower power and speed of the motorcycle at the beginning before jumping or jumping.After being able to fit, then get through the challenge well," he said.
Not just guts
The rider who started his racing career from motocross work said that proficient in the field of freestyle motocross not only rely on great guts.
It takes the strength of physical muscles, especially in the chest and arms, in order to successfully perform atraksifreestyle. That's why he regularly goes to the gym or gym to train his physical muscles.
Not only that, said Agha, high concentration of a rider is a key factor of success in this extreme sport. Therefore when it gets the trick to conquer the challenge, he rested.
"In freestyle it takes a high concentration, if I insist on concentration is often lost because of fatigue.Risk can even fall and dangerous for my safety," said Agha.
The same thing expressed Zulmi Aristiawan (18). Crosser who also conquered the challenge of 5 Meters Quater Pipe Ramp FMX and 35 meters Long Table Top is said, he always run every day in order to maximize in freestyle motocross.
"Every day I routinely run for 20 minutes," he said.
As for mastering the style of freestyle motocross, pebalap who last year became runner up in kejurnas motocross MX2 Novice class is claimed to learn from many seniors, including Agha.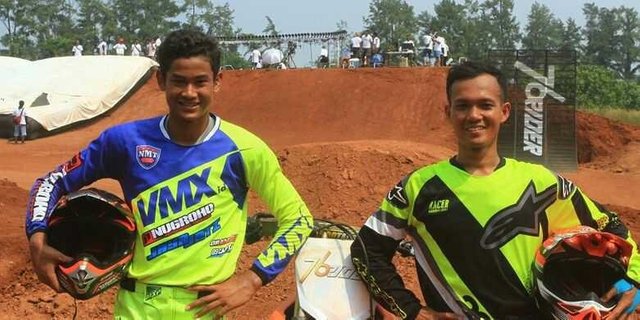 Both Agha and Zulmi are crossers incorporated in 76 Riders, a community container for the best riders in Indonesia that are not only gutsy, but also have achievements in their respective fields or are known by #76ridersnyaliajanggacukup. They perform such freestyle action in order to shoot the ad or TVC 76 Rider.
In addition to active in the field of freestyle motocross, both follow the event of the 2018 Trial Games racing event. This event itself is a racing championship based on trail or motocross motors.
There are two categories of racing in the championship. First, Trail Game Dirt (TGD) with a ground race track, and both Trail Game Asphalt (TGA) using a combination of soil tracks and asphalt. Agha own racing TGA and TGD, while Zulmi just follow the TGA.
How? Interested to follow the trail of Anga and Zulmi try freestyle motocross?