We Are Steemians - Indonesian Steemit Community (bilingual)
Dear steemians..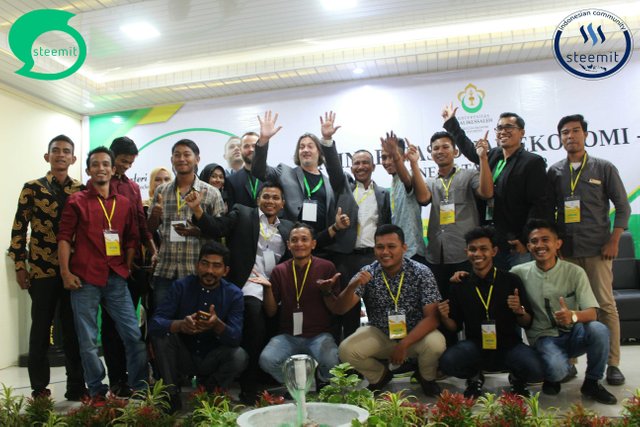 ---
**English**
---
Good night steemian friends... Wherever you are, do something that can make you smile happily, don't be put off because you all have the right to live happily. If compared in a story you are the main character who has many roles in a story. Interesting or not a story is very dependent on your action, if you are rigid, no matter how good the title is, it will not be interesting to watch or read. That's about the parable of our lives.
Stemians are wise, I am sure you are one of the people who actively write and read, all the information you know if you often read, without having to watch the news on television because there is also steemit. I say so because many of the steemians come from journalists or news writers.
We are steemian, the days of our assignment are to create useful content, sometimes we like to share stories about our lives and experiences, if it is interesting then it will be a living inspiration for the reader. There are also some friends who like to release news and some other creativity, all of which is shared here is certainly beneficial to us depending on ourselves which content we like.
Two days ago we just attended a national economic seminar at the University Malikussaleh Lhokseumawe. We are very happy to meet with Oracle-D CEO they are Matt Starkey @starkerz and Dylan Leighton @anarcotech, they transfer a lot of knowledge to participants and invited guests who attend the event, and we are the recipients of knowledge about blockchain. We as steemian who are present there are important and extraordinary moments because for so long they have never meetup with the Indonesian steemit community.
As a member of the Indonesian steemit community, I feel like letting go of my fellow Indonesian team and German community, like a family that has not met for a long time and finally met again in the hall of Mutia University Malikussaleh Lhokseumawe. Even though there were some of us who only knew each other as if they had known for a long time because of their intimacy. That's a short story that I can say on this occasion. May be useful
---
**Indonesia**
---
Selamat malam sahabat steemian.. Dimana pun anda berada lakukanlah sesuatu yang bisa membuat mu tersenyum bahagia, jangan ditunda-tunda karena anda semua memiliki hak untuk hidup bahagia. Jika di ibaratkan dalam sebuah cerita anda adalah tokoh utamanya yang memiliki banyak peran di dalam sebuah cerita. Menarik atau tidaknya suatu cerita sangat tergantung pada aksi anda, jika anda kaku maka sebagus apapun judul yang diberikan tak akan menarik untuk ditonton ataupun dibaca. Begitulah kira-kira perumpamaan hidup kita.
Stemians yang bijaksana, saya yakin anda adalah salah satu orang yang giat menulis dan membaca, segala informasi pasti anda ketahui jika anda sering membaca, tanpa harus menonton berita di televisi karena di steemit pun ada. Saya katakan demikian karena banyak diantara steemian yang berasal dari wartawan atau penulis berita.
Kita adalah steemian, hari-hari tugas kita adalah membuat konten-konten yang berguna, terkadang kita suka berbagi cerita tentang hidup dan pengalaman kita, jika menarik maka akan menjadi inspirasi hidup bagi pembaca. Ada juga sebagian teman yang suka merilis berita dan beberapa kreatifitas lainnya, semua yang dibagikan disini tentu bermanfaat bagi kita tergantung pada diri kita konten mana yang kita suka.
Dua hari yang lalu kami baru saja menghadiri acara seminar nasional ekonomi di universitas malikussaleh lhokseumawe. Kami sangat senang karena bisa bertemu CEO oracle-D yaitu Matt Starkey @starkerz dan Dylan Leighton @anarcotech, mereka banyak sekali mentransfer ilmu kepada peserta dan tamu undangan yang hadir disanan, dantaranya kami adalah penerima ilmu dari mereka tentang blockchain. Kita selaku steemian yang hadir disana menjadi moment penting dan luar biasa karena sekian lama tak pernah meetup dengan komunitas steemit indonesia.
Selaku anggota komunitas steemit indonesia saya merasa seperti melepas rindu sesama team dan komunitas steemit indonesia, bagaikan sebuah keluarga yang sudah lama tak bersua dan akhirnya bertemu kembali di aula cut mutia universitas malikussaleh lhokseumawe. Meskipun ada diantara kami yang baru kenal satu sama lain seakan-akan sudah kenal lama karena keakrabannya. Itulah cerita singkat yang dapat saya utarakan pada kesempatan ini. Semoga bermanfaat.
Best Regards @teukumuhas
---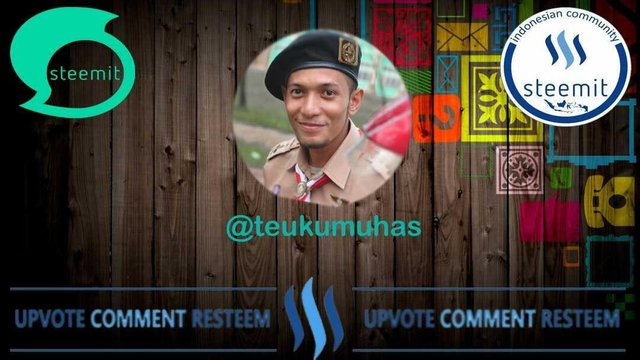 ---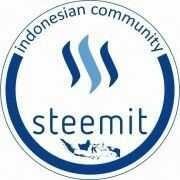 Join Discord Komunitas Steemit Indonesia
---
Vote Witness
@good-karma
---
---
---
---
---
---
---