Why is the Syrian Army Fighting to Keep Assad in Power?
The title here is from an actual question asked on the pro Zionist Quora wiki Q & A platform, and the question comes from Donbass, Ukraine, out of all other places on Earth.
The full question was like this: What drives the morale of Bashar al-Assad's forces, and how can they be persuaded to abandon his fight to remain in power?
Since I was tagged to answer, I left an answer I'll copy below this, but also found that most of those who answered wrote the same disagreeing about the question itself. So this is what I wrote:
I'm Syrian and I guess I have more knowledge about Syria than the vast majority of others talking about my country here, I can confirm you there's no such thing as 'Bashar al-Assad's forces', never heard of them not now, not during the 8.5 years war and never before.
I know there are the Syrian Armed Forces comprising of the Syrian Arab Army, the security forces that also include what we call Interior Security Forces (Police - Intelligence - Counter Terrorism…) and during the war the NDF: National Defense Forces, but none of them calls themselves as 'Bashar al-Assad Forces'!
As for the question if you fix its wording: What drives the morale of the Syrian forces to fight? They're defending their families, their country, their land, their heritage, and their future from foreign-waged War of Terror led by the USA and its stooges.
You can ask what drives the morale of the Trump forces or forces of the regime of Elizabeth the Second to fight wars across the planet to loot and destroy in favor of a few elite, that is more logical and doesn't really have an answer.
Read: Heroism and Bravery of the Syrian Arab Army - Hezbollah Top Official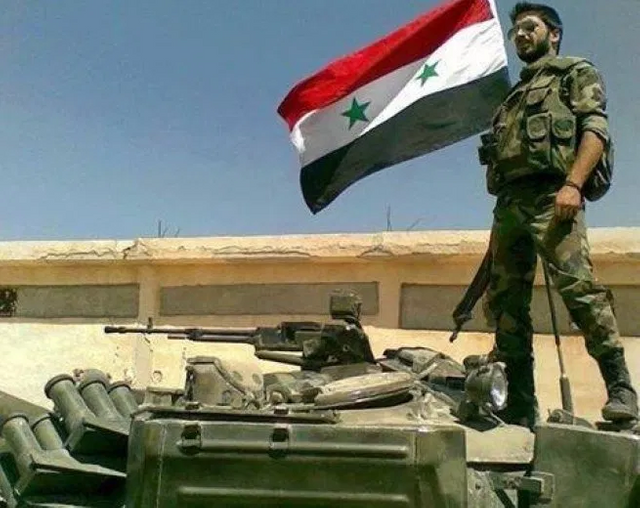 End of my answer there
---
Your objective comments are always welcomed.
---
Follow @ArabiSouri on Twitter: Arabi Souri Syria News: www.syrianews.cc
Donations are highly appreciated, just click on the Donate button via PayPal or Credit Card: Donate
You can also donate with Steem or SBD or even delegate some much needed SP here :)
#Syria #Iran #Russia #InformationWar #Wahhabism #Zionism #alQaeda #FSA #Nusra #ISIS #Terrorism #Saudi #Qatar #Israel #Net #Neutrality #Mainstream #MSM #Control #WarOfTerror #kurdistan #sdf #kurds #RegimeChange

Posted using Partiko Android