South Dakota Becomes the 13th Constitutional Carry State - Protect Your Family, Protect Yourself -- From Gov't.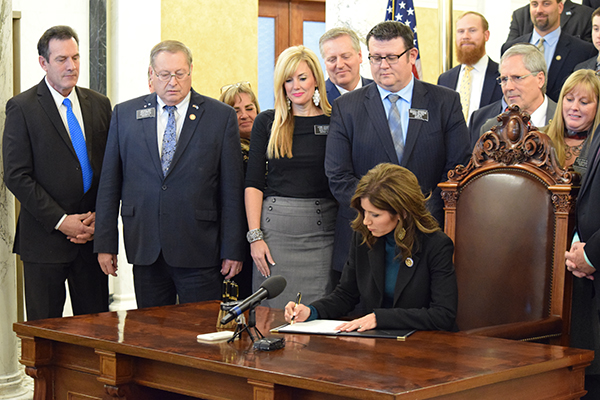 NAGR Vice President Zach Lautenschlager stands proudly with Gov. Noem and multiple pro-gun state legislators as Constitutional Carry is officially signed into law.
---
January 31, 2019
At a bill signing ceremony today, South Dakota Governor Kristi Noem (R) officially made Constitutional Carry the law of the state come July 1.
The National Association for Gun Rights and our state affiliate South Dakota Gun Rights were personally invited, and in attendance for the bill signing today.
NAGR Vice President Zach Lautenschlager represented both organizations at the signing.
After working tirelessly for multiple legislative sessions, only to see Constitutional Carry pass the legislature but then be vetoed by former Governors, today's bill signing marked a historical moment for the grassroots efforts of NAGR and SDGO members.
---
Source:
https://nationalgunrights.org/resources/news/south-dakota-becomes-the-13th-constitutional-carry-state/?fbclid=IwAR2Vl1qEf7qI6YN_Mky3cY2JXy0st_hEMXGutlYCILDmk8LMe34OaxDshzg