What a Crisis Looks Like in Venezuela
Today, Sunday, I went out to buy some groceries to eat for lunch. What did I want? Not so much actually, just a pair of things. What surprised me was the price of the cauliflower and it is what this post is all about. In this Post you will understand what a Crisis looks like for the Venezuelan people who try to live a normal life without any luxuries.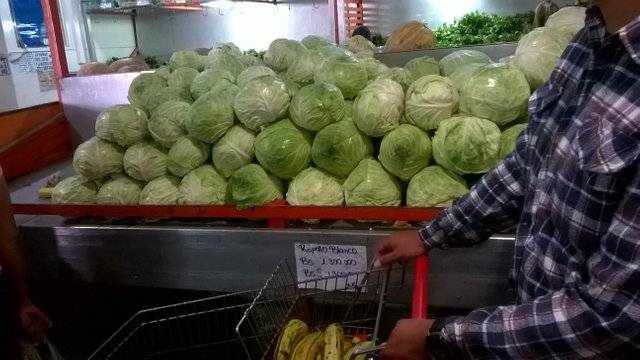 This is a "normal" market in Venezuela, actually, it is a community one. What it means is that it is cheaper than in anywhere else. This is what surprised me. As you can see in the pic, this is the section of cauliflower where it says in the paper that the price for one Kg of cauliflower is 1.300.000bsF. Now, you probably don't understand how much it is and if it is cheap or expensive so now I am going to explain how much it is in dollars and how much is the minimum wave in Venezuela.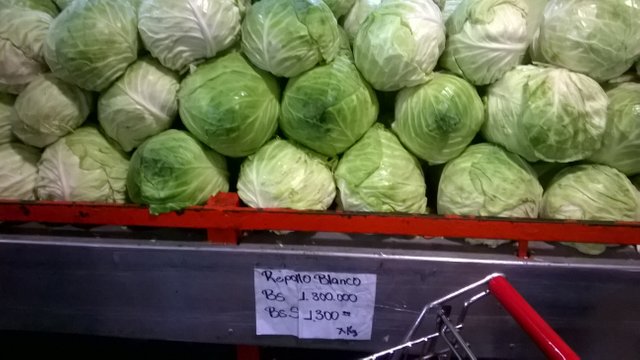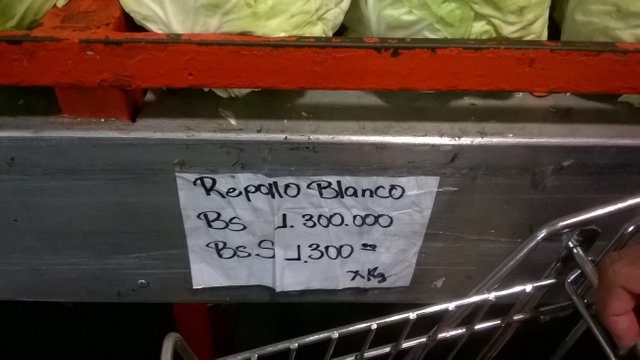 Translation: White cauliflower
               BsF 1.300.000


                     BsS 1.300             X Kg

BsS is the new monetary conversion the government wants to apply because the inflation makes way too difficult to understand the prices of the things and we would have to grab a bag and fill it with tons of bills to buy one thing. The solution? Remove threes zeros in the whole economy and create news bills for the whole country. This is the second time our currency changes of name and removes three zeros for inflation in ten years. That shows the problem we live.
So, the next step is to know how much it is in dollars, an international reference. The price of one dollar in Venezuela is 2.050.345Bsf. Bellow there is the reference of a very known web that we use to know the price of the dollar in our country.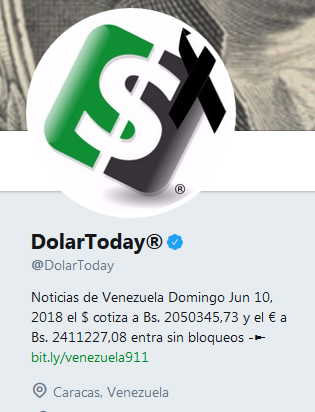 DolarToday
Venezuela's News Sunday June 10,
2018 the $ worth is 2.050.345,73 BsF and € worth is
2.411.227,08 BsF.
So If one dollars cost us 2.050.345bsF it means that 1.300.000 is 0.63 dollars. So yes, with just 0.63 cents of a dollar we can buy one Kg of cauliflower. In an international market maybe this could be maybe too cheap, it's nothing, it's a bargain. But for us to know if it is too much or too little we must know how much does a Venezuelan earn each month, so we are going to use a very reliable media that posted the news of the new minimum wave since May 1 of 2018.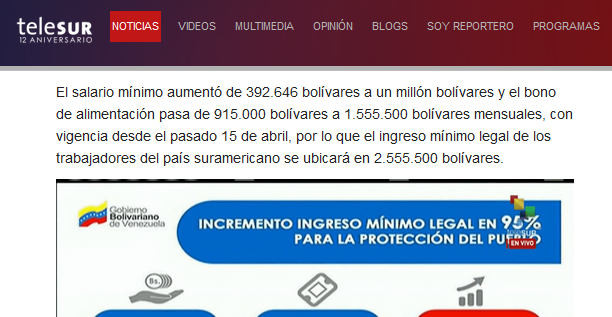 The minimum wave increased from 392.646 bsF to one million and the bonus of alimentation went from 915.000 bs to 1.555.500 bsF monthly, with state of being In force since April 15, so that the minimum legal wave to the workers of the south american country will be located in 2.555.500bsF.
So, with our change, the minimum wave in Venezuela is 1.24 dollars monthly. Yes, this is what any worker in the country earns monthly to live and do everything. Is it possible? Maybe in the country things are way too cheap. But not. To know that we have to go back to the infamous cauliflower, the reason of this post.
If one Kilogram of cauliflower cost 0.63 cents of a dollar, one person in Venezuela can buy monthly almost two Kg of cauliflower with his minimum wave. Would you image it? That all what you can afford is almost an entire cauliflower? That is the reality of many people in our country.
How can we live? Well, we are surviving. Many people obviously can't eat every day. Many Children go to sleep hungry and many of them don't have the resources to go to school and buy a textbook.
This is why many of us, who have found out about this community, work so hard trying to reach to many people and giving them shoes, pencils, notebooks and even food.
Is this ever going to change? We don't know. Meanwhile, we all appreciate everybody that wants to do something for the people in needs in our country, as you can see, it is a lot to us. Thanks for your attention.
EDIT: Thanks to the steemian @mepatriot for taking his time to read the post and correct me about the article in cuestion. The post is not about cauliflower, the vegetables in the pic were cabbage.