Trump Needs To Clean Out His Cabinet And Bring In Czars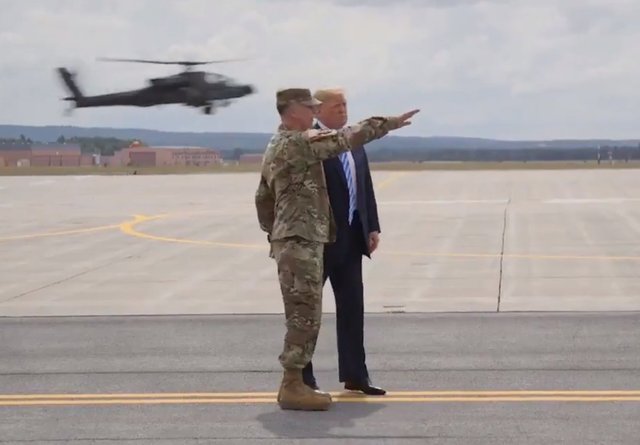 No presidential candidate in history has ever dealt with the level of adversity which Trump faced. He, handily, defeated 16 of the most influential Republicans in the nation. Crushed Marco (Bubble Boy) Rubio in his home state of Florida and Trump went on to win the Republican Primary. It was an amazing victory, but wait; The Republican establishment wasn't going to give up that easy. The GOPe told it's voter base that the people don't get to decide who their the nominee will be if it isn't who the elite have hand-picked. So, after defying all the odds, and winning the nomination, Trump was forced to thwart Ted Cruz' attempt at stealing the delegates during the Republican convention.
I remember those times well. The way that establishment Republicans behaved shaped the way I think about politics and forced me to re-evaluate my beliefs on a fundamental level. Watching Fox News pundits bash Trump for months on end 24/7; caused me to seek out other platforms were I could read the news, and digest political content.
Trump's primary victory caused the Republican establishment to let their mask slip. Many never bothered to put their mask back on. Thus, the Never Trump movement was formed to stop trump at all costs. The Never Trumpers fought tooth and nail to elect Hillary Clinton. "Principled conservatives" like David French, Jonah Goldberg, Ben Shapiro, and William Kristol who went as far as drafting Evan McMullin as a spoiler candidate. McMullen never had a chance at winning any state, but being a Mormon, Kristol planned that McMullin would cause Trump to lose Utah due to its large LDS population. That didn't work either, and Donald J. Trump managed to win the presidency against all the odds. Becomes the 45th President of The United States, and immediately fills his entire cabinet with Establishment Republicans who more than likely did not cast a ballot for him. The few people like Michael Flynn who were Trumpists were promptly kicked out of the White House through subversion by the Never Trump traitors who managed to snake their way into the administration. The one remaining Trump Loyalist is Stephen Miller who is not a member of trump's cabinet.
The same sort of indifference for the American people that GOPe never Trumpers displayed during the 2016 Presidential Election is ongoing. The recent article published by the New York Times "I Am Part of the Resistance Inside the Trump Administration" gives us insight into the mind of a Never Trumper. Only a sociopath believes that their will supersedes the will of the people. Whoever this traitor is, he or she has been attempting to start a war with Russia by admittedly' "boxing Donald Trump into a conflict with Russia."
"On Russia, for instance, the president was reluctant to expel so many of Mr. Putin's spies as punishment for the poisoning of a former Russian spy in Britain. He complained for weeks about senior staff members letting him get boxed into further confrontation with Russia, and he expressed frustration that the United States continued to impose sanctions on the country for its malign behavior. But his national security team knew better — such actions had to be taken, to hold Moscow accountable."
The author admits to knowledge about the inner workings of Trump's national security team, and how they have conspired to overrule the President on matters relating to Russia, and what we can assume, are a host of other vital issues. The American people elected Trump, not the lunatic traitor who wrote this never Trump manifesto who believes they are so wise, so important, that they alone have the right to dictate what will and won't happen during Donald Trump's Presidency.
In 2016 the mere mention of "globalism" in a tweet, or Facebook post would signal blue share trolls to label you as a conspiracy theorist. A tin foil hat wearing Trumpster, but in 2018 the term Globalism is widely acknowledged as the core tenet of the Judeo left, and the reason why the deep state is working to undermine Trump's nationalist policies. The "Deep State" is another one of those terms in 2016 that would get Soros bots calling you a conspiracy theorist if you mentioned it. In 2018 spies sent to undermine the president of The United States of America are doing a bit of rebranding. Now their preferred term is the "the Steady State."
"This isn't the work of the so-called deep state. It's the work of the steady state."
The American People voted to Make America Great Again, and that means making America a serious nation again. The people who are in his cabinet working to undermine Trump's agenda are attempting to keep America in Clown World. Using the 25th amendment to remove a sitting president because you do not like him will never succeed. Starting World War 3 with Russia because it suits Israeli interests is not a wise policy. It is one of the first things Hillary Clinton would have done had she won the election. So why is Hillary Clinton's agenda moving forward even though Donald Trump is the President? Trump knows now why his agenda is not moving forward, and there is a simple way to fix the problem. Trump must bring Trumpists into his administration. Bypass Congress and appoint loyalists as czars. Trump supporters want to see trump succeed, and firing those in his cabinet who are stifling the MAGA agenda would be wildly popular with Trump's base. We support you Donald Trump, and if needed, millions of us would take to the street to defend your presidency. As Trump supporters, we have taken the brunt of the hater's frustration that you are in office. We took those slings and arrows for you. While attending your rallies, Antifa attacked your supporters. Women and children were spat on by the people that the traitors in your administration hold dear. Your supporters have made sacrifices to Make America Great Again. Now, you do what you said you would do, and we will continue to take those slings and arrows. For you!