Be the Person
I've been seeing this meme floating around lately -
"Be the person you needed when you were younger."
~ Ayesha Siddiqi
I think it is excellent advice for those who have the ability to do so. It means giving your time to a child who needs you. A young child, a teenager, even other adults, everyone you come across who could benefit from your attention. These acts of kindness that move as ripples out into the world. Just put it on your 'to do' list and see what comes your way.
But this also got me to thinking about another way to "Be the person".
I've come to believe that pretty much everyone has experienced childhood trauma of one kind or another. Some worse than others? Yes. Some more damaging than others? Yes, of course. But what is interesting to me is how what may seem a minor matter to an adult can loom large in a child's eyes. An unkind word might pierce one child's heart while another child might ignore it. Promises unkept, the loss of a beloved pet, family arguments and divisions – all sorts of possible traumas can happen when we are young but not everyone responds the same way. We just don't know what things might have lasting effects.


I went to a workshop once where the topic was 'Healing the Inner Child'. Many ideas were presented but there was one suggestion that stayed with me and I went home to try it.
The experiment was this – find a photo of yourself at around the age of four to five. Put it in your purse or wallet and when you have a quiet moment take it out and look at it. At first just look at it, your beautiful eyes, your adorable face! Try to remember how it felt to be that child, knowing nothing of what future would bring.
Then speak to that child. That child that still exists within you, as if it were a separate person. As a child that has been given into your care. What would you tell that precious creature?
I found myself looking into that child's eyes and asking who would hurt you? Who would treat you unkindly? I found deep emotions rising up and found myself apologizing for the ways I had treated her and promising to protect her. To take her out of the darkness and let her play in the sunlight. To be the person she needed.
This experiment changed me in many ways. One important way was when I consciously let her out to play I found a creativity I never knew I had! I think it made me a kinder person too. I think it put me more in tune with the 'Inner Child' of others.
I still have that photo and I still talk to her sometimes. Our conversations are much happier these days.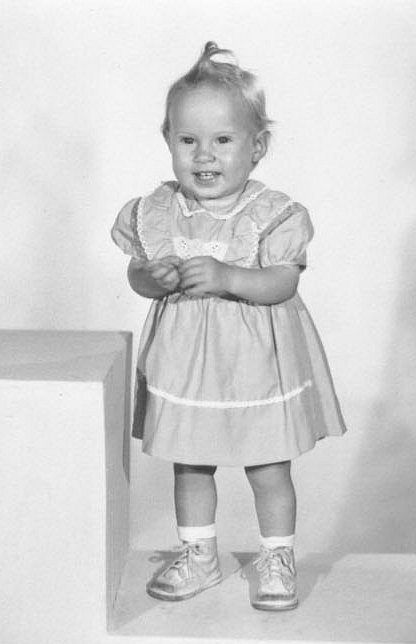 I am a member of #ccc by @freedomshift
https://steemit.com/ccc/@freedomshift/an-update-v2-1-to-guaranteed-daily-income-and-payout-for-newbies-2-0-in-ccc-and-follow-the-honor-code-the-creed-conditions-and