Can we talk about the truth?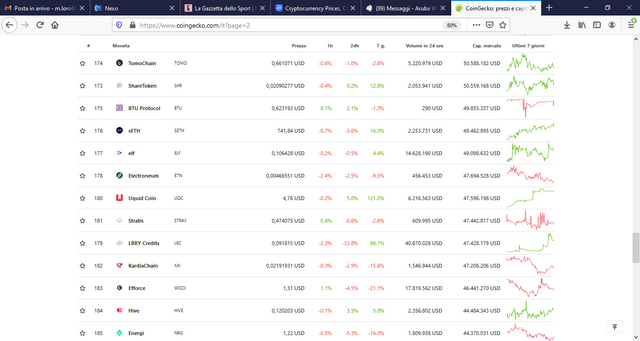 Dear friends
first of all, HAPPY NEW YEAR!
We are now in front of an evolution of crypto and it seems the market is going to make very precise choice.
As you can see from my post image, Coingecko, which is an hive friendly exchanger, is putting hive over 40 positions down than steem.
When last year we had the scission, hive value was double than steem and most people leave steemit to move to hive.
Now we are on 2021 and we can see that things are diametrically changed for both coins, steem is keeping almost the same value and hive, day by day, is loosing value and power.
I can see it even form steem-engine and hive-engine where market is not affected by hive oppositors like tron, but it seems i can buy 20 hive for 15 steem, so this is not very nice for who says that steem will become a shit coin of 0.001 usd value...
In this year i am going to push my company coin to promote them in other place to get more value, right now they are listed in Waves, steem-engine, hive-engine and recently we open a smart contract in tron blockchain.
This year we are going to promote INTEL coin buy with an interest of 10% every 4 months, so if someone want to invest on INTEL, can get interest 3 times in this year, and it will be in advance!
So if someone invest 100 steem buying 1000 INTEL, which is the minimum to get the profit, will get 10 steem immediately, than at the end of april can send back them to us and get again 100 steem or reinvest them and get again 10 steem, the same can happen in the end of august and finally at the end of the year.
We can do the same if you choice to use steem, waves or tron, coin price is fixed, 1 INTEL for 0,1 hive, 0,1 steem, 0,07 leo, 0,5 tron and 0,001 waves.
INTEL are always connect with @dcitygame promo too, so if you want to use them for this purpose, so you can be sure the coin will be always useful.
The great change is the possibilty to exchange INTEL between the platform, just sending back them with memo where you want them exchanged.
This is a kind of safety for our investor, if someone invest on hive and hive price fall down, it not means it will fall down INTEL too, because you can choice another blockchain where get exchanged INTEL.
For example, if you invest 100 hive and you get 1000 intel, you will get 10 hive immediately, than after 4 months, you can choice to get back 100 hive or 100 steem or 10 waves or 500 tron.
After the sad story of my friend @knircky, for sure i will not keep the invested money in the hive, steem or leo account, but will be safely stored into Nexo account, where we can get an insurance of 100000 usd if wallet could be hacked.
I am pretty sure it never could be because to make an operation there it needs 3 different confirmations:
1.email
2.authenticator
3.SMS
Of course i am not keeping the same things in one smartphone or PC, email is on PC, authenticator is on one phone and SMS is in another phone, do you think someone can hack 3 different things in the same time?
Another very interesting thing is the referral project, it means if an investor will refer another one, his profit will be increased of 1% of the new investor amount, so if the referral will invest 100 steem, the referrer will get immediately 1 steem and there are no limit for referred people, so who is having a lot of friends ready to, can get at list all investment back even it is still in the project.
So i hope that with this promotion, people will having a great 2021 from the start, because this promo it will be end on the middle of january, than the next chance will be in the end of april...