I've been Doxed and Shamed: Now What?
What would you do if your profile picture was taken from your Facebook account and got posted for an online public shaming campaign? Will you report it and take a screenshot of the post where someone else trashed your personality?
One scary thing you may experience on social media is an online shaming that can start with doxing (someone took your personal information and/or pictures from the internet and has been published online to get more info about you). If online shaming is harmful, then tracing more info about you without your permission and publicly sharing them with false information across internet platforms against you is even more damaging.
FYI, here's a good definition of doxing from GoHacking.com:
Doxing simply refers to the process of gathering or deducing other people's information such as name, age, email, address, telephone number, photographs etc. using publicly available sources such as the Internet. In other words, doxing is the act of using the Internet to search for personal details about a person.

Doxing is done by initially taking a piece of information (such as "name" or "email address") and keeping it as a base to find out other possible details about the person. The term "doxing" is derived from the word "document tracing" which means to retrieve documents about a particular person or company in order to learn more about them.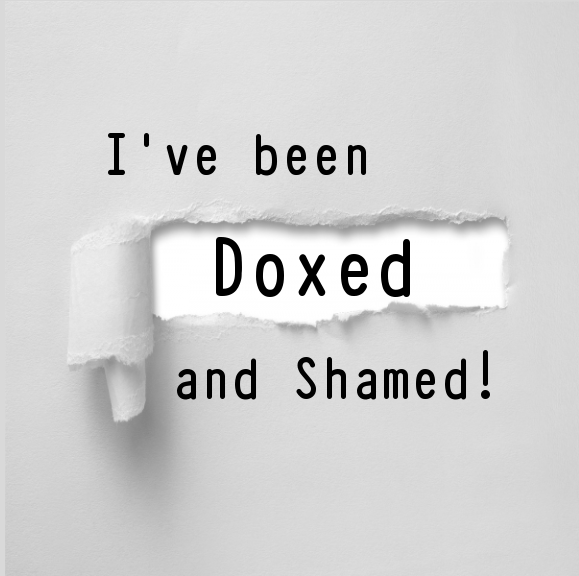 Victim of Doxing and Online Shaming
I was a victim of doxing and online shaming. On October 15, 2018, an old picture of my wife and I was taken from my Facebook account and someone we know used this picture for a witch hunt.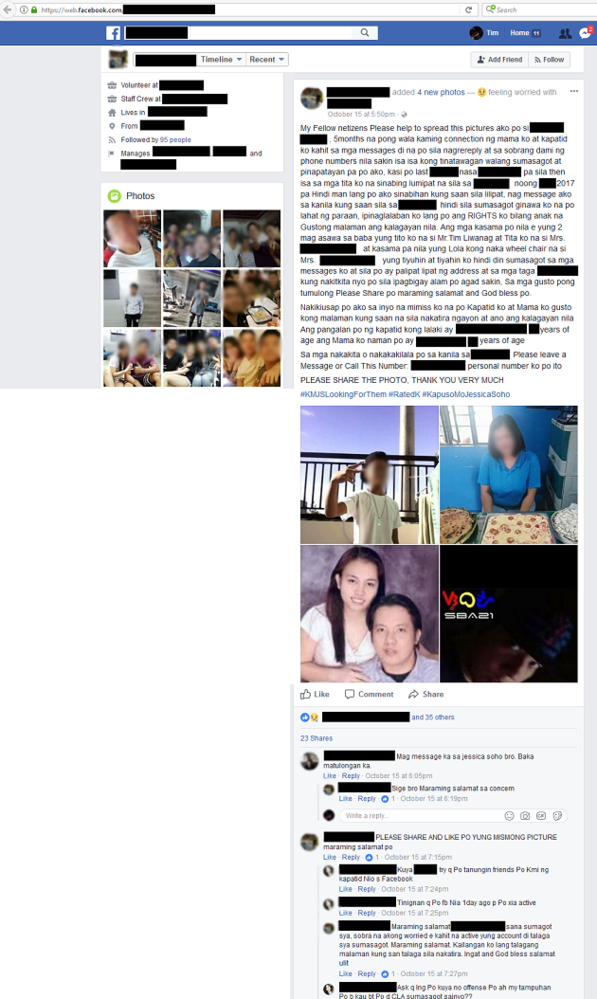 Here is an excerpt of the post (in English):
"My fellow Netizens, please help [me] to spread [these] pictures, I am _________; it's been 5 months that I had no connection with my mom and my brother, even in messages they're not replying. They have too many phone numbers with me [that] I kept calling one by one, there's no response at all and they're killing the call, because last January they were still in _________ then one of my aunts said they had moved to _________ in _________ 2017. I was not even told where they were going to move. I messaged them [and asked] where they are in _________, they did not respond. I have done everything, I am just fighting for my RIGHTS as a child who wants to know their situation. Their companions are the couple below, Mr. Tim Liwanag and my aunt Mrs. _________ and with them is my grandmother who is in a wheelchair, Mrs. _________. My uncle and aunt didn't respond to my messages either and they kept [changing] addresses and, people of _________, if you see them let me know right away..."
You will notice in the post that the doxer is gathering details or information about our whereabouts. There is a bit of drama here even though he admits that there is no communication between him and his loved ones anymore. He further emphasized that he had the right to speak to them and to visit their home but they did not tell him where they lived. The truth is, they still have communication on Facebook and he is still connected to them online so he was able to get our pictures.
Also, you'll notice in the post that the tagged person is connected to the doxer. He also used hashtags to tag the titles of TV shows. Is he asking his friends on his network to find his family for him or calling on TV networks to notice him?
He had already reached 35 reacts and 25 shares in his campaign, but did that campaign help him get what he wanted or did it ruin us?
What To Do If You've Been Doxed
When you are a victim of doxing, your info [name, address, email, contact number] may be posted online and shared on social media without your permission.
If online shaming is the result of doxing done to you, please do the following asap:
1) Do A Full Page Screen Capture
Take a screenshot of the whole post. You must save the content including the doxer's name/nick, the message, and the URL of the post.
2) Inform Concerned Persons
The people mentioned in the post may or may not be connected to you but you need to notify them about any information publicly released against you, they will be witnesses to the incident. The warning you give them will also pave the way for a thorough discussion of the issue.
3) Report the Doxer / Doxed Post
Social media platforms have ToS [terms of service] and Privacy Policy that must be complied with. While the post is still published, report the doxing immediately to prevent further spread of misinformation.
4) Secure Your Info
If something in your online account is used for doxing, secure your info immediately. Make sure your password is safe as well.
When you get a notification that your photo was used in a post, visit it immediately and read the content. Be aware of any notification on your account and correct the unfamiliar changes.
If you think you have been targeted by doxing for an online shaming campaign, contact the platform owners/admins to stop any malicious activity. If, in the content of the post, there is a stated physical threat against you, call the police. Encourage your family and friends to be vigilant online, anyone can become a target of harassment. ■
---
Originally posted on Narrative
Pics by me
Text: Picfont

Did you like this post?
Share your thoughts below & thanks for reading ^^