Interview With Aishlinn ~ Part 3 & 4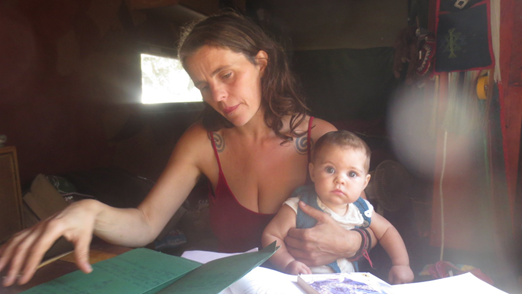 Once again it is my honor to present to you the continuation of the interview I had with Aishlinn @trucklife-family. I present the final segment of my Interview With Aishlinn ~ Parts 3 & 4
She describes herself as: "Single Mom, Doula, Nature Lover, Vegan, Birth Activist and Defender of All Things Wild."

Part 3~ The Nature Lover & Defender of All Things Wild
RenSoul:
What is the main story that you want to share
Aishlinn:
The main story from my life that I wish to share is my place within this world, it is my relationship with the natural world. It is seeing myself and accepting myself as part of nature.
I strive to live a natural life with my 3 children, a life where we live close to the land and have a huge respect for all that it provides for us. A life where we celebrate the seasons and one another. Feeling that connection, having and maintaining that sense of awe, has been my savior throughout my life. It is to the wilderness, that I go when things get tough for me when I feel overwhelmed. It is the wilderness that is within me and that surrounds me, that guides me.
Ever since I was a child, I have always felt held and supported by nature. I really do see the trees as my elders, I have first-hand experience of the healing that comes from sitting with them and opening myself up to the healing energy that they supply. There are so many things I wish to do in this life but the most important one (besides being the best mum I can be) is to help people reconnect with nature, with their natural self, with their wild side. There is so much wisdom waiting there, so much healing.
We can all become more empowered when we acknowledge our place in the world. When we can accept the natural cycles that occur and the effect that they have on us. Each new season comes with so many teachings and the opportunity for us to release, to let go of those things that no longer serve us. Allowing us to move forward.
I know that I am at my happiest when I live simply, that by having few possessions, my life is full of riches.

This is an excerpt of what Aishlinn had to say:
If I had all the resources available to me, what would I do for society? I have for a long time, had a dream to create a travelling community that puts on performances that advocate and promote Earth Healing, Earth Wisdom.
Each one of us within that community would have something that they really wish to promote amongst the communities they visit. This would be done through theatre, circus, music, puppet shows, storytelling, and dance, in ways that are entertaining but also educational. The target audience would be children and we would aim to perform for them in their schools.
The idea is that people who are involved in creating the shows, speak different languages so that we could approach schools in different countries and ask if we could put on a free show for the children. A show that we tell them, promotes environmental and health awareness. The shows that we create would incorporate the many lessons and learn of permaculture, herbal medicine, natural birth and all things earth based.

## Part 4 ~ The Women's Co-op or Women's Collective
RenSoul:
Aishlinn please tell us about the Women's co-operative you are embarking upon and how is that coming and what phase are you at now and what are you still in need of?
Aishlinn:
I am very much still in the early days of starting my project. I have of late begun to get a little impatient, but I also know that I must let it happen organically so that the foundation is strong.
The Co-op or Women's Collective is Called Weave To Empower and it will at the beginning be for women within my community, to provide emotional and practical support, by coming together and creating 2 circles.
One will be on the new moon which will be a Creative Women's Circle and one on the full moon which will be a support circle, which will be a safe and secure space were we can be honest and open, listen and be heard and support one another, empower one another through our connection with the earth.
This will be done by connecting with the Earth's elements and asking them to guide us, allowing ourselves to become one with the Earth's natural flow, with the Earth's natural cycles.
This is something that is very important to me as so many are out of balance. So many find self-acceptance and self-love difficult because of this
I also wish to harness this energy and find ways to send it out to others that need it.
I will also be setting up an online shop to help promote the many handmade items that women within my community make and hope that this will branch out into the global community too.
Right now I am working towards getting a website set up and will know more about this in a few days and the first Women's Creative Circle will begin next week.

All Proceeds From This Post Will Go To Aishlinn for her Co-Op/Women's Collective, which is called "Weave To Empower."