Can't believe it's only been a year.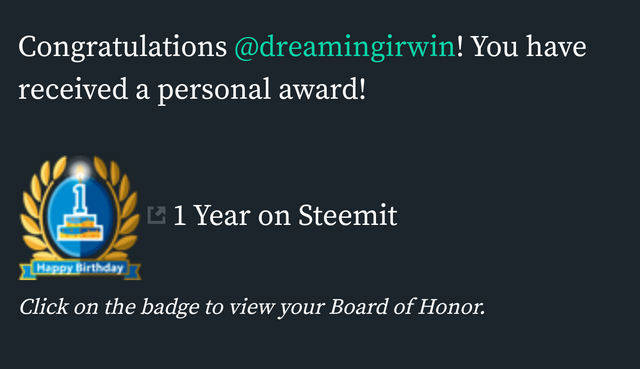 I have to admit that I have not signed on to steemit it in a while. I kinda got lost in other projects. Yet I was taken back when I saw this notification. It feels like it's been years since I first joined. I actually had to sit there and think about it.
Steemit was my introduction to the crypto world. I really can't believe it's only been a year. I really have had a lot of fun. I've met so many great people. Tons of great contest, and funny post.
Usually I find myself thinking about how fast time flies. Yet in this case I can't believe it's only been a year. A year ago I knew no one on Steemit, had zero followers, and felt the frustrations of having my post barely noticed. It's kinda cool.
It's nice to look back to a decision I made a year ago, and not only not have any regrets. I'm glad I did. So if your new to Steemit, keep that in mind. One of the biggest game changers for me was connecting with the different discord communities. Whaleshares being my personal favorite.
https://discord.gg/N7qyCe
At first I refused to join any of the communities, mainly because I did not trust outside links. Id never heard of discord, and honestly did not want another password to remember. Yet it made all the difference. I now had a real community, and was able to so many great people.
The best advice I can give to a new steemian is this. Be the kind of steemit member that you wish everyone else was. It's the "do unto others, as you would like done for you" philosophy. Might not always seem fair, but one day it'll come back around. You never forget those who supported you, and that's how your community and network grows.
Thanks for sharing with me, and may God bless your efforts. :)