What's up Steemit! aka My Introduction: Local Farm Town to Los Angeles Music Business Exec.
What's Up Steemit! I feel this is a long time coming as I've been hearing about Steemit for over a year and finally decided to take the plunge!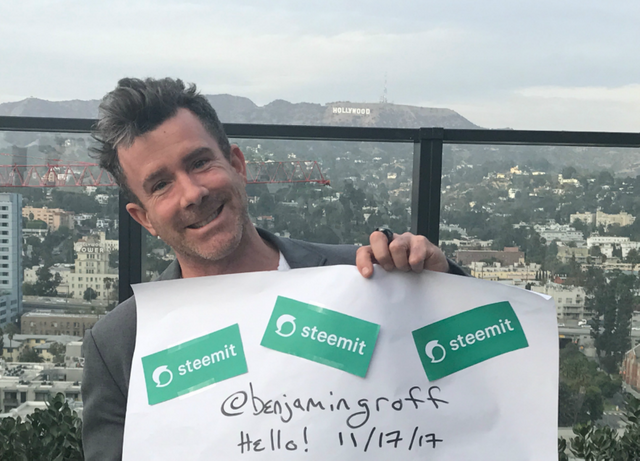 My name is Benjamin Groff, and I'm a music business executive living in Los Angeles, CA. I'm super passionate about music and music discovery, supporting and developing new artists, and making an impact helping people achieve their goals. Some of the artists and writers I've been fortunate to sign over the years include The Lumineers, Grimes, Ryan Tedder, One Republic, Kid Cudi, Tiesto, Kelly Clarkson, Peaches, Ariel Pink, SOPHIE, TOKiMONSTA, Cut Copy, Greg Kurstin, Savan Kotecha, Ariel Rechtshaid, Cirkut, Big Freedia, City and Colour, and more.
From working senior positions at BMG Music to EMI Music Publishing to Kobalt Music Publishing, and most recently my own companies, Brill Building and We Are: The Guard, this is my journey and how I got to where I am today. Grab some popcorn (or a stiff drink)…this is my story.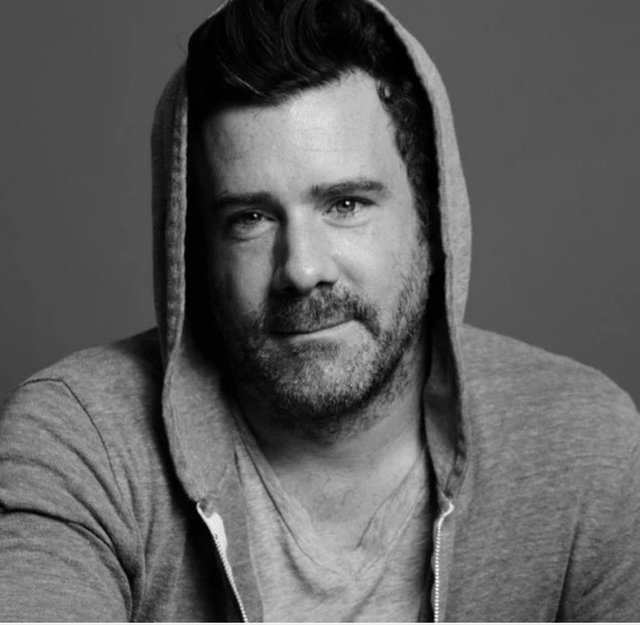 Originally from rural Mount Gretna, PA, with a population of less than 300, it all started when I got my first guitar. I was in the fifth grade when I attended a school assembly that basically changed my life. I was sitting there watching some older dudes on stage playing electric guitars thinking "this is the coolest thing ever" and "rock guitar music is epic, dude!" However, in my young mind, I thought those guitars must cost tens of thousands of dollars. How would I ever make that kind of money?! Of course, I was wrong. They were only a couple hundred, and so I saved every penny I could by raking leaves, babysitting, chopping wood, running a mini golf course and anything else that came my way. Finally, there in front of me was my first guitar— a beautiful second hand Fender Bullet. Actually…kind of a lame guitar by professional standards to be honest, but hello, this was an ELECTRIC GUITAR! WOAH, DUDE (spoken like Bill and/or Tedd from their "excellent" adventure). I felt like a rockstar, and little did I know that this one guitar would inspire a lifetime's worth of changes. And yes, this is me and my little sister Caitlin, a few days before heading to Berklee College of Music in Boston, MA. The custom made jeans, I have to admit, were an art piece…look it was the late 80s LOL.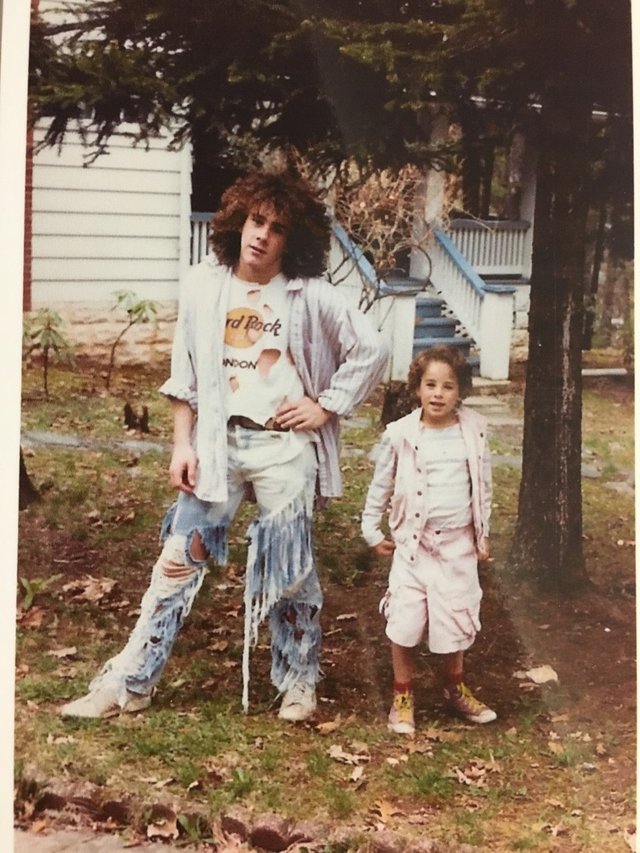 Fortunately for me, I grew up with extremely supportive parents. Both were high school teachers—they met in high school actually— but not how you think. My father was my mom's teacher. As you can see, I already have a scandalous history.
My mother was kind of a piano prodigy, and my father was a music maniac, consuming every great record he could. On the weekends especially, it was not uncommon for my dad to subject me to everything from Shostakovich Symphonies to ABBA (l did grow up in the 70s after all), while my mom introduced me to the cooler more progressive rock and pop music of the day. When I told them I wanted to study music in college, they stood by me through every step.
My high school guidance counselor wasn't quite as supportive, though. I remember having one of those "career" meetings right after crawling into school immediately after playing a 4 hour night in some remote coal country city in Pennsylvania. I was 16 playing in a popular cover band; we'd have gigs in bars, motorcycle clubs, and fire halls 'till 2AM, then I'd get home at 3AM and have to be up for school at 7AM. Those were the days. Anyway, after hearing what the guidance counselor thought my career options should be—which included joining the Navy, following in my father's footsteps (which I highly respect)— I realized none of them made me feel as passionate as music did. But let's be honest, those high school guidance counselors don't get paid to tell young people to follow their crazy dreams. None of these options gave me the spark that, that Fender Bullet ignited. So I went my own way. I applied and was accepted into Berklee College of Music for a dual major in Songwriting and Guitar Performance, all the while playing in bands up and down the East Coast.
After college, I left Boston to move to the Big Apple, where I held my first (paid…yes, that's a key distinction!) job in the industry at Almo Irving Music Publishing (also known as Rondor, which was later bought by Universal Publishing), working for Molly Kaye, who gave me my first break in the music biz, and then later I got hired by another great great publisher, Holly Greene at PolyGram Publishing (no, not Polymer Records). I was responsible for maintaining the "tape" library, as the internet didn't exist yet. Yeah, I was the guy that made cassette and DAT copies (digital tape) of all the orders that came in from the song pluggers at the company. (A Song Plugger is someone who would take newly written songs by the writers at the company and "place" them on other artists records…HINT: I hate to break it to you, Britney Spears and Rihanna (love them) don't write their own songs).
As a musician and writer, I thought I'd learn a lot about the industry, and I definitely did. When you're sitting in earshot of these powerhouse professionals, you learn how to handle things, how business gets done, and how to be a creative executive. After two years, I got a lucky break and got offered a Creative Manager position, from my past boss Molly Kaye who had moved out to the West Coast (and God bless the band, Extreme, who connected the dots between Molly and I. I met Molly waiting for a taxi in Boston after an Extreme rehearsal where my band rehearsed, as Molly was their publisher). My life after that became completely dedicated to the business side of music publishing, though I was still writing at nights and on the weekends, and holy crap…even getting major placements for my songs.
So yeah, that's me in my office at BMG Music Publishing circa 1997. (Notice the DAT and Cassette racks and the stack of audio equipment to play them on to the right of me, AND the FAT ASS computer terminal and typewriter behind me).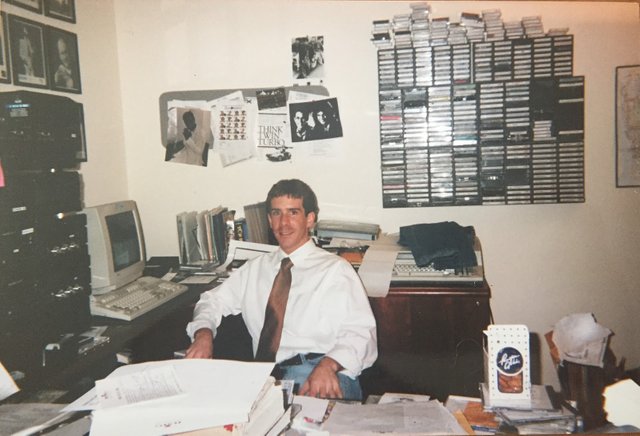 During this time at BMG Music, where I worked for Danny Strick (currently co-President of Sony Music) and Clyde Lieberman (music executive for Mark Burnett), I luckily had my first signing ever with Savan Kotecha. I can't believe it's been so long ago but looking back it was amazing to see someone like Savan, working with him so closely in the beginning and seeing the tremendous amazing career he continues to have, writing hits for Ariana Grande, The Weeknd, Maroon 5, Britney Spears, and more. I mean really…look at this discography. Insane.
After 5 years at BMG Music and having a successful run pitching and securing songs with key artists, I moved on to EMI Music Publishing, working for Jody Gerson (current Chairwoman of Universal Music Publishing), where my second signing I'm immensely proud to say was multiple Grammy Award Winning Producer, Greg Kurstin. Another crazy ass discography. It was great to be across Jody's desk for so many years just seeing how she operates both creatively and professionally.
All along this time I was working during the day doing my "day job" working as a music publishing executive, and by night and weekends I was working on my own songs, looking to also pursue and have my songs recorded and released by others, and it finally worked! I got my first cut as a writer with LFO (remember them and their "Summertime Girls" song?). Well, I didn't write "Summertime Girls" but I did write their third single, "I Don't Want To Kiss You Goodnight" (that one you probably don't remember LOL). Along with that, I had some other minor songwriting successes along the way writing for Paulina Rubio with "Baila Casanova" and super star Italian tenor, Alesandro Safina with "Incanto," as well as some other Top 10 dance hits.
Then, it all started crashing down. During the 2000s, the music industry started deteriorating. It was definitely not like it was before (thank you Napster). Imagine a business that was based often on a consumer wanting just "one" song and having to buy a $14.99 CD at a record store. Now to get that same song or album (or any music for that matter), yeah…you guessed it…it's free. And trust me, I've been on the side of music fans, which is what made Napster so powerful— people were tired of getting ripped off. So for sure, the music business was the first industry to have a physical commodity that could be digitized, uploaded to the web and easily pirated (and now with 3D printing on the way…this scenario will come to a widget maker near you!). Anyway, over 70% of people were being laid off and so many artists were being released from their labels. It was a rough time, but I kept at it.
It was fortuitous that around that time, I got a knock at my door. Kobalt's CEO and Founder, Willard Ahdritz and Sas Metcalfe, Head of Kobalt's A&R team, asked me to open Kobalt's first US office. It was a moment where I knew I had to really choose my path. Writing music was always a love of mine, but with Willard's offer came a realization. I knew he was a genius and on to something very special with Kobalt Music, and I believed in his vision (Kobalt has since emerged into one of the biggest heavyweight music companies in the world, delivering creators with the value of ownership with maximum control and transparency). I came to the realization though, which was tough, that I shined brightest as an executive with musical abilities and knowledge, not necessarily a songwriter. I was a badass publisher, and as a songwriter, I was competing against the Max Martins of the world. In other words, when you get to work with someone like Sia and see her capabilities, it's pretty obvious how far above those people are on another level. So, 2005 was this weird transitional period for me that ultimately led to me becoming a senior executive at Kobalt. Willard taught me so much, but mostly, the more you give and the more you do the right thing, the more you will get back.
That lesson that Willard taught me has followed me throughout career, mostly in how I can give back to my writers and artists. After 20 odd years of working for various music publishers, here we are today. I've opened up two of my own companies, Brill Building, my music publishing company and We Are: The Guard, which is my crowd-sourced label / music blog, both of which are powered by Kobalt and their unique technology. I've completely poured myself into both companies— investing my money into every artist I sign. Every cent I make is going right back into the artists, the publishing, developing the website, and anything else that will make We Are: The Guard or Brill Building better.
I've been fortunate to sign some amazing artists to both rosters from Ariel Pink, SOPHIE, DENM, Big Freedia, Overcoats, TOKiMONSTA, TOBACCO, Big Freedia, The FatRat, Dog Orchestra and writer/producers making songs for hit artist like: Bram Inscore, Nicole Morier, OMEGA and Jake Torrey. Whatever I can do to support my artists, I do.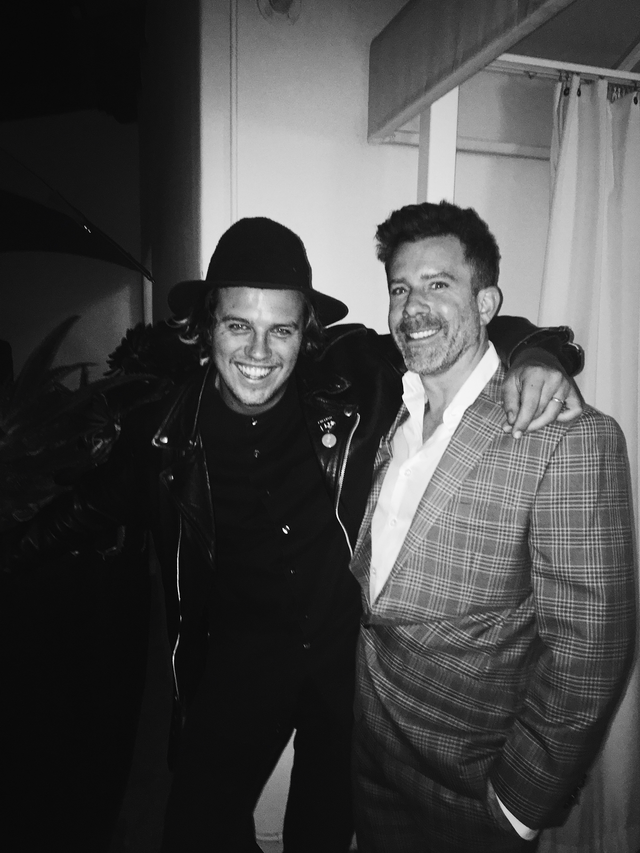 It's been an incredible journey, and I'm still learning so much along the way— learning how to be my best self, to jump through limiting beliefs, and to be more empathetic. I've come a long way, but I also feel like I'm just getting started. But in regards to giving back, I've also started my own blog on songwriting here at www.BenjaminGroff.com where there's a lot of (I think) juicy tidbits from the music business, to what makes songs tick, etc.
Well, that's a lot of info on I guess my career path, but when it comes to downtime and personal stuff some things, if you've read this far and are still interested (LOL!), I'm excited and passionate about: cinema (I'm a connoisseur of "low brow" and "high brow" films), 60's to mid 80's sports cars (the 1969 Detomaso Mangusta, the 1972 Ferrari Daytona and the 1967 Shelby GT 500 always takes my breath away, and also the 1982 DeLorean… I drove that one for 12 years and have many adventures to tell…including that summer where the car wouldn't go in reverse), and just overall, people who make great art, if it's Charles Bukowski, Andrew Wyeth, Frank Lloyd Wright, Ayn Rand, or Akira Kurosawa, etc.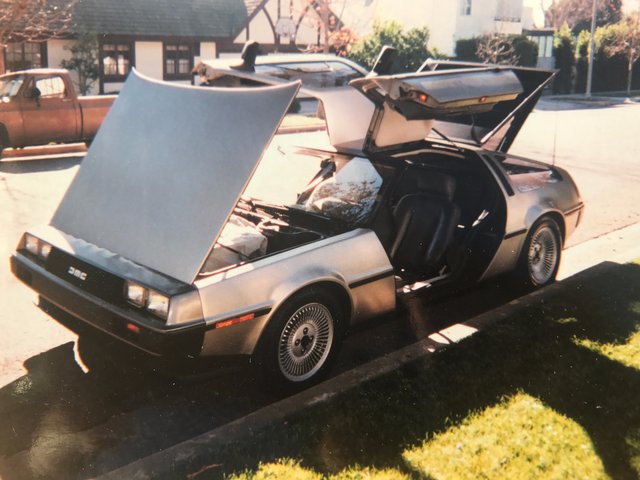 Another thing I'm passionate about is self improvement, advanced learning, and presenting to the world my best self, which has let me to a (somewhat) secret society I'm involved with called The Society 100. I've been in it since 2013 and it's Neil Strauss' top league mastermind group, limited to 100 people in the world. Every 3 months we go off on our own 3 day intensive in a different part of the world. It's kinda like Ted Talks but better… and our own curriculum. It's an amazing group of people. Imagine you're at a table, and to the right of you is a chief engineer from Google, while to the left of you is a famous movie director, and then across from you is a guy who works for NASA, and someone else who diffuses bombs for a living for the marines. With the intensives, it's like higher level learning and uncommon knowledge that's really cutting edge and hard to seek out. Our "classroom" ranges from something like: a spirituality intensive, to a counter terrorism training course with evasive driving, to biohacking to wealth building intensives, to the yearly "Deep Inner Game" intensives, which has probably been the most challenging, difficult, and valuable thing I've done in my life…it's really looking at what your belief systems are and changing the ones that aren't working for you.
Actually, talking about Neil's group kinda brings me back to Steemit, because it's there where Ned Scott presented to our Society group with what Steemit is about and the brilliant revolution that's happening at Steemit.
OK well, I think I officially wrote a lot more than I intended for an intro! But I'm really looking forward to contributing to the Steemit community and perhaps fulfilling a niche on the music side of things, which is my expertise… from new artists and songs I'm excited about, to crazy music business stories (watch out for the next article coming up on Prince), to just sharing things and uncommon or cool stuff I've learned along the way and bringing value to the community.
See you on Steemit!