From Indonesia Steemian Grandmother Start To Action [bilingual]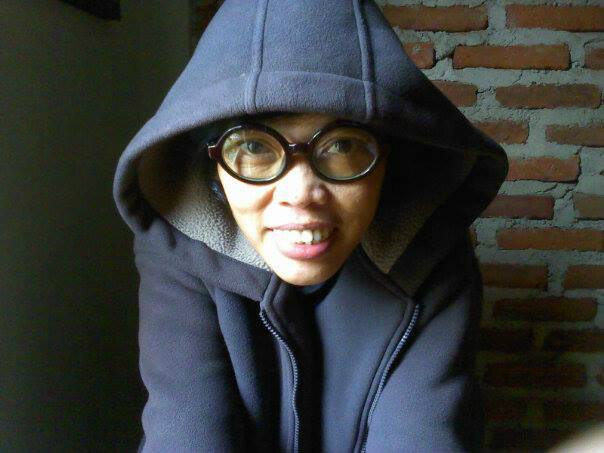 Hi steemians! How are you? My name is Umayah. I am a mother for my two children, and I am a grandmother for my one grandchild. But God will give me a second grandchild soon. My friends called me as Bu Umayah (abbreviated: bum). My hobby is cooking. I am a vegetarian. Therefore my cooking is vegetarian foods. My home at Bandung, West Java, Indonesia. My city was called as culinary city. There were many nice traditional foods that I like. Surabi is my favorite of traditional food in Bandung. In next post I will share recipe of surabi and other foods.
Hai steemian! Apa kabar? Namaku Umayah. Saya seorang ibu bagi kedua anak saya, dan saya adalah nenek bagi seorang cucu saya. Tapi Tuhan akan segera memberiku cucu kedua. Teman-teman memanggilku Bu Umayah (disingkat bum). Hobi saya adalah memasak. Saya seorang vegetarian. Karena itu masakan saya adalah makanan vegetarian. Rumah saya di Bandung, Jawa Barat, Indonesia. Kota saya disebut kota kuliner. Ada banyak makanan tradisional yang saya sukai. Surabi adalah makanan tradisional favorit saya di Bandung. Dalam postingan berikutnya saya akan membagikan resep surabi dan makanan lainnya.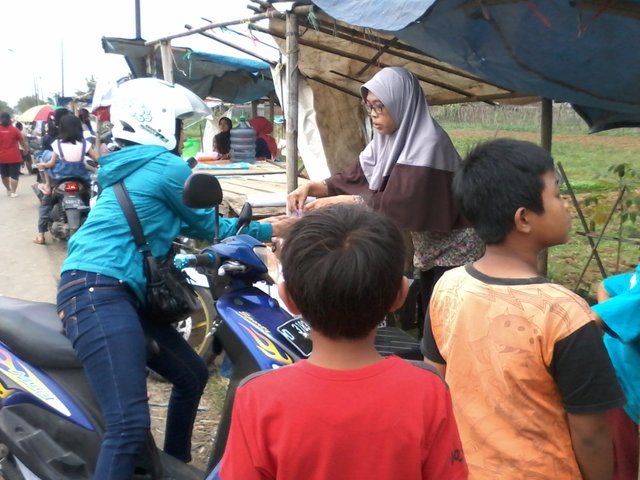 I was serving buyers who were ngabuburit (fasting) at Pasar Bumi Parahyangan Kencana Bandung.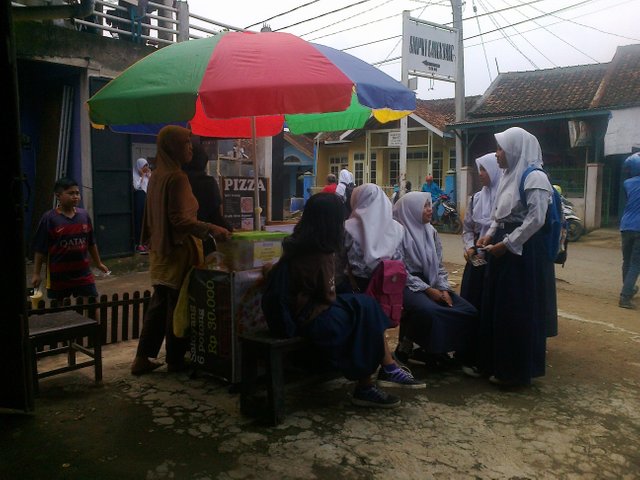 I was serving the children of SMP Negeri 1 Cangkuang Kabupaten Bandung. They like to buy my food.
The selling is my hobby too. I sell my food. I like to do it, because I can help the finance of my husband. Poor my husband! He has many debts. He has been scam by an online bussiness. Therefore I am very glad when I listened about steemit as financial solution. I received information about steemit from @karmachela in server of KubuKutuBuku at https://discordapp.com. I did signup to steemit two times. First on April, 20, 2018 with username @tium. I had to wait for approval for three weeks. But ultimately failed. I forgot to save password. So after logout I can not login again. So I did signup again with my email other with username @bum6, on May, 11, 2018 . I had to wait it in two weeks. And now, praise the Lord, I can use my account in steemit. I really hopefully steemit become my job and financial solution. For that I think I need support from everyone in steemit. See you steemians. Wish you luck always.
Bandung, May, 28, 2018,
Warm regards,
Penjualan adalah hobi saya juga. Saya menjual makanan saya. Saya suka melakukannya, karena saya dapat membantu keuangan suami saya. Kasihan suamiku! Dia punya banyak hutang. Dia telah ditipu oleh bisnis online. Oleh karena itu saya sangat senang ketika saya mendengar tentang steemit sebagai solusi finansial. Saya menerima informasi tentang steemit dari @karmachela di server KubuKutuBuku di discordapp.com. Saya mendaftar untuk melakukan steemit dua kali. Pertama pada 20 April 2018 dengan nama pengguna @tium. Saya harus menunggu persetujuannya selama tiga minggu. Tapi akhirnya gagal. Saya lupa menyimpan kata sandi saya. Jadi setelah logout saya tidak bisa login lagi. Jadi saya mendaftar lagi dengan email saya yang lain dengan nama pengguna @bum6. Saya harus menunggu dalam dua minggu. Dan sekarang, alhamdulillah, saya bisa menggunakan akun saya di steemit. Saya sangat berharap steemit menjadi pekerjaan dan solusi keuangan saya. Untuk itu saya pikir saya perlu dukungan dari semua orang di steemit. Sampai jumpa steemian. Semoga Anda selalu beruntung.
Bandung, 28 Mei 2018
Salam hangat,