Staking My Claim on the Digital Landscape
Greetings Steemians!
Well, this intro post has been a long time coming. I first caught wind of Steemit several years ago from an enthusiastic friend, @lovejoy, and was fascinated by the concept of a blogging platform that rewarded its users in digital money, but I was a crypto newbie. All I knew about cryptocurrency was that you could use something called Bitcoin to purchase illicit substances or services through the deep web, so Steemit was quite the revelation to me. With the intention of deepening my knowledge of cryptocurrency, I created an account, but before I had the chance to even draft my first post… I lost my password. Whoops!
So here I am, three-ish years later, ready for round two.
I'm a student by day, a barista (also by day), and in the moments between schooling and slinging coffee I spend my time writing, dancing, story collecting, and appreciating all things mystical and artistical. My hometown is Minneapolis, the most happenin' place in the cold cold north. Apparently theres a solid community of steemians around these parts, often floating in and out of @caffetto where I'm currently drafting this post. Hey guys.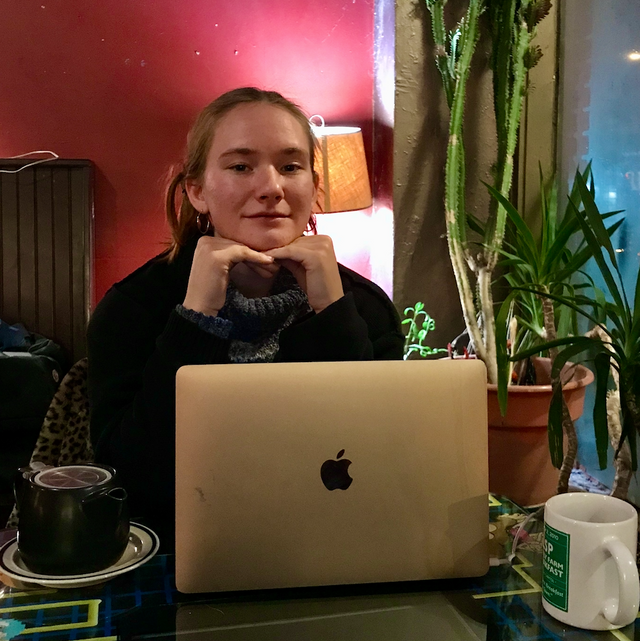 Drafting up the post. Cred: supportive friend
I'll be honest: posting online isn't something I have much experience with. Even though my childhood was illuminated by the glow of computer monitors, I was reluctant from a young age to dive too deeply into the World Wide Web. I remember being ten years old and sending out a frantic mass email to all my contacts on why I thought the internet would lead to the downfall of humanity. [email protected] grieved preemptively over the loss of handwritten letters, cursed the government for poisoning our brains, and begged her unsuspecting friends not to be seduced by robots. The father of one of my friends gently pointed out, to my horror, the irony in this. From that moment on, I vowed to keep my feet firmly planted in physical reality.
Obviously that was harder than expected, and my determination eventually wore off. I was loyal to pen and paper until avoiding online assignments threatened my GPA and all my friends started using Instagram. The fear of missing out (fomo...crypto term, right?) drove me to set up a few online profiles, but I hardly took any gratification from sifting through selfies and awkward over-shares, and I rarely made any posts myself.
Don't get me wrong, I'm definitely not here to preach against the evils of the internet. I've completely gotten over my aversion to spending time online. The internet is a fraught, manic place, but it isn't evil. It is a reflection of both the ugliness and the beauty that we as a species are capable of creating. I have done a considerable amount of scrolling over the past few years, reveling in the madness. Ten year old me would be disgraced, but as a twenty year old college student, well, I'm not complaining. (I'm glad I could use Google to double check the meaning of the word "fraught," rather than a dictionary.)
Now it's time for me to officially stake my claim on the digital landscape. The desire to contribute to the cyber-dimension is just too strong for me to deny. What better place to do that than on a platform that doesn't let you delete posts? In all seriousness, I am actually super stoked about Steemit and crypto and blockchain and every prospective avenue I'll find myself traveling down on this journey. Stay tuned for posts about anything from local artsy happenings to philosophical musings, and maybe the occasional poem or short story. This blog will surely evolve as I do.
Blessings,
Sophia