Introducing myself to Steem
Hi everybody!
I am Fernafalej, a german user of steem. I am interested in literature, comics, games, riddles, art, math, computers, cooking and much more. I can't say what i will be posting, probably a little of everything.
I dislike to post personal stuff, so don't expect me to post pics of myself.
But why don't I just start with a little decoding riddle.
Hallo!
Ich bin Fernafalej, einer der deutschen Steem Nutzer. Ich habe viele Interessen, unter anderem Literatur, Comics, Games, Rätsel, Kunst, Mathematik, Computer, Kochen und noch einiges mehr. Ich kann noch nicht wirklich sagen, was ich posten werde, wahrscheinlich von allem ein bisschen.
Ich kann es allerdings nicht leiden, Persönliches von mir zu posten. Also erwartet keine Bilder oder ähnliches von mir.
Aber warum fange ich nicht einfach mit einem kleinen dekodier Rätsel an!
---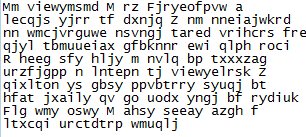 Mm viewymsmd M rz Fjryeofpvw a lecqjs yjrr tf dxnjq Z nm nneiajwkrd nn wmcjvrguwe nsvngj tared vrihcrs fre qjyl tbmuueiax gfbknnr ewi qlph roci R heeg sfy hljy m nvlq bp txxxzag urzfjgpp n lntepn tj viewyelrsk Z qixlton ys gbsy ppvbtrry syuqj bt hfat jxaily qv go uodx yngj bf rydiuk Flg wmy oswy M ahsy seeay azgh f ltxcqi urctdtrp wmuqlj!