🎤Interview to myself 🎤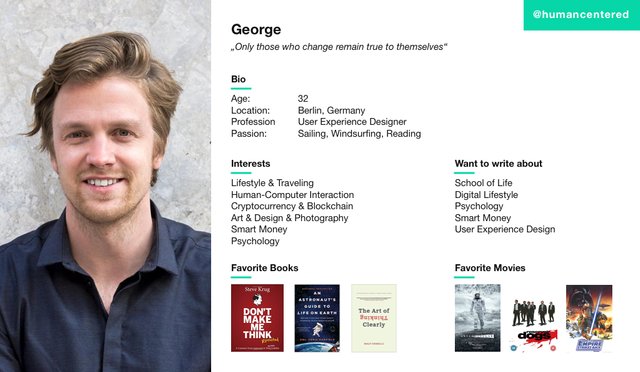 Hello everyone,
I signed up a couple of weeks ago and now want to take the chance to tell you a bit about me, my life and why I joined this inspiring community. To make it a little more fun and easier to read, I decided to present myself via a short interview. I also added a little visual summary for all those who don't want to read that much.👆
Got it! So who are you?
I am 32 years old, a father of a wonderful daughter and husband to my lovely wife. My hometown is Berlin in Germany and I work as a User Experience Designer. 
Great. Do you want to tell us a bit more about yourself?
Sure. I would describe myself as a curious person, who loves to learn and to discover. Although I really appreciate today's technological world, I also love being surrounded by nature. When I am not working you can usually find me wherever the wind is. Windsurfing and sailing have become a passion of mine over the few last years. On quiet days, I enjoy good food, nice people and playing the piano. I also do some illustration from time to time. I hope this gives you a good impression of what kind of a person I am.
When did you learn about Steemit?
I stumbled over cryptocurrencies and blockchain a couple of years ago, but didn't have the guts to invest in it. Last year I finally made the step and started to build a small portfolio of projects I really like and think are of some value to humanity. This was the time I first learned about Steemit and immediately fell in love with the project. Finally a community that is not tied to any company and with the core value of great quality content and members that really appreciate each other. This was also the time when I started to read Steemit, although I didn't sign up immediately.
When did you want to become a member of the community?
This has a little bit of a sad note to it. Last year I got really sick and had to spend almost half a year in hospital receiving strong medication. Fortunately I'm much better now and I am very thankful for all the support that friends and family gave me during those tough times. Anyway, this was the time where writing helped me a lot during the day and I thought to myself: "Why not start writing about other things that are important to you?" The idea of sharing my thoughts and knowledge with a broader audience was born and Steemit seemed - and still seems - the perfect place for it.
What do you want to write about?
I am someone who has a very wide range of interests and enjoys the chance to dive deeper into certain topics. This is probably another reason why I love working as a user experience designer. I think I will just follow my heart and my passion and write about things I really care about. Talking in terms of topics or categories, it would be something that involves: day-to-day life, psychology, human-centered design, user experience design, traveling and art.
Last but not least! What is your favorite quote?
Uh. I have a big collection of quotes and it is really hard to choose only one, but I'd have to go for:
Only those who change remain true to themselves.

Thank you!
I hope this gives you all a good first impression.
Feel free to get in touch with me if you want to know more.