Hello, Steemit community!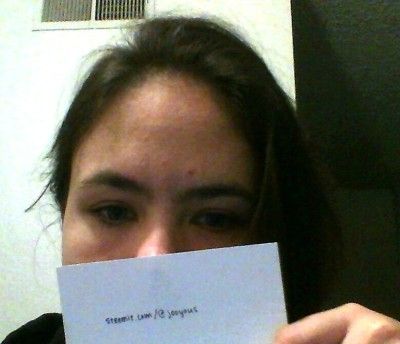 I found out about this platform from @davidpakman. Uhh, I am not good at creating public-facing content, so I'm mostly looking for people to follow? Or have back-and-forth conversations with. Here is a disorganized list of my interests:
#rationality -- I hang out on the rationality-related communities, like on tumblr and stuff. These are people who are interested in how to figure out which things are true about reality, how to figure out which things are useful with respect to certain goals, how to have discussions or arguments that result in actually changing someone's mind, including yours. There are also some discussions about probability and quantifying uncertainty, and making decisions under uncertainty. (This leads to people betting on predictions. Is there a steem-powered prediction market?)

computer science -- I'm getting my phd, sooon hooopefully. I work on combinatorial optimization type things. I feel annoyed about machine learning. I vaguely understand the blockchain concept at a high level. Does everyone here know all the details?

effective altruism -- This is the rationality-adjacent concept that states that the charity you donate to should do the most good per dollar donated. I used to have the luxury of not really worrying about this while being a broke grad student, but now I'm gonna have to figure out what I'm doing, because will have to get a job at some point, so I would prefer a job that isn't too evil and also transfers funds to me, so then I can figure out how to transfer them to someone who does good. Or I could try to get a job that does good; where are those?

projects -- Uhh, this is a really broad category intentionally. I like seeing when people do stuff or make stuff! It really doesn't matter what the stuff is! It can be cars or food or events or fancy soap or art or knitted Cthulus or start-ups. In fact, I sometimes have free labor to contribute to projects. Anyone doing anything cool?

#books -- I like reading stuff! What should I reaaaad? Is anyone curating recommendation lists? @davidpakman has a recommendation list with interesting stuff.

#bjj -- Uhh, I'm a purple belt and also I teach 5-year-olds. Any advice on teaching 5-year-olds?

pokemon go -- I have a lot of opinions about how this game was meant to be a walking game and now it turned into a lot of driving because of raids, which is annoying because I don't like driving. I also have strict personal standards about how I'm not going to put real money into it and etc. But I still like it and play a lot. And I still don't have a dragonite.