STEEMGold 2-4-7 That's What I Call this Platform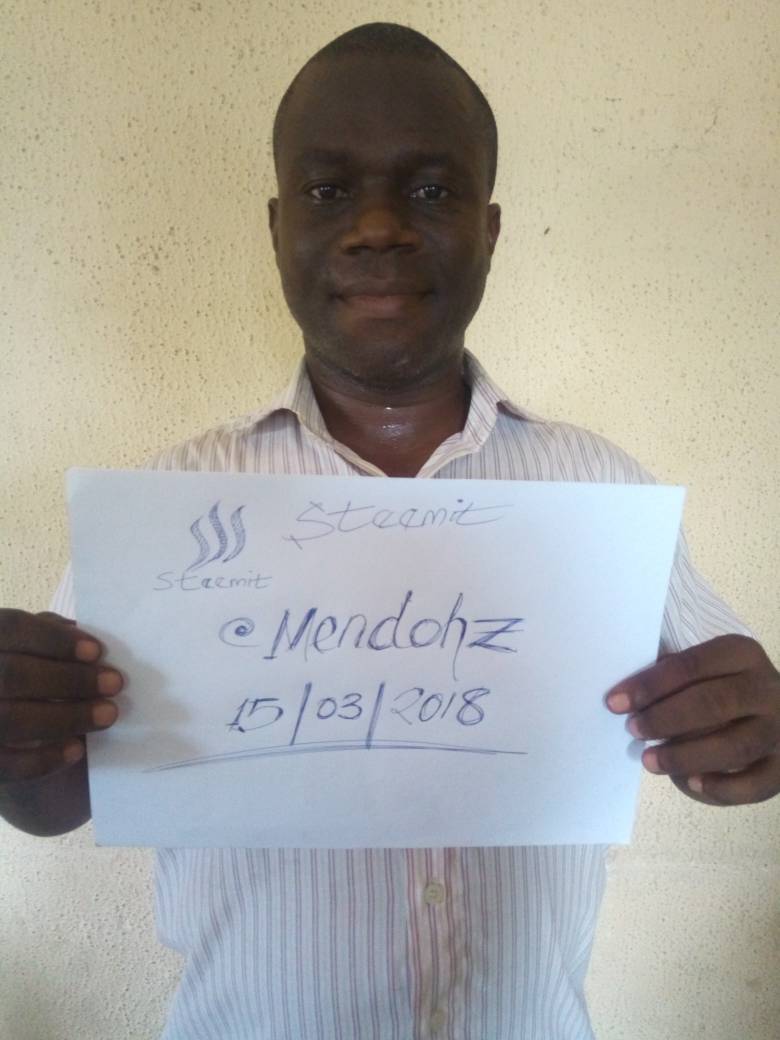 Hey Steemit Fam!
My name is Mendoh Uchechukwu Olivers. I am a blogger, a website designer (good at PHP), Internet Business Caoch, and Motivational Speaker. CEO of DataSwift Limited, Nigeria and www.thinaircash.com. Married and have kids. Still learning programming in other web authoring languages. I am doing my best not to stress too much while I make enough money to share with the needy. I love peace.
I was wondering how on earth to start a fresh living on social platforms when I was introduced to steemit. This place is quite different.
#HOW I GOT IN HERE
One day, a friend asked me why I no longer spend much time on social platforms and it was not difficult for me to give an answer. On Facebook for example I saw a place where people can attack you for just liking a post or for saying your mind. I remember responding to a post and what I got as a reply was, "little fool." The best you can get is, "Good work!"
It got me thinking if there are no better ways to engage in social networks. I started dreaming of hooking up with something more than sharing pictures and spending much more of my time watching pictures that may not matter. Seriously, millions of people on earth are losing quality time just doing nothing on social platforms.
I am so glad to be here. I am so sure now that I will no longer have to waste my time being on other social networks. I now have a place I can meet real people with wonderful testimonies, real people with superlative creativity, real people who care about the success of others.
From the way I see it, though not too much time spent here, this is not a place where people fight with words and call names. This is a place for serious business by serious people. I am reading motivating facts and how people are achieving great deal for just putting a little more effort to something they can do best.
Hey friend,
This is my first post and I thank you so much for being part of the community here at Steemit.
You see, something really caught me. A short while after my registration, I was reading the welcome page that follows your email confirmation. Then I read that if my registration request is approved, I am going to be among the earliest members of the Steemit community.
"Laughs!"
This is quite interesting if you understand the vision at Steemit. I may not get exactly the figure at Steemit but I am aware that the community has more than 200,000 people in it. I also noticed that more than 75% of these are newbies. What this shows is that great opportunities are open for us all who have joined "on time."
Can you imagine a time when this community will have up to 50 million people with you standing as a pro member or a master? It is my understanding that the vision here is for the world to be members of this community. Can you start estimating how rich this can make you?
When the Steemit idea was introduced to me, I didn't grab the whole essence of it because I was super-excited. I mean, I loved the feeling that people build people up here. My friend told me how helpful the people at Steemit had been to him. I enjoyed the stories he told about steemit. He would praise Steemit as if it were a hand-me-down business of his. He would preach it everywhere. The zeal, the persistence, the courage, the focus, everything gets demonstrated in the way he explains Steemit. Even without making money from the platform, he was so happy having discovered Steemit through a friend.
Then I took my time to explore the opportunities at Steemit. The platform should have been named SteemGold. Here is a precious place to be.
#STEEMiT MAKES MORE SENSE TO ME.
Let me give you one reason that Steemit made more sense to me.
My friend told me that one could actually buy steem, steem power, etc from the platform. Fine! But he didn't tell me that I could also have real exchange of my Steem with crypto currencies like BTC, ETH, Doge, etc. right here. I also saw that I could transfer my earnings to ETH, BTC, BCH, Doge, etc.
Again, he told me that I could earn from very good posts that I make but he didn't tell me that I could make reasonably also if I make a meaningful comment.
You are part of this success.
You have helped this community to achieve too much within a short time. Even if you have spent only a week at Steemit, I doff my hat to you. You deserve more than praises because you are among those that made it happen.
Thanks for being here ahead of me. I promise not to break the fun!
#NOW THAT I AM IN
It is my wish to focus on just a few areas (to me they are major areas).
Blogging Tips:
As an experienced blogger, I will be writing on better ways to blog on steemit. It will not take me time to know what people are looking for or what future entrants would be interested in. Granted, there are many other folks in here writing about making good posts, what to do, how to do it, what not to do, how not to do what you wish to do, etc, etc.
I know!
But there are millions of new people you and I are expecting. I am simply the last person right now but behind me are other millions of members who are warming up to hit the community with good fortune. The question you and I should be asking ourselves is: "How ready am I to give these millions of people coming what they need?" That is where the real money is.
Web Designing Tips:
Secondly, I will be giving professional advice to newbies and anyone else who wish to design websites. I have designed websites for more than 15 years. I have done web projects for many schools in Nigeria. Mastering PHP has helped me build applications and portals where parents can check their children's results online. So here at Steemit, I will be writing about PHP, Mysql, XML, CSS, etc.
WORDPRESS is a beautiful tool in the hands of a good web designer and it has a unique way of saving your time while offering you very secure, very smart, and very dynamic websites. I am aware however that many designers shy away from using wordpress because, some claim, that it will make their work unprofessional. Others fear they cannot use it satisfactorily.
"Laughs!"
I have worked with wordpress since 2009 and I can say that there is virtually nothing you cannot achieve in a website project using worpress. My posts will include the best ways to handle wordpress designs. I will also be writing on the effective and most efficient use of plugins and how to find them.
I had an experience in recent times.
A client introduced me to a family whose member (mother of the house) was dying of Kidney failure. She had been on dialysis since early 2016. The hard truth is, **the woman would die if the public do not come to help in funding her treatment in India before June, 2018. **
The family had sold everything they have including their house and business vehicles. So they called me because someone told them that I could help put up a website for fundraising.
At the time, I hadn't done any fundraising website before and I can say that I had no idea how I could do one. No known wordpress theme will ever give me the needed properties to run the website and collect payments as a Nigerian. Most plugins accept deposits only with PayPal and Nigeria cannot receive Payments using PayPal; we can only make payments with PayPal.
Even within the country, merchant accounts for e-Commerce restricts the use of "Donate" because of the prevalence of fraud.
Wordpress was so helpful to me. I installed a free theme for the project and with my ability to work with PHP, I was able to setup a world-class donation website to Help Roselyn Raise Funds for her Kidney transplant in India. That site is https://helproselyntolive.com.
I have chosen to sho some screenshots from the mobile version of the Roselyn's website below: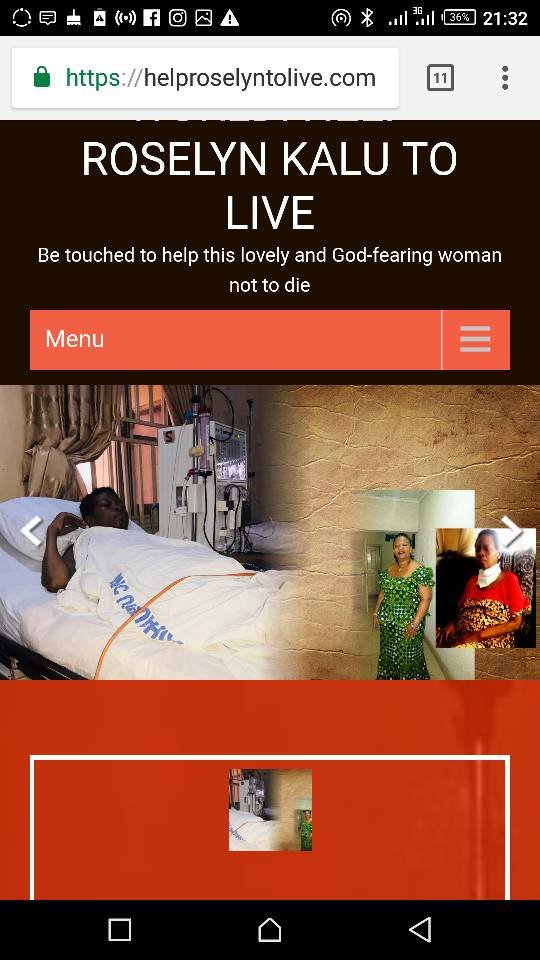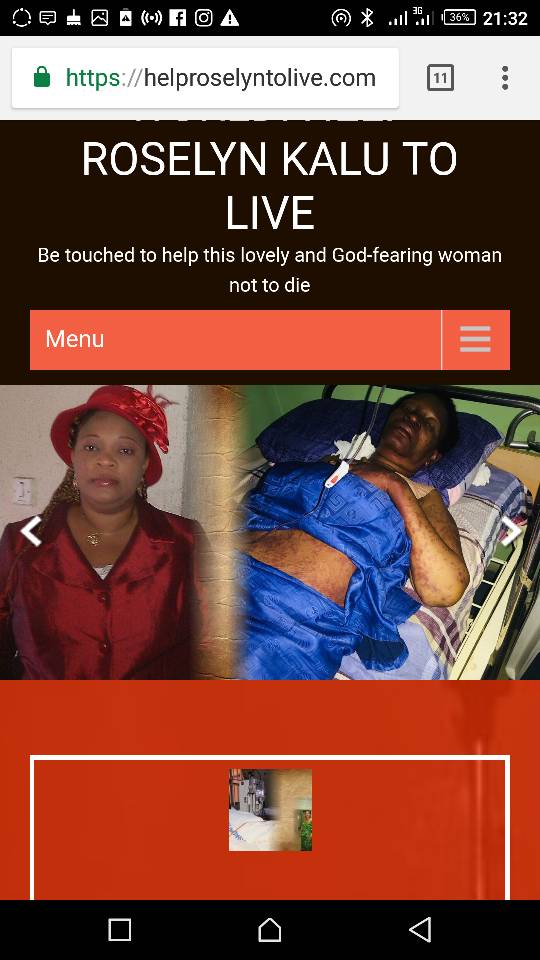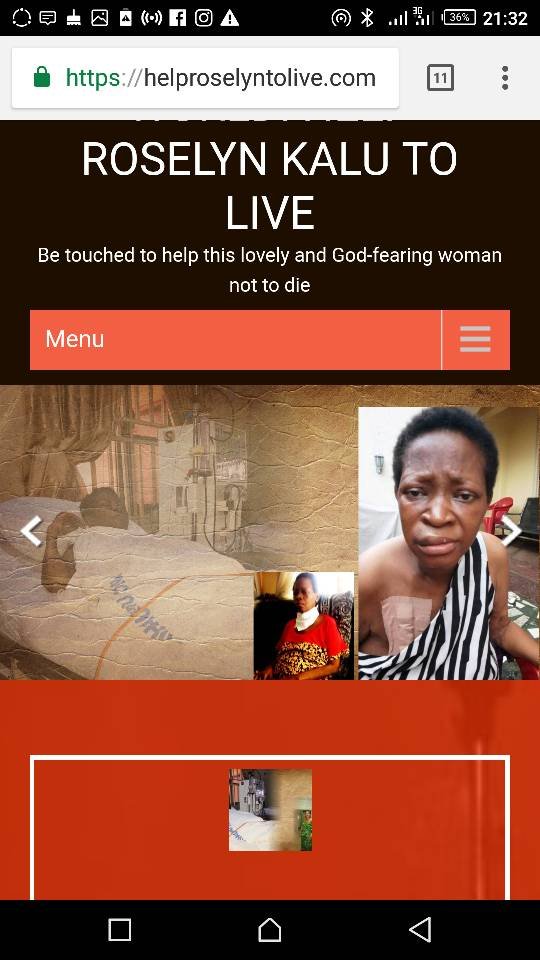 So here, I will be sharing my web design and blogging tips because I know that many will need it.
E-Commerce, Drop-Shipping, E-Payment
When I wrote about Drop-Shipping on my blog at www.thinaircash.com, I didn't have the slightest idea that many people who thought to start e-Commerce actually needed to start with drop-shipping. What I found out was astonishing. My knowledge of e-Commerce, drop-shipping, and e-Payment will be a waste if I fail to share them on this platform.
Motivational Stories/ Life Stories
Stories and life histories are part of living.
You don't know who your stories will heal. I once read about Anthony Burgess whose life was shattered by misery, heavy drinking and sickness. He was told he will die within a year. At this point, Anthony Burgess had nothing to leave for his family to inherit after his death and he was going to die a very humiliating death despite having recognized as a great writer.
For fear of leaving behind a family whose children will be helpless or whose mother will not be ashamed of doing shady jobs to care for his children, Anthony Burgess started full time book writing and made more than enough money for his family. He became so famous by writing librettos and screenplays for the film Jesus of Nazareth.
Did he die when he was told he would?
The answer shows that motivation and success that comes with it can prolong life. Anthony Burgess lived more than 30 more years after the pronouncement of his death was given.
It was the story of this man that motivated me to write my very first book called "THE GLOBAL e-PAYMENT SYSTEM: Sell to the World and Receive Cash in Nigeria with the New ATM Cards." I completed this book in 2009 and that was the very year I almost lost my little Justice who was less than one year at the time. I couldn't afford the drugs at the hospital. I compared my life to that of Anthony Burgess and saw that if I made a move, I could solve my financial difficulties.
I completed the first edition of the book as an e-Book because I didn't have any money to publish it. So I took a little amount to advertise it on a national daily. Within 48 hrs, I had a boom of cash in my account. Then I began to see how hungry the world was of information and indeed, Nigeria.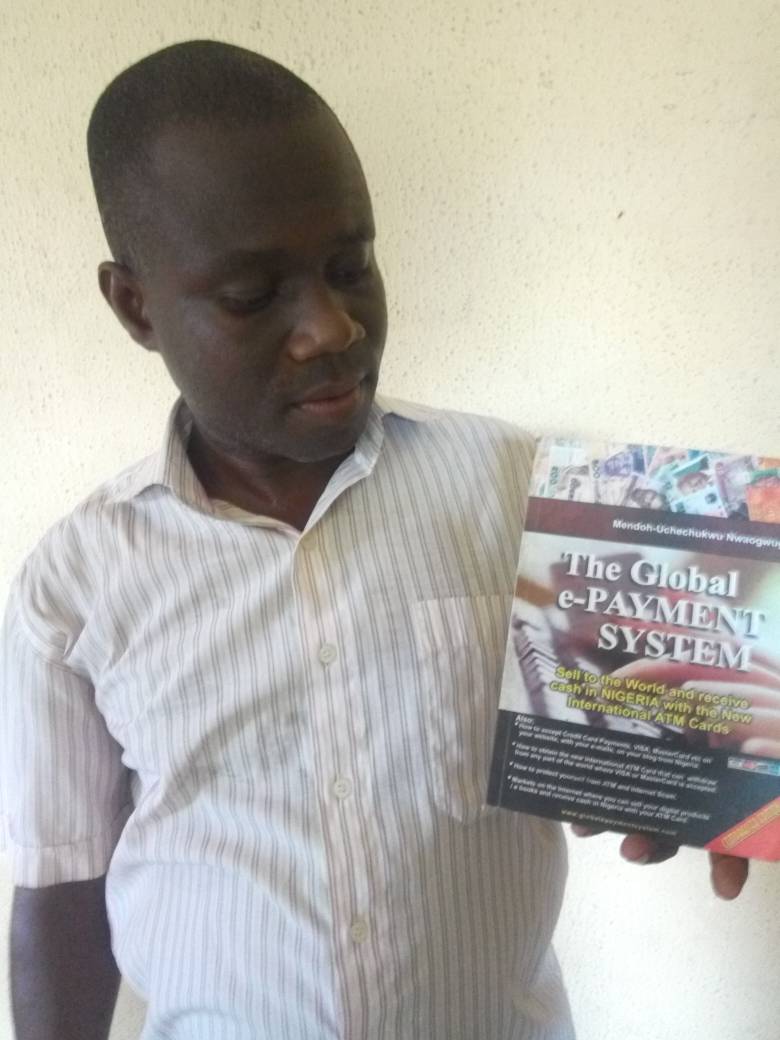 I raised enough money to print the hard copy of the book, paid my kids school fees, and lived much better life afterwards. Today, I have 8 books to my credit.
========================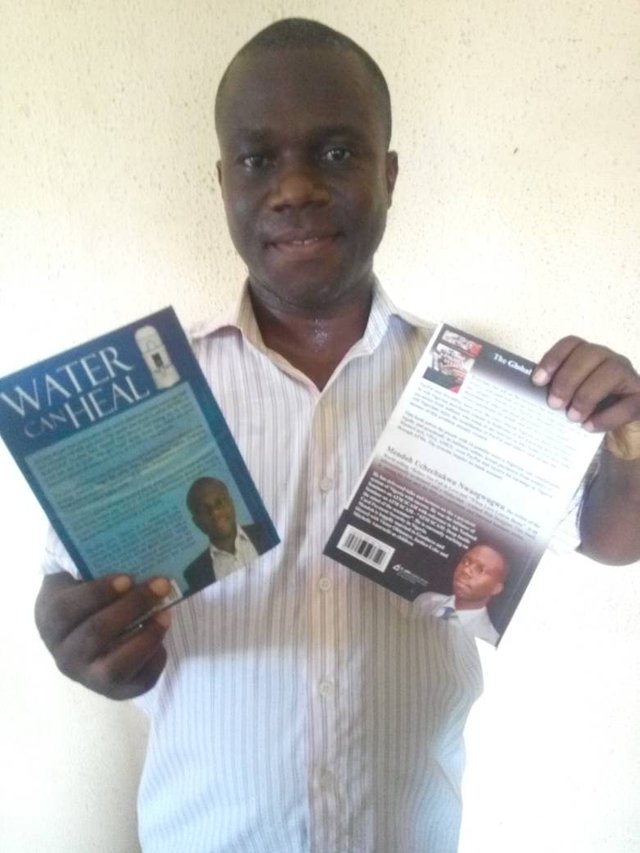 I have told this story because I got motivated to motivate others. So from time to time, I will be posting motivational materials which are purely my personal experiences. It is also my wish to help many others, who wish, to put down their life history in story forms to motivate others.
What can I say but thank you the CEO of this great platform and the entire community at Steemit.Com. It is my wish that while you share your ideas, experiences, skills, vision, etc, you will also have more fun and make more money.
I also appreciate you all who will find any reason to upvote my very first post here.
#Thank You for making my day.