Me, Myself and I: An Introductory Post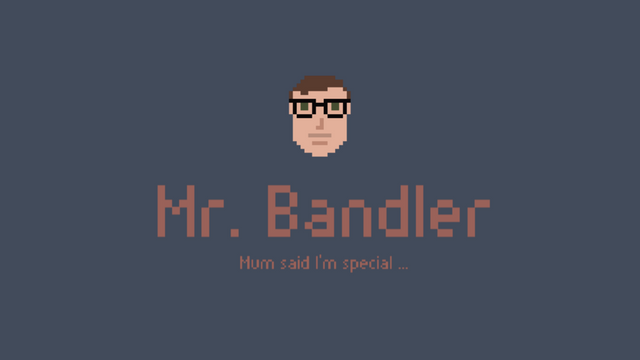 Hello there!
---
Hi there fellow Steemians, finally this is taking some shape. I've always wanted to share some of my development journeys with others. Not only to be in good company and discuss the pitfalls that I am falling into occasionally (more often then I'd like to admit 😅) but also to try and educate some folks and to spark interests in areas that some might never thought possible.
Soo... it's still a bit of an understatement to say that I am anxious to get started!
Why Am I Here?
---
Well, you might have noticed a new Steem game on the block (pun intended 😅) called @steemknights, as it turns out I am part of the development team (yeah, I'm shocked too 😮). And now that I think about it, it's all @mwfiae's fault that I am here (you can curse him if this content is not to your liking 😜).
Anyhow, @mwfiae, @cloud925, and my humble self started a company called @fivefingergames to bring realtime 3D games to the blockchain. Not any blockchain but the Steem blockchain!
Big shoutout to the guys, incredible team, really proud of what we accomplished so far!
If you want to read more about us and what we want to do (there is a "roadmap" 🤨) you can check out the #introduceyourself post of the @fivefingergames account. And shame on you if you have not played @steemknights yet... Give it a go, head over to the website login and start fighting!
Alright alright, enough self-promotion already (I hope you don't mind 🙊), back to the topic at hand.
About me
---
Okay, this always seems to be the hardest part to write...
My name is Michael Baudler, I am (as of right now) 25 years old and from Germany, Lower Bavaria (born and raised 🍻).
You might now feel the urge to call me by my real name, please don't! Just call me Bandler for short (if we ever cross paths on any Discord server 👌😜). Alright getting off track again...
I am a software engineer and a huge nerd when it comes to programming languages, new technologies, philosophy, science (especially physics) and space stuff. Put a passionate gamer into the mix and you got your average Kerbal Space Program player, that's me!
What else.. I love books, especially sci-fi. epic fantasy and horror:
James S. A. Corey (The Expanse)
Tolkien (LoTR saga and all that came before)
George R. R. Martin (A Song of Ice And Fire) and
Lovecraft (Cthulhu Mythos)
come to mind.
Great authors! Of course, all these genres and interests translate into TV series, movies, and games (especially RPGs).
I also sing and play a lot of instruments, sadly it seems that time is a scarce resource from which I don't have all that much to pursue my musical longings. Hopefully, this will change with future game projects!
Anything else.. ah, yes!
I used to record Let's Plays for YouTube which tapered off pretty quickly after about 20 episodes of vanilla Minecraft. After that, I switched to streaming on Twitch to get a more interactive environment. Once there I realized there is a nitch of software and game developers streaming and sharing their progress. This is how I got to streaming my own software and game development projects.
I left my Twitch (I simultaneously stream to @threespeak aswell 😜) link below if you want to come by and watch me work on some stuff. I don't stream that regularly anymore but I try to but in a stream or two per month.
One last thing about me I am currently the owner of the second biggest programming playlist on Spotify. Random facts! 😅
That's about it! A TL;DR about me.
Enough Already, What About The Content?!
---
Now, let's get to the good stuff what will this blog be about?
As of right now, I will be writing about a few topics (or a lot depending on how you see it 😅).
For one I want to write about functional programming and why I think it's superior to all the other programming paradigms out there. This topic will be dragged through most of my other work as this is the main paradigm I am writing my private projects in.
The other main thing will be physics, to be more exact this blog will host some additions on all the things I do on Project Artemis. This project is my attempt to fully automate a space program with Kerbal Space Program (I am super hyped for the second iteration of the game with interstellar travel 😱) and the mod kOS. It will contain topics ranging from sub-orbital/orbital flight and injection orbits based on payload, thrust and target destination to orbital vehicle assembly (space stations) and moon/planet bases, which includes operations such as rendezvousing/docking, landing, and communication. The goal is to lay out the real-world physics as best as possible with as much explanation as needed and implement working examples within the game. All of the Kerboscript source code will be available here on GitHub.
This brings me to another topic and that's scripting or programming languages in general. I will try to implement two complete programming languages here on this blog and I want to bring your along with me. Well, now that I think about it we will work with three, but for one we will just write additional tooling, and that's Kerboscript (the scripting language kOS is based on). This will be a good primer for what's to come.
While I am on the topic of programming languages, I will use Rust for all the language development we will try to undertake. One problem though.. I don't know Rust. Yet! So, I will use this blog as an opportunity to learn Rust (maybe you too? 🤔), as I wanted to dive into it for quite a while now.
The plan is to start with some smaller projects with Rust from backend to frontend and after that, we will continue on to language development and after that to some game engine development (where we will be using our second language as a gameplay scripting language 🧐).
Finally, I want to dive deeper into the nitty-gritty details of an operating system, because of that I plan to write my own OS for the Minecraft mod OpenComputers which lets you implement one from scratch with Lua. And of course, I want to bring you guys along!
On a final note, I will also be providing some insights into the development of the projects we are working on at @fivefingergames.
Puh.. well that was a mouth full. Now that I wrote all of it down it seems to be quite a lot. Well with that said, buckle up we will ride this rocket for quite some time! 😅
Delivery
---
My plan is to structure all the topics and their content mentioned above into separate blog series. This lets me organize my writing better and I can focus on one series at a time.
These are the series that are currently planned:
Primer: Functional Programming
Rust: Backend to Frontend
Let's Automate
ksc: The Kerboscript Compiler
Project Artemis
rlox: Lox Interpreter in Rust
funl: Functional Scripting Language for Game Development
Graviton: Functional Game Engine
karlOS: Implementing an OpenComputers OS
These are all subject to change and I am sure we will move some things around once we start discussing some of these topics.
Posting Schedule
---
I was unsure if I should add this, but I think it will help me focus my development time as I have a deadline to work towards.
The plan right now is that I will post every two weeks on Saturday starting with the upcoming 26th of October Saturday.
---
Feel free to ask any questions you might have that were left unanswered or start a discussion on a topic mentioned above!
Have fun, Steem on and don't forget the answer is 0010 1010.
---