Request for Assistance! (Bwew!)
My name is Chris Barr, I was given this account by my friend who is currently dying of cancer. He told me I could use it for whatever I want but, not to expect too much? I'm not too sure what I am getting myself into here but, I think I could use a little assistance.
Due to the COVID outbreak, I have lost my job, as many have in the wake of recent events. There aren't any jobs available in my area so I decided to take up game design. I would like to use Steemit as a means to promote my game as it develops but, I was wondering if there was a way to change the accounts name? I want to change @shaman-ra to something else that would better reflect the games I intend to make. Besides, I don't feel right using my friend's account name. If anyone out there in Steemit land knows how to do this, please, let me know! IF there is no way, what would you suggest I do? Is there a way to get rid of previous content posted by my friend? If I am forced to try to start my own account, can Steem or SP be transferred to that new account? Any other advice you can offer will help. I am not so familiar with any Social Media or how to use it to promote anything.
If I can get this to work in my favor, expect to see screenshots of my game soon. My friend actually started the game but is unable to finish the work for obvious reasons. Just to tease you a bit, (I know, shame on me) here is a pic of one of the enemies in the game that originates from a wicked, spiritual dimension.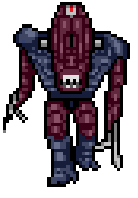 As you can see, it has some similarities to the Giger Alien, the Predator and possibly 2nd form Frieza from DBZ.
More to come! I look forward to sharing more of our work with you soon.
Have a fantastic day and THANK YOU!
Christopher Barr