INVECH, CREATING A STABLE DIGITAL ECONOMY USING THE BLOCKCHAIN.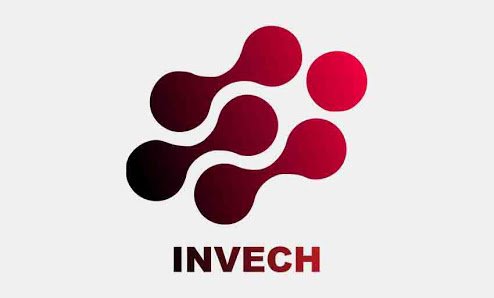 INTRODUCTION
The trade in crypto-currency is rapidly growing and the global population is quickly adopting this new digital currency. This is so because, a lot of people have come to understand the benefits of cryptocurrencies and some have experienced first hand, the gains which is achievable on the cryptocurrency exchange market. This is not just boosting the trade in cryptocurrency, but also facilitating the global adoption of cryptocurrencies.
In the quest to trade in different cryptocurrencies, investors have multiple accounts on different cryptocurrency exchanges so as to enable them trade efficiently on different cryptocurrencies.
But that's not the only reason, investors creating multiple accounts on different or numerous cryptocurrency exchange platforms is done to avoid the risk of losses. As an investor, putting all investments in the same exchange is absolutely risky, due to the fact that, when Hackers strike on a particular exchange where all the investor's assets are, the Investor ends up losing everything. This is not a great thing for any investor.
Hence, the idea of having accounts in different exchanges, so as to make trading very flexible and secured for the investor. Truly, this method of diversifying the investor's portfolio on exchanges, is a great move, but it is not without challenges.
Some of these challenges are.....
Taxation and high withdrawal fees which has become a very disturbing challenge for the investors, as having multiple accounts on different exchanges costs them a lot more, in terms of withdrawal fee, when carrying out transactions.
And the tax which has been placed on crypto-currencies is also an alarming challenge, as it doesn't seem right for blockchain based incomes, to be taxed.

Another huge setback encountered by the users or investors in crypto-currency exchanges is the poor user support system. A lot of crypto-currency exchanges are ill equipped to handle the user's needs. This kills the user's interest as no one would like to invest in something they don't understand.

Language barrier is another issue experienced in the available exchanges, because they focus more on a particular language. This denies other users the opportunity at enjoying the benefits of crypto-currency trade.

Increasing government regulations is another setback against crypto-currency exchanges, as this limits the operation of these exchanges and in turn limits the participation of users in the system.
All these are just a piece of the cake, when it comes to the problems faced in the present crypto-currency exchanges, and it has stagnated the crypto-currency exchange market for a long while now...
But, no need to worry, because a lasting solution is here..
INTRODUCING INVECH, AN EFFICIENT CRYPTO-CURRENCY EXCHANGE.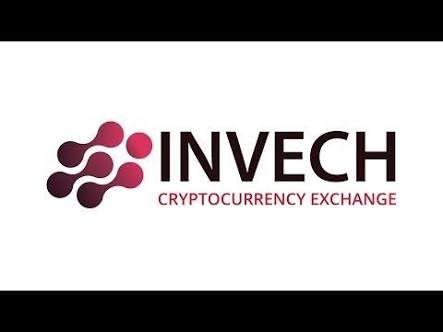 Invech Exchange as one of the components of the Invech group, is a crypto-currency exchange platform, which will utilize the blockchain technology to improve the global economy and solve all the problems faced in other crypto-currency exchanges.
Invech is government endorsed and so, has the full backing and licensing of the Timor Leste government. This license encompasses the entire crypto-currency activities and blockchain technology.
This is great, as it is not affected in any way, by government regulations. It aims at improving the quality of life for the global population and boosting the global financial system, by utilizing the blockchain technology to create a solid digital economy.
This outstanding crypto-currency exchange was designed and developed by a group called the Invech group, made up of well experienced and skilled members. They ensure that Invech has everything it needs to take care of the digital needs of its users.
Now let's take a closer look at some of the solutions which will be provided by Invech...
Invech is totally different from other exchanges and will solve the language problem with the help of its multi-lingual team who will give the necessary support to the users, in a soothing language. The Invech multi-lingual team is well experienced in different languages, and this will help to see the users better.
A lot of potential users who were hindered by language barrier won't have a problem anymore, on the Invech exchange, they can now trade without reserve, this in turns brings about the global adoption of crypto-currencies.

An adequate user support system
This is really important as good communication matters a lot. Luckily for the users, Invech has it all covered, as it has put in place, an efficient user support team, to help answer the user's questions and help them to enjoy the exchange.
Evidently, language isn't a problem in Invech exchange. Even for the new users, this is a great thing because they could easily find their way around the system, with ease, thanks to the Invech support team.
That's not all....
Withdrawal won't be a challenge on the Invech exchange, as it will make available, digital ATMs to facilitate the seamless withdrawal of the user's assets, anytime it is needed. This will ensure that the users have access to their assets, anytime they need them.

Security in Invech is a also a top notch, giving that the Invech group has put a lot of security measures in place so as to protect the user's assets and information, from the reach cyberpunks. To show you the how serious Invech takes security, it backed by the CCSS ( Crypto Currency Security Standard), an industry which takes care of digital security for exchanges.

Furthermore, the nagging problem of taxation and high withdrawal fees, won't be an issue because Invech is a government licensed exchange, so this makes it possible for transactions to be carried out on the system, at a reduced tax rate and withdrawal fee, a feature which is seen only in Invech exchange.
So you see?, Invech has got you covered.
Invech Group intends to start up with some popular cryptocurrency trading assets and pairs on its exchange, this include Bitcoin BTC, Ethereum ETH, Tether USDT and its own custom token Invech Coin IV. Other project tokens and coins will be listed subsequently upon application and successful completion of evaluation and examination by Invech. This will be judge on coin/token credibility, liquidity and community based usability and support.
INVECH TOKEN
The Invech Token is called IV, an ERC - 20 token which is used on the platform, to carry out transactions in the system. It was created by the Invech on the Ethereum blockchain, to facilitate the smooth running of the system.
Uses:
It could be used to pay fees such as listing fee, transactions fee and withdrawal fee, within the system.

IV could also be used outside the Invech platform, to pay for hotel bills, flight bills, casinos, tourism, purchasing of digital assets, and a whole lot more.
More Uses/Benefits of the Invech Token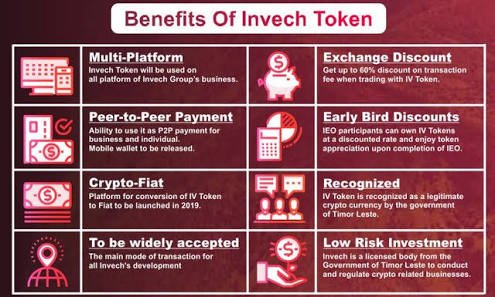 Currently, the Invech team is running an Initial Exchange Offering IEO for the IV Token, potential investors have the opportunity to purchase the token at a much reduced rate according to the phases of the IEO. With a total supply of 500 million IV Tokens minted, a large percentage of the total supply of about 175 million IV Tokens has been put up for sales at prices ranging from 32cents to 36cents depending on the phases of sales.
The first phase of token sales will offer 75 million IV at a base price of 32cents with a discount of 20% locked for 6 months while the second phase will offer 100 million IV priced at 36 cents with a discount of 10% locked for 9 months. Invech aims to achieve a soft cap sales of 75 million IV valued at about 24 million USD or a Hard Cap of 100 million IVs valued at 60 million USD.
Since IV is a utility token with multiple use cases, there is a great chance that its value will soar in the long run, giving investors massive returns on their investments.
Invech Token and Funds Distribution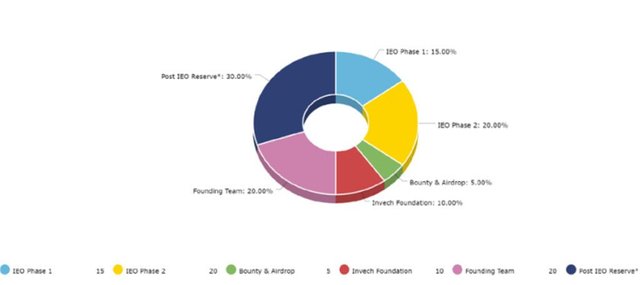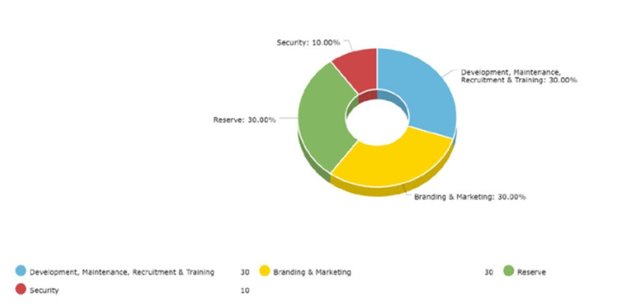 CONCLUSION
Now, you can trade unlimitedly with no fear of losing assets or taxation and high withdrawal fees. The different solutions which Invech provides is an evidence that this great exchange is totally peculiar and has all it takes to lead the crypto-currency exchange market to its peak.
Invech is just the best.
ROADMAP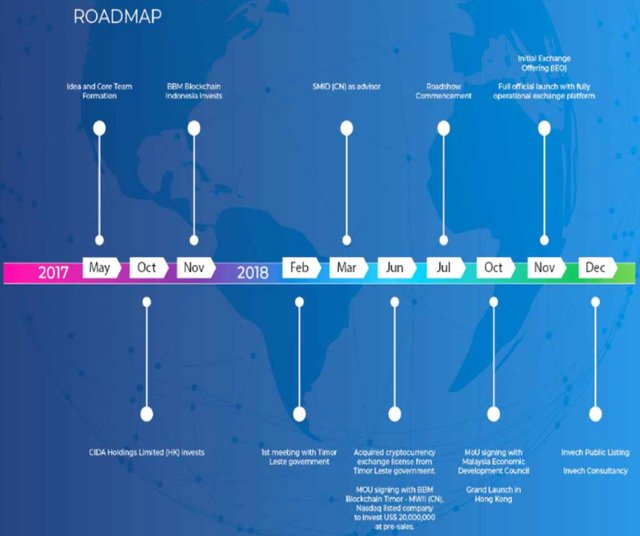 TEAM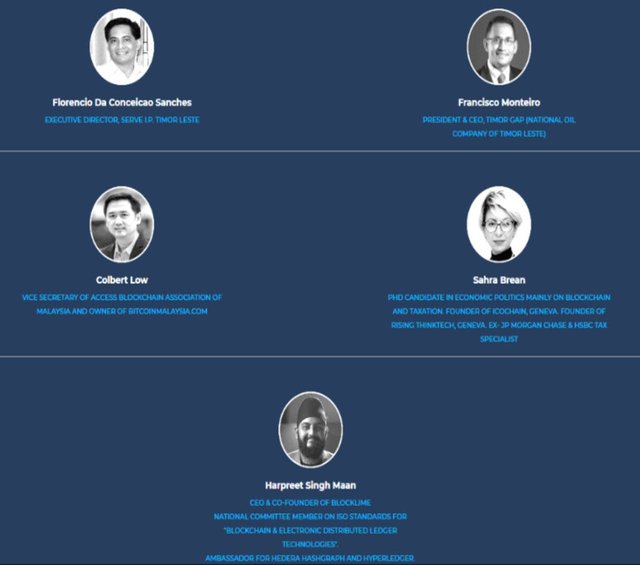 More Information about the project can be found on their official channel links below:
Website https://invech.io/
ANN https://bitcointalk.org/index.php?topic=5052844.0
Whitepaper https://tokensale.invech.io/documents/ieo-whitepaper.pdf
Token sale Invech https://tokensale.invech.io/
Invech Exchange: https://exchange.invech.io
Social Media
Facebook https://www.facebook.com/InvechExchange
Twitter: https://twitter.com/invechexchange
Telegram: https://t.me/InvechOfficial
Youtube: https://www.youtube.com/c/InvechExchange
Medium: https://medium.com/@bountyinvech
Article Written By: EmmaBen
Bitcointalk Username: EmmaBen
Bitcointalk Profile Link: https://bitcointalk.org/index.php?action=profile;u=2096551;sa=summary