DOW Drops 1000 Points
The Dow Jones Industrial Average closed 1,031.61 points lower, or 3.56%, at 27,960.80. The S&P 500 slid 3.35% to 3,225.89 while the Nasdaq Composite closed 3.71% lower at 9,221.28. It was the Dow's biggest point and percentage-point drop since February 2018. The Dow also gave up its gain for 2020 and is now down 2% for the year. The S&P 500 also had its worst day in two years and wiped out its year-to-date gain as well.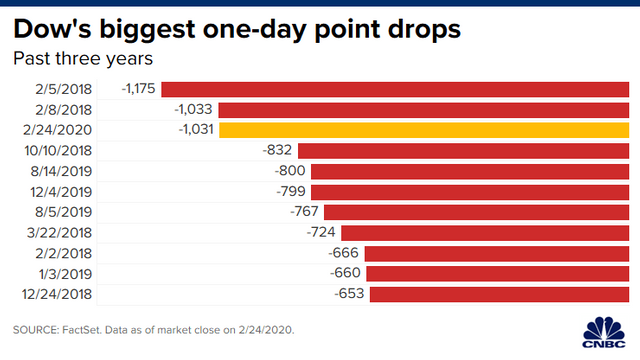 Overseas markets fell sharply. The European Stoxx 600 dropped more than 3% while Korea's Kospi index slid 3.9%.In Hong Kong, the Hang Seng index fell 1.8%.
"The market had been sanguine about the spread of the coronavirus," said Quincy Krosby, chief market strategist at Prudential Financial. "That sanguine stance is being tested today."
"There remains a large degree of uncertainty surrounding the virus, and no one knows how this will ultimately play out," said Keith Lerner, chief market strategist at Trust/SunTrust Advisory. "With stock prices and valuations still near cycle highs, the risk of a worsening virus outbreak has not been priced into the market to a great extent."
As more companies talk about the economic impact of the coronavirus stretching to the second quarter and beyond, "I do believe we are entering a new period of volatility, at least in the near-term," says Lindsey Bell, chief investment strategist at Ally.
In the earlier days after the outbreak, many economists had predicted a V-shaped recovery, which describes downturns that see a steep fall before recovering sharply. However, traders are loading up on traditional safe havens such as U.S. Treasurys, Bitcoin, and gold.
The Cboe Volatility Index (VIX) — considered to be the best fear gauge on Wall Street — jumped more than 7 points, or about 46%, to 25.04
Crucial statistics: Combined with its losses last Friday, the S&P 500 has fallen more than4.5% over the last two days of trading. But single-day drops of 2% or more have historically been followed by rebounds in the short-term, according to Bespoke data. Since March 2009, there have been 18 prior S&P 500 declines of 2% or more on Mondays, but that's usually been followed by a "turnaround Tuesday." The S&P has gained an average of 1% the next day, and over the next week averages a gain of 3% with positive returns 17 out of 18 times, according to Bespoke. Even more impressive, over the following month, the S&P averages a more than 6% gain, with positive returns also 17 out of 18 times.
With the news of Coronavirus spreading to Korea, Italy, and Iran combined with global supply chain problems from China, Yung-Yu Ma, chief investment strategist for BMO Wealth Management said this today, "The market is now pricing in ongoing concerns in these other countries, which broadens the potential scope of economic disruptions," he says. "It may take a couple of weeks of relatively positive, or at least not alarming, developments for the market to regain its footing."