TIB: Today I Bought (and Sold) - An Investors Journal #261 - Building Materials, Offshore Oil Drilling, Food Services, Europe Interest Rates, Pharmaceuticals, Japan Govt Bonds
US Markets look to earnings for guidance. Profits in offshore oil go into food services and pharmaceuticals. A missed trade in building products rebounds for a better entry. And I am short interest rates in Europe and Japan again.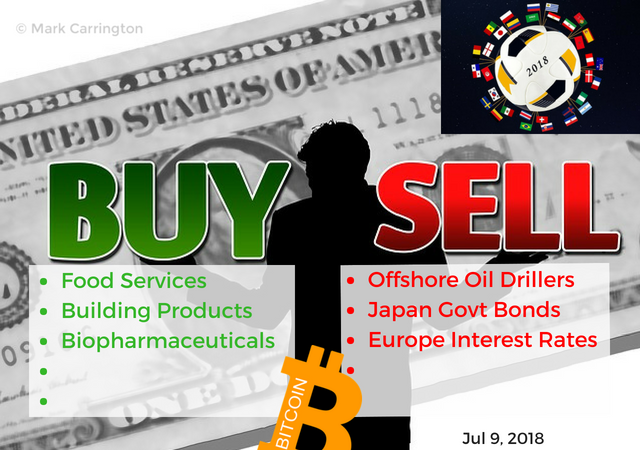 Portfolio News
Market Jitters - Tariff Tantrum I wrote yesterday that markets love data. Projections about data work too.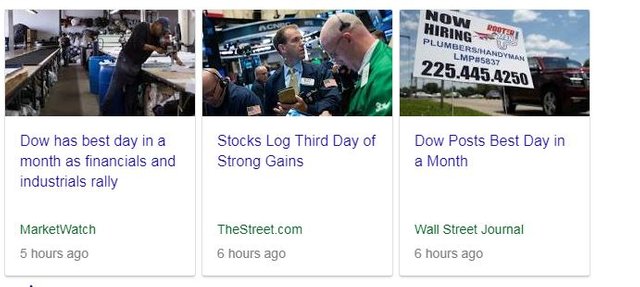 Earnings season in US begins this week with big names like Pepsico and Wells Fargo and JP Morgan reporting. The analysts began talking up earnings projections with talk of an average of 20% earnings growth overall and energy possibly as high as 132%. The market liked the projections and rose sharply with the Dow closing 1.82% up and S&P500 and Nasdaq each improving 0.88%. Strongest moves were in financials which have been something of a laggard so far in 2018.
https://www.cnbc.com/2018/07/06/two-groups-that-could-issue-blowout-numbers-when-earnings-season-kicks.html
Do not be surprised though to see some shockers based on forward guidance. The market was brutal on weak guidance in the past earnings season. And we still need to work through what impact tariffs will have - they are part of the forward guidance.
I did find this article about tariffs and trade restrictions interesting - it is a lot more than tariffs that restrict trade.
https://www.lowyinstitute.org/the-interpreter/trade-not-just-about-tariffs
Oil is at a key juncture no matter what Donald Trump may be tweeting..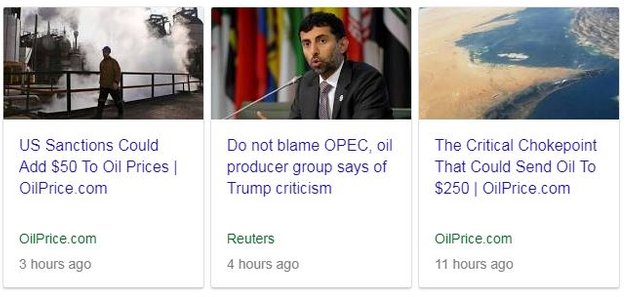 Supply constraints continue especially as Iran sanctions bite and Canada Syncrude oil sands closure continues. OPEC are saying they are constrained in increasing output. US oil may be added to Brent benchmark. Iran threatens the Straits of Hormuz through which Saudi oil flows. Something has to give - do not be surprised if it is price.
https://oilprice.com/Energy/Crude-Oil/US-Sanctions-Could-Add-50-To-Oil-Prices.html
World Cup Russia headlines do now switch to the nerve agent incident in England
Football continues on Wednesday and the fans are flowing to Moscow
Bought
I ran stock screens again really looking for opportunities in Europe. I run three screens on Price to Book Valuation, Price to Sales Ratio and Price Earnings ratios on stocks that have made a new one month high. With a few up days last week and on Monday, there were a few candidates.
Sodexo S.A. (SW.PA): Food Services. Sodexo is a France-based global supplier in the food services industry. Stock popped up on Price to Sales screen. The chart shows a drop off in price from 2017 highs, a recovery and another collapse.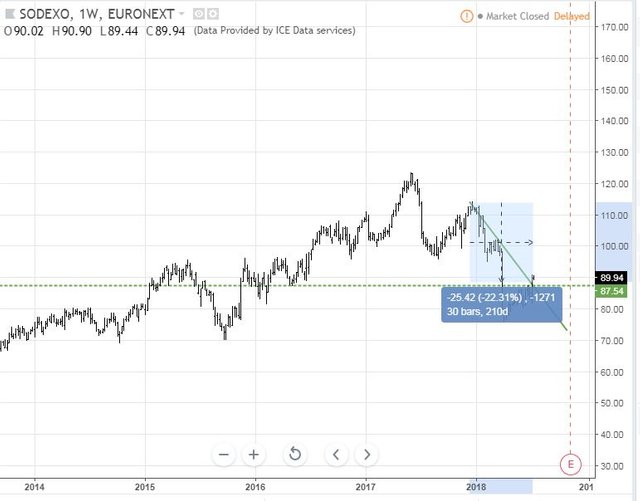 The latest recovery comes against a background of languishing European markets. I added a small parcel of shares in each of my portfolios - there is a 40 to 50% price improvement possible if price makes it back to 2017 highs and 25% for 2018 highs.
How achievable is this? A review of the financials shows low organic growth, declining operating margins and a solid balance sheet. The majority of the decline in operating margins comes from exchange rate impacts of a strong Euro. The latest investor presentation shows some solid growth areas (especially in developing markets) and a clear action plan to make improvements right across the business system. There is a management consultant feel to the presentation.
Well executed there is a chance and a weakening Euro will help. What I like is the mix of industry sectors served is somewhat uncorrelated with economic growth (health care and seniors, universities, schools) and certainly tariff free.
https://www.sodexo.com/files/live/sites/sdxcom-global/files/PDF/Finance/201804_Sodexo-Overview-FY-2018-Presentation_EN.pdf
Gilead Sciences, Inc (GILD): US Pharmaceuticals. Gilead is a research-based biopharmaceutical company that discovers, develops and commercializes innovative medicines in areas of unmet medical need. Their words are a bit vague for me - I like to see more focus in the words. Their most important product success has been in HIV treatments.
The stock appeared also on a Price to Sales screen and has made a new one month high. The price chart shows a steady decline from 2016 highs and two attempts to break back up. I bought a small parcel looking for the third break up to get to 2018 highs for a 20% profit potential.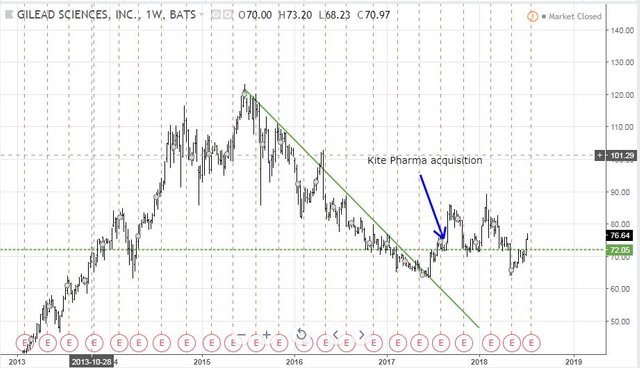 How achievable is this? The decline in price has come off declining revenue growth for Hepatitis C (HCV) and HIV drugs predicated on price and market share competition. The revenue pipeline does include a few products that could replace lost revenue from HCV/HIV. The shorter term picture depends on the pace of decline (or not) of HCV drugs especially. The longer term picture depends on a few new product areas (CAR-T cancer treatments, non-alcoholic steatohepatitis treatments, rheumatoid arthritis, Crohn's, and ulcerative arthritis treatments).
I am figuring that the markets are already signalling the earnings expectations that revenue for the last quarter has been ahead of guidance. My investment is based on the longer term possibilities which were already signalled in the two price spikes in the last 12 months (August 2017 was the Kite Pharma acquisition which brought in the CAR-T treatments). I have left in the markers for earnings announcements - these move prices.
https://seekingalpha.com/article/4186056-gilead-q2-results-initiate-rally has a lot more information about guidance and the treatments.
Boral Limited (BLD.AX): Building Products. Boral supplies building products in Australia, Asia, Middle East and US. The idea came from my research house quite some weeks ago while I was travelling. I missed the buy signal then which was a lucky miss as price collapsed soon after. Price has since bottomed and made a new one month high.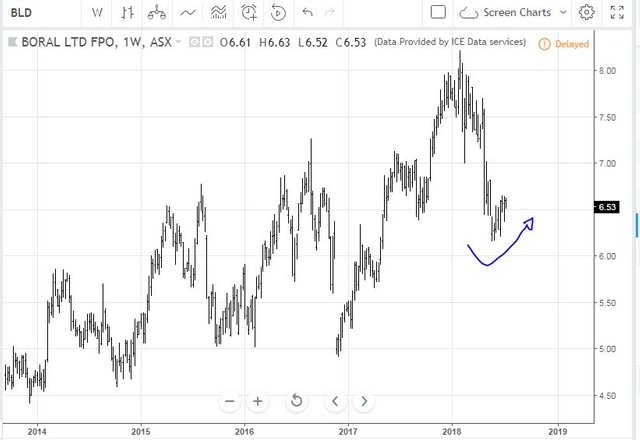 The trade idea is based on strong building demand in US and Australia which is expected to continue for some time yet. Add to that a weakening Australia Dollar will make for good forex translation profits from the US business. I added a small parcel of shares using CFD's. Dividend yield is 3.7% fully franked (franking credits do not apply to my investment as I am using CFD's)
Sold
Ensco plc (ESV): Offshore Oil Driller. I have had a take profit target on Ensco for some weeks which was hit overnight. This was part of my program of reducing company specific risk in favour of investing in the NYSE Pickens Energy ETf (BOON). As it happens, the proceeds went to Gilead and Sodexo. The trade provided a 20% blended profit since May and June 2017.
I have had a few goes at Ensco (see TIB89, TIB101 and TIB163). The basic premise for the most recent purchase was a low Price to Book Valuation (0.38 now) and a break up in price. Was I impatient? The chart will say probably yes as there is a lot more upside to go if Ensco can stay solvent.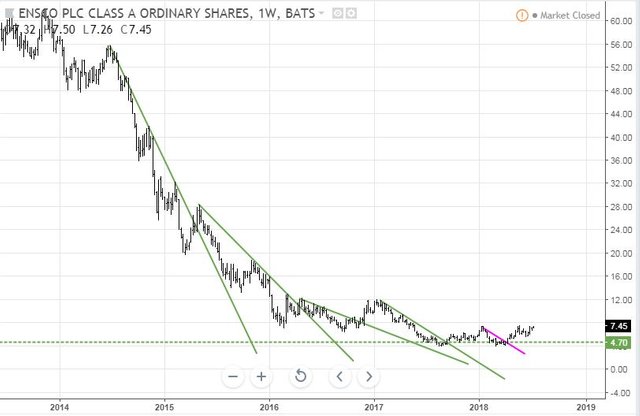 Chart shows another go at breaking the downtrend which failed and then broken up again (the pink trend line is new since I last updated the chart). Price to book valuation remains below my threshold at 0.38 and long term debt to equity is 58%, which is less than Transocean's (RIG) 73%. I do remain exposed in one of my portfolios.
Shorts
Japanese 10 year Government Bond Futures (JGB): JGB market has been quietly moving up (i.e., yields falling) since the September futures were listed. I have held back on opening new trades until I saw clear signs of reversal and a few bars closing with lower lows (note: a 4 hour chart).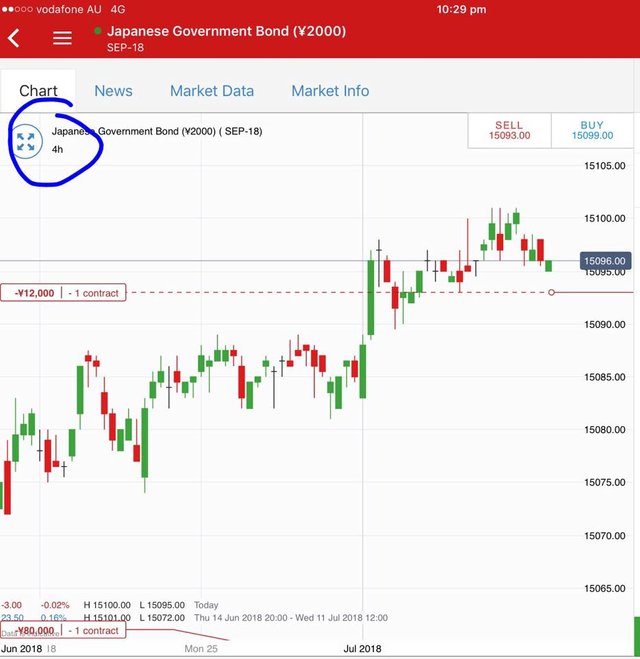 I was more comfortable going short bonds as we have seen a few days with Japan stocks trading up = a little less fear in the market. I added another contract short in overnight trade - disappointing to see spreads widened to 6 basis points
Euribor 3 Month Interest Rate Futures (IZ0): Short term rates in Europe have been trading in a very tight band since the June European Central Bank (ECB) meeting.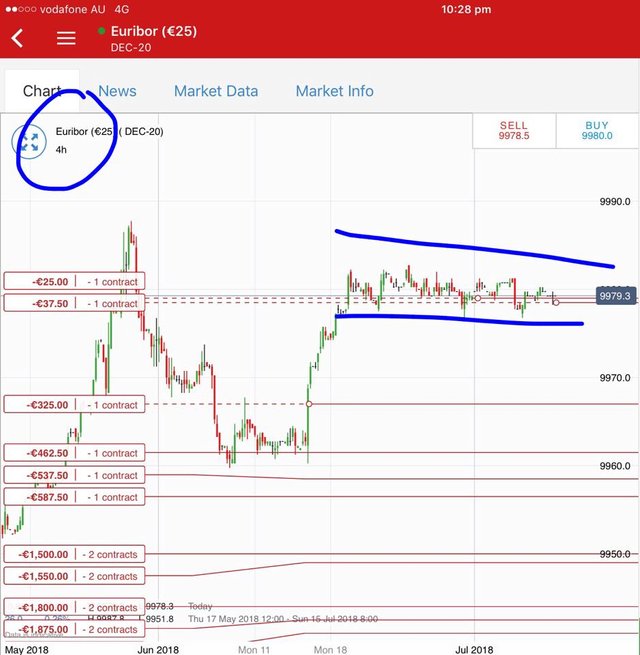 The markets clearly believe the ECB when they say they will be looking to move rates only in late summer 2019, which has been reitereated by officials again this week. When markets trade as tight as this, they do break hard. I added another short contract to be there when it does break - we are talking about December 2020 after all - a full 15 months after late summer 2019.
Cryptocurency
Bitcoin (BTCUSD): Price range for the day was $194 (2.8% of the high) for another quiet day. Price action was unusual with a higher high and a lower low, sometimes called an engulfing bar.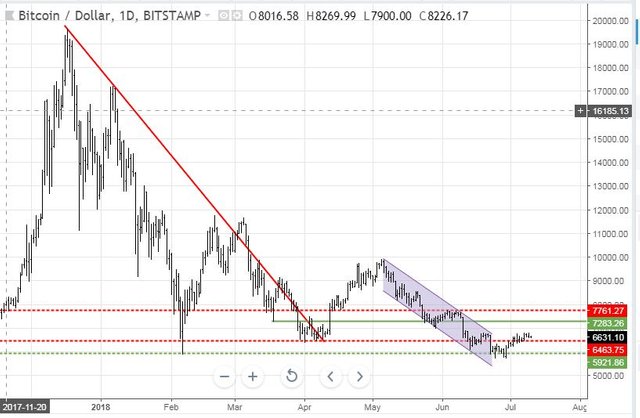 It is impossible to say which way the market wants to break - so it did both up and down.
Ethereum (ETHUSD): Price range for the day was $20 (4.1% of the high). Price was much clearer than Bitcoin. It tested the resistance level and made a lower low pretty much as I wrote about yesterday.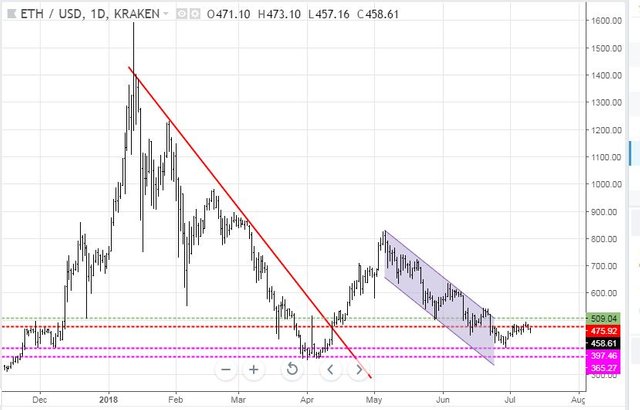 So much for the insiders who view Ethereum as a better investment than Bitcoin (38% vs 35% is not a big deal in a survey). They were clearly not buying yesterday and nobody else was listening.

https://www.businessinsider.com.au/ethereum-better-investment-than-bitcoin-insiders-2018-7
CryptoBots
Outsourced Bot No closed trades. (213 closed trades). Problem children was unchanged (>10% down) - (18 coins) -ETH, ZEC (-53%), DASH (-54%), LTC, BTS, ICX (-49%), ADA (-48%), PPT (-60%), DGD (-54%), GAS (-64%), SNT, STRAT (-58%), NEO (-61%), ETC, QTUM (-51%), BTG (-61%), XMR, OMG.
60% down club is getting crowded with PPT, NEO and GAS joining BTG. A few coins dropped more then 3 or 4 points (DASH, ICX, ADA, PPT, GAS, NEO)
Profit Trailer Bot No closed trades. Pending list was unchanged at 12 coins with 3 coins trading flat and 9 worse.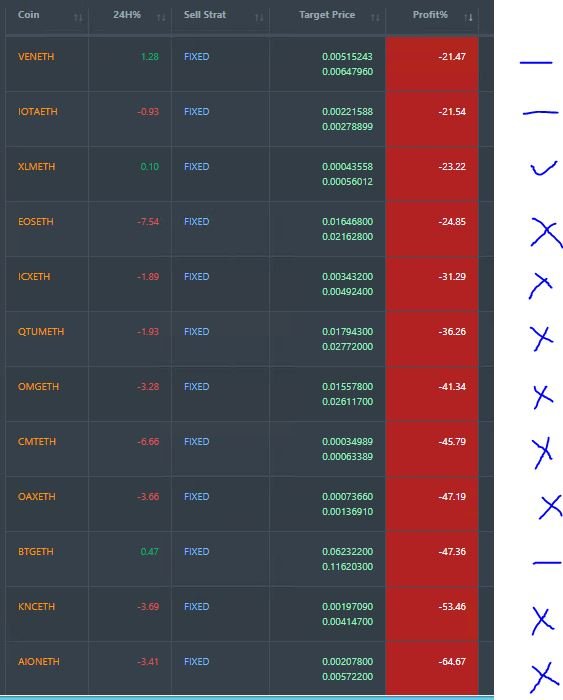 The whitelist based bot opened a new position on NANO which promptly went into DCA list though it had not triggerd a 2nd purchase.

The NEO position dropped to 10% down and I will initiate a stop loss sell as part of testing the new trading strategy. I do need to see more wins to make up for this type of loss BUT that is what testing is all about.
New Trading Bot Positions dropped 2 points to -53.2% (was -51.2%)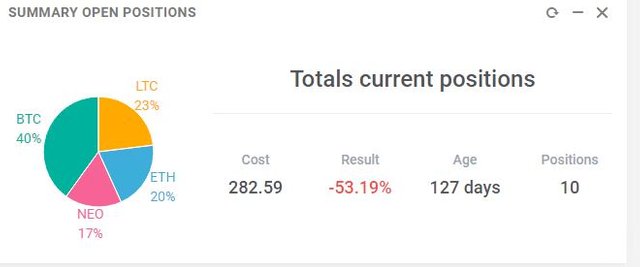 All coins traded lower with the worst 3 points down.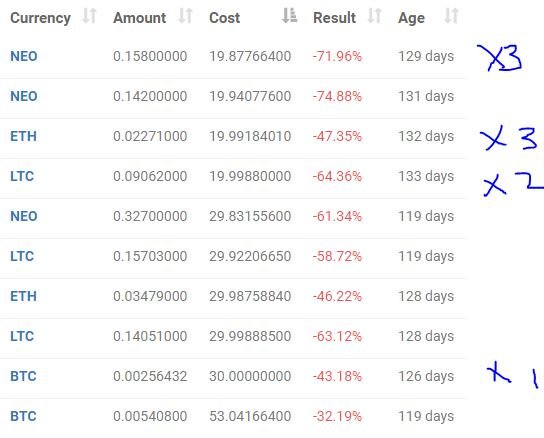 Currency Trades
Forex Robot did not close any trades and is trading at a negative equity level of 2.7% (lower than prior day's 3.9%).
Cautions: This is not financial advice. You need to consider your own financial position and take your own advice before you follow any of my ideas
Images: I own the rights to use and edit the Buy Sell image. News headlines come from Google Search. Crypto insider image comes from Business Insider. All other images are created using my various trading and charting platforms. They are all my own work
Tickers: I monitor my portfolios using Yahoo Finance. The ticker symbols used are Yahoo Finance tickers
Charts: http://mymark.mx/TradingView - this is a free charting package. I have a Pro subscription to get access to real time forex prices
Crypto Trading: get 6 months free trades with Bitmex for leveraged crypto trading. http://mymark.mx/Bitmex
Bitcoin: Get started with mining Bitcoin for as little as $25 http://mymark.mx/Galaxy
July 9, 2018