Bye, Bye, Tesla – Why Am I A Happy Short Seller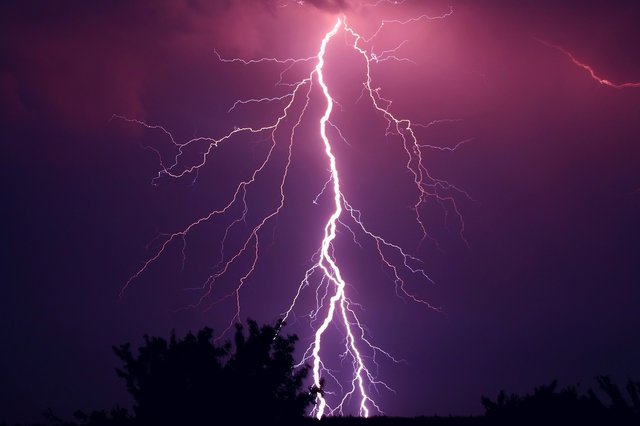 Yesterday, I did it. After a lot of thinking, finally, I shorted Tesla. I know that is a common trade, many people are shorting it. Last time Tesla shorts were by about 26 percent of all the shares. ("Short interest.") But I made a combined trade to hedge the risks, or, better, two promising trades, completing each other.
Two legs better than one
I shorted Tesla (by 308.4 USD) yesterday and I shorted the near VIX settlement (by 13.88 points) at almost the same time. (The VIX volatility index, volatility of the S&P 500 stock index.) What is the reason for this? Shorting VIX can be a gold mine if the frequent contango stays present. And if no huge spike in the VIX index happens, like those in February or something worst.

Chart courtesy of StockCharts.com
The contango works "in peaceful times" like an interest-producing factory, like some high yield bond. Last year, 2017 was a golden year for VIX shorters, some ETF-s and certificates almost doubled in value. But many other years before, also. This February, came the "VIX-Armageddon", the spike, and some of them lost it's value completely. But some, not.
ZIV ETF
In February, the VIX spike didn't kill all VIX shorts, either. For example, the ZIV ETF stayed alive because this one is shorting the middle term VIX futures, not the most capricious nearest ones. The volatility and risk of the ZIV are lower than of other VIX shorting instruments. (Unfortunately, I can't buy the ZIV, I had to use certificates in Frankfurt.) (Bottom line: damned Mifid 2.)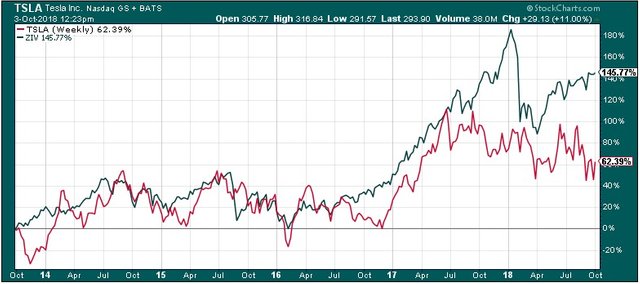 Chart courtesy of StockCharts.com
So, shorting VIX could be a gold mine, but if the stock market crashes, investors are in trouble. That's because I was looking for some good short trades to compensate eventual losses on VIX, with gains on the stock shorts.
Why to short?
Why should we short Tesla? You can find dozens of opinions about this company every week, pro and contra. Only some of the arguments and only on the short side:
It's a cash burning machine.
High debts, with high interests.
"From production hell to logistics hell" (quote from Elon Musk)
We don't know if long-term gains will be possible.
Erratic behavior of Elon Musk.
Very strong competitors rich on capital (Daimler, Volkswagen, Audi etc.).
Cooperating alliances of groups of competitors.
Possibly jump in repair and guarantee costs.
And etcetera... I think if electric cars will offer a good business in the future, Tesla will have to deal with a lot of very strong competitors. And if no big money can be made in this industry, Tesla can't make it either.
For now, I feel happy being a short seller. If this strategy will be really profitable, or not, we will see, but maybe only in some years. Both sides can be rewarding, with Tesla falling and quiet times on the Wall Street with continuously rewarding VIX shorts. And both sides can be disastrous, with a prospering Tesla and a market crash which wipes out all VIX short trades.
What do you think? Are this two combined trades better than only one of the two?
My other posts about VIX and contango:
Contango As A Gold Mine And Why Should Bitcoinists Care
Is Fat Passive Income From VIX Dead Forever?
Disclaimer:
I am not a financial advisor and this content in this article is not a financial or investment advice. It is for informative purposes only, or simply to make you think, entertain, increase testosterone and adrenaline level. Consult your advisers before making any decision.
Info:
You can message me in Discord.
(Cover photo: Pixabay.com)