Headless speculator interested in value investing
Yes I would definetly categorize myself as a speculator. I've gambled with margin a dozen of times. Sometimes
extraordinarily lucky and sometimes blew up the whole account.
Anyways from my last speculation post bitcoin is up over $2000 and i'm really not surprised. And altough I dont take positions based on heikin ashi, here's a beautiful chart for you, do whatever you want with it.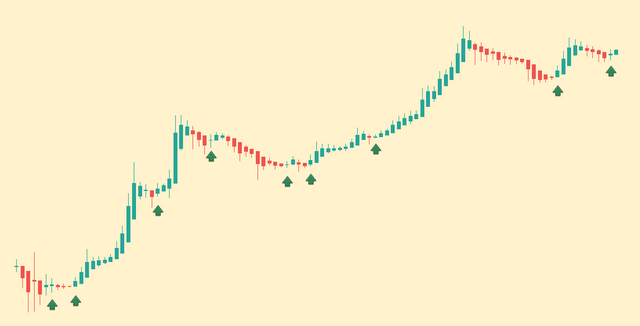 But back to my old post. The sentiment was just too bearish to continue the downfall so I thought it would've been a beautiful time to prove a point and farm clout ;)
Sentiment based trading/investing is a thing that I first heard about from @furious-one, but in the current book I'm reading (The Intelligent Investor) it's often investigated too. If you plan to use such a strategy yourself, discipline and sober mind are always the keys.
---
The heureka, aha or the book dropping thought from today's reading session (shortened the text a little):
Imagine that you own a small share in a private business. A guy named Mr. Market everyday tells you what he thinks your share is worth and even offers to buy you out. On some days he offers more for your share and on other days he offers less for it.
Now the question is why should you sell your share for less to Mr. Market if the business is still doing great? Most people would answer that they wouldn't sell their share. Yet many people tend to lean on their emotions too much and sell their shares when the market takes a hit.
It's a relatively simple thought but yet this mistake is being made constantly by new investors, including me and many others. So in conclusion if you make a long-term investment, checking the price everyday or even every week is not important.